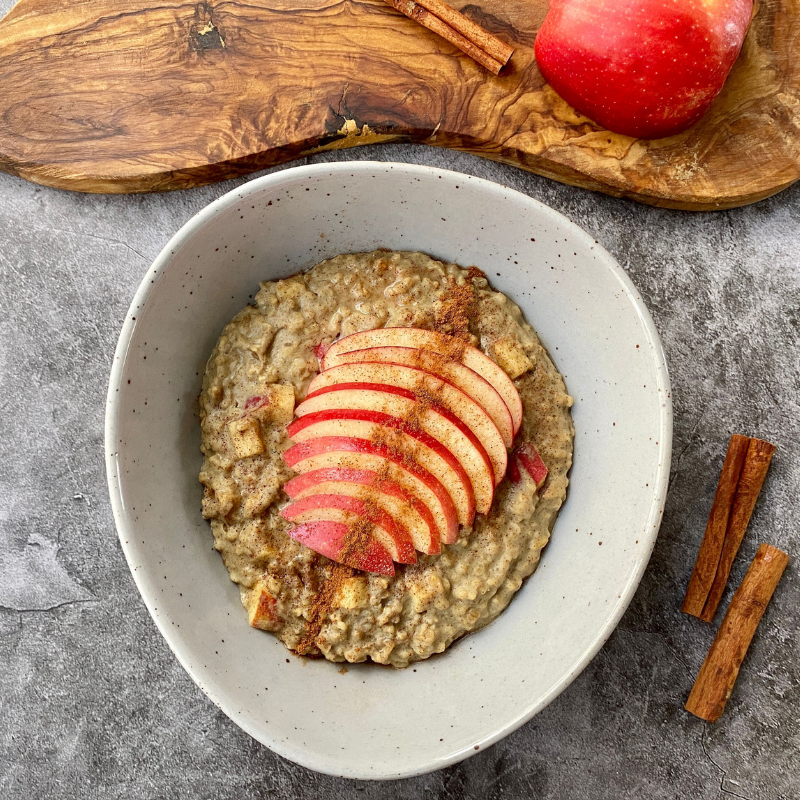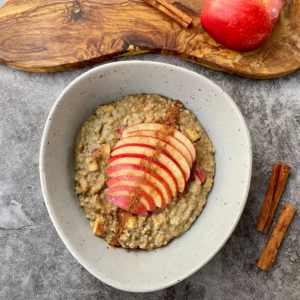 Everyone knows how I feel about breakfast! I could eat it 3 times a day…
This is my new overnight oatmeal recipe and it's so good! Best of all, it takes very little time to prepare because most of the work happens while you're sleeping!
I've topped mine with a dollop of plain, full-fat Greek yogurt which I do well with occasionally despite mostly keeping it dairy-free.
The key here is preparation – with your grains, using a soaked or sprouted grain keeps them gentle on your stomach by breaking down the hard-to-digest glutens.
With dairy, fermented products act in the same way for the hard-to-digest lactose.
All forms of oatmeal derive from oat groats, which are whole, unbroken oat grains. When you're at the grocery store, you want to look for "steel cut oat groats" or "rolled groats" (sometimes called "rolled oats" or "old-fashioned oats"). These oats were sent through a rolling machine, producing thick flakes of oatmeal, and are the most wholesome option.
The flatter groats are rolled, the more processed they become. Do yourself a huge favor and avoid the 5-minute oats, the quick-cook oats, and definitely those processed instant oatmeal packets that come in a box.
Processing grains removes many of the vital nutrients and reduces the amount of fiber the whole grain contains. And we want that fiber! It's fiber that allows for a slow, steady release of energy after you eat the oats, and it's fiber that stabilizes your blood sugar.
You can read more about overnight oats, oat groats, and how to properly prepare this special, nutrient-dense grain here.
Apple Spice Overnight Oatmeal
Yield: 3-4 servings
medium saucepan, cooking spoon, measuring cups and spoons
The night before:
3/4 cup steel cut oats
1 cup filtered water
2 T acidic medium (any of these: yogurt, apple cider vinegar, lemon juice, etc.)
Additional ingredients:
Directions:
Place oats in a large bowl and cover with 1 cup water, and add in your acidic medium.
Cover and leave on the counter (not the fridge) for at least 7 hours, but no longer than 24 hours.
After soaking, rinse and strain off any excess liquid and set the oats aside.
Combine soaked oats with 1 cup fresh, filtered water on the stove top. Allow to simmer for 10-12 minutes, stirring occasionally.
Add protein powder and almond milk. Stir until well combined and continue cooking another 1-2 minutes.
Remove from heat and stir in the cinnamon, apple, and maple syrup.
Let cool, cover and store in the refrigerator. It's also ready to eat right away, and can be served with some additional fruit, almond milk, Greek yogurt or other toppings.
Nutrition Facts
Calories per Serving:

153
---