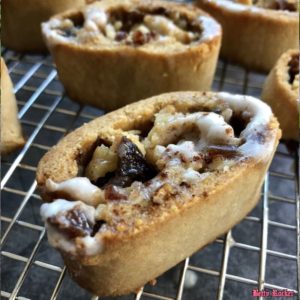 Great for any occasion, these gluten and dairy free Cinnamon Buns are sure to warm your heart and permeate your kitchen with the warm smells of the season. They're a great recipe to make with friends, kids, family members, as the rolling out and decorating process lend themselves to being creative.
With all the stress in day to day life, I find cooking and baking to be such a wonderful way to tune into the present and focus on a process that engages me on multiple levels. You'll have to let me know if you experience that with baking too?
These would make a very healthy No-Strings-Attached treat being made from all whole food ingredients. The sweetness comes from a little honey and dates in moderate amounts.
While sugar is always important to be mindful of in your overall daily intake, it's definitely preferable to have it from sources like honey, dates and foods in their natural, wholesome form so you can absorb the minerals and immune boosting properties the honey contains, and the fiber in the dates as well.
You'll get the delicious taste and nutritional benefits of cinnamon, walnuts, and honey all rolled up into this tasty whole food baked treat, topped off with an optional coconut glaze.
---
Cinnamon helps lower blood cholesterol, helps regulate blood sugar (which helps with cravings), can alleviate headache and migraine symptoms, and boosts both cognitive function and memory.
Walnuts are excellent sources of multiple nutrients – like healthy fats and protein – and phytochemicals, vitamins, and antioxidants that promote health benefits like cardiovascular health, weight maintenance, and stress reduction.
Raw honey is a rich source of antioxidants, enzymes and minerals. It even contains several amino acids, including tryptophan which can help promote rest and relaxation.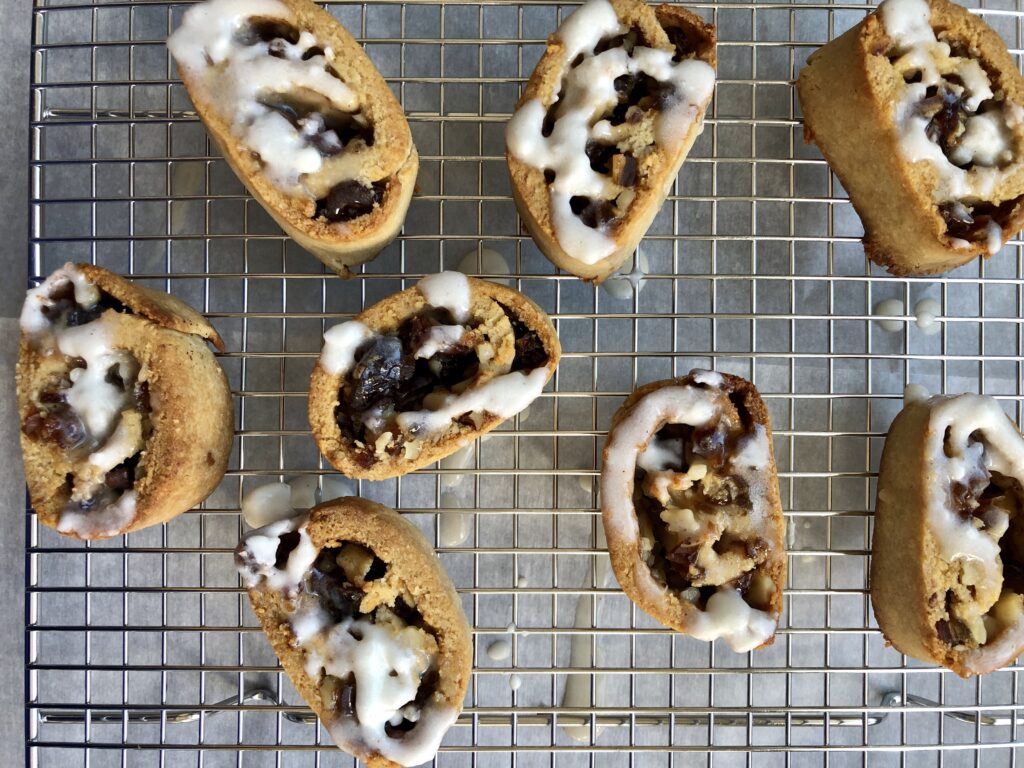 ---
So treat yourself, Rockstar! And make these for your family and friends and treat them too!
Cinnamon Buns
Yield: 9-10 servings
You will need: measuring spoons, measuring cups, baking sheet, mixing bowl, rolling pin, wax or parchment paper
Key: T=Tablespoon; tsp=teaspoon
Ingredients:
Dough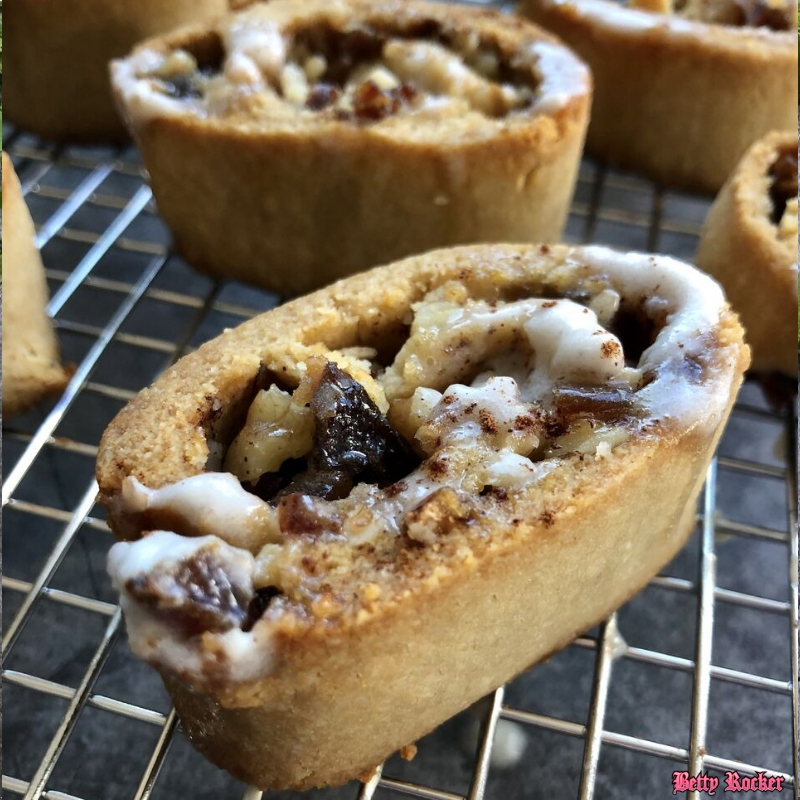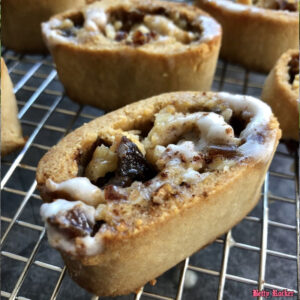 Filling
2 tsp cinnamon
2 tsp honey
1/4 cup pitted dates, finely chopped
1/4 cup walnuts, finely chopped
Glaze
Instructions:
Mix together the coconut oil, egg, honey, and vanilla in a medium sized bowl. Add the almond flour, coconut flour, baking soda, and salt. Stir well to combine.
Transfer the dough onto a sheet of wax or parchment paper. Cover with another sheet of wax paper and roll out into a long rectangle, about 1/4″ thick.
Remove the top sheet of wax paper. Drizzle the dough with honey and sprinkle with cinnamon. Top with the chopped walnuts and dates.
Roll the dough into a log using the wax paper to keep it from sticking to your hands.
Place the covered log in the freezer to harden for 15 minutes.
While cooling the dough, preheat the oven to 325 degrees F.
After 15 minutes, remove the log from the freezer and slice it into individual pieces, about 9 or 10 rolls.
Place onto a baking sheet, with just a little space between the rolls. Bake for 10-12 minutes until golden (ovens do vary – you may need a little extra time to get that golden brown color, so just check).
While the rolls are baking, make the glaze by stirring together the honey, coconut cream, and cinnamon.
Once the rolls are golden, remove from the oven and drizzle with glaze.
Serve warm and enjoy!
*Some community members have tried this with a flax egg (1 tsp flaxseed meal and 3 T water) and have had mixed results. I would not recommend this method unless you're up for adjusting the liquid and playing around with it.
**Almond meal flour can often be swapped for flaxseed meal.
***It's not recommended swapping coconut flour for other flours, as it's a highly absorbent flour that works in a specific way in this recipe.
Nutrition Facts
Calories per Serving:

187
I can't wait to hear how yours turn out – let me know! And please feel free to ask any questions as well!
---
Get Stronger Every Day with