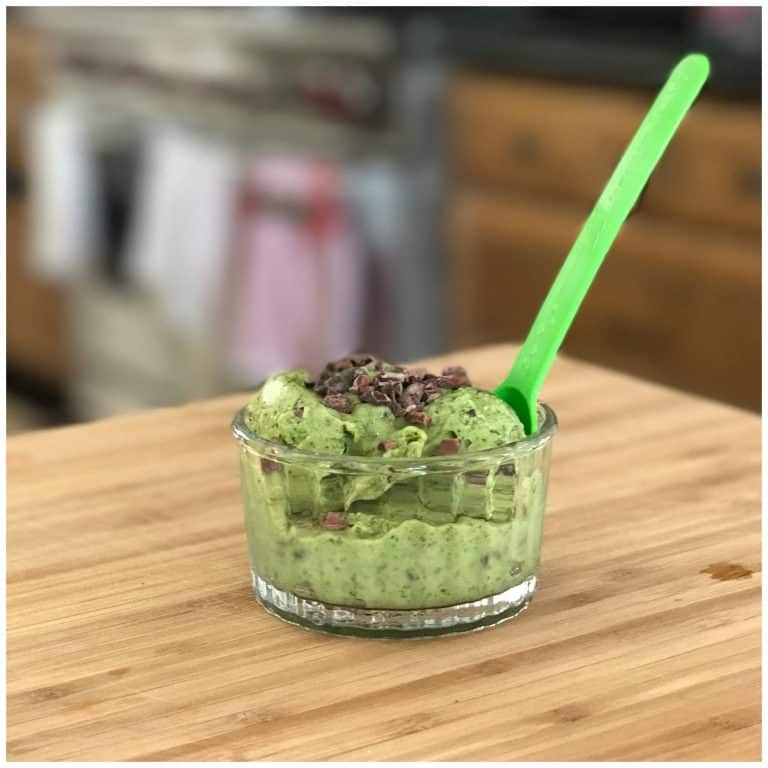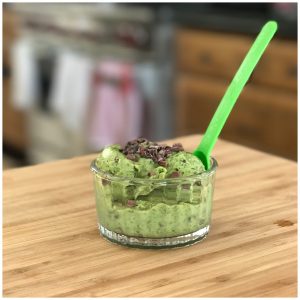 If you're a fan of peppermint and chocolate, I've got a dessert for you!
Nice Cream has become the #1 go-to preferred delicious, nutritious dessert of Rockstars everywhere!
Nice Cream is so healthy, so simple to make and so easy to modify, you'll want to add this "creamy" treat into your summer rotation right away.
(Be sure to check out Chocolate Nice Cream and Strawberry Nice Cream too!)
Not only is today's Peppermint Chip dessert quick and easy to whip up, it's full of nutrient-dense ingredients that are great for our health.
Peppermint has long been shown to provide all kinds of physical benefits, like providing relief for headaches, indigestion, and even anxiety. It also calms the muscles of the stomach and improves the flow of bile, which the body uses to digest fats.
Spinach is high in niacin and zinc, as well as protein, fiber, vitamins A, C, E and K, thiamin, vitamin B6, folate, calcium, iron, magnesium, phosphorus, potassium, copper, and manganese. #powerhouse
Bananas are a great source of healthy fiber, plus they're high in potassium and magnesium, in addition to Vitamins B6 and C.
Let's go!
---
Peppermint Chip Nice Cream
KEY: T=Tablespoon; tsp=teaspoon
YIELD: 2 servings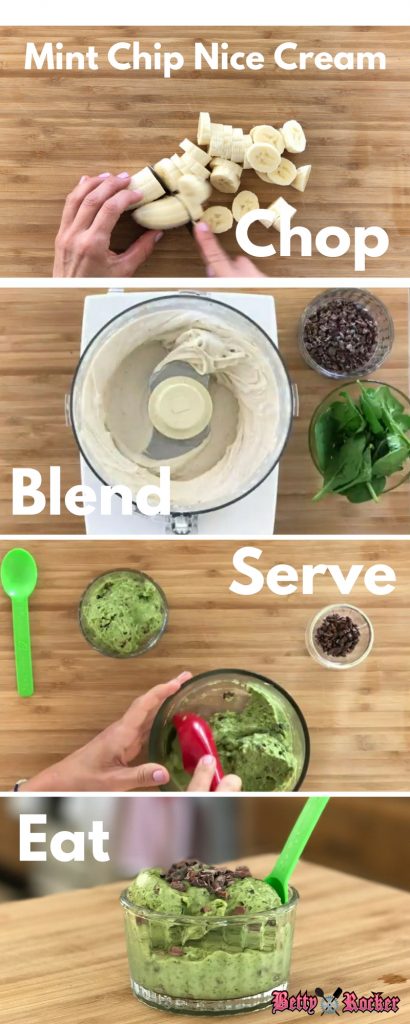 Ingredients:   
2 frozen bananas
2 T almond milk
1 cup spinach
2 T cacao nibs
1/8 tsp peppermint extract
1/4 tsp salt
Optional: 2 servings (60 grams) I ❤️ Vanilla Protein Powder to make this an even more satisfying treat!
Directions:
1. Peel and chop your bananas, freeze in a Ziplock bag.
2. Add bananas to food processor and blend until smooth.
3. Add in peppermint extract, salt and almond milk and blend again.
4. Add in spinach and blend until smooth.
5. Add in cacao nibs and pulse until well mixed into the batter.
Eat right away, or transfer to a container and freeze for an hour for an ice-cream-like texture!
Toppings I Love:
mixed nuts
extra cacao nibs
culinary grade coconut cream
fresh mint
shredded coconut
hemp seeds
fresh fruit
Nutrition Facts
Calories per Serving:

177
---
What if…
…I don't like bananas? Try subbing mango – you'll get a similar consistency with the same fiber benefits.
…I don't like mint?  That's ok, you can leave it out- or you might want to try Chocolate or Strawberry instead.
…I can't have almond milk? Any kind will do; use your favorite, or just use water for a thinner consistency.
…I don't have spinach available? Try another dark leafy green, like romaine, baby kale, or swiss chard.
---
Incorporate delicious recipes like this into your complete healthy eating  every week with great recipe guides and meal plans!