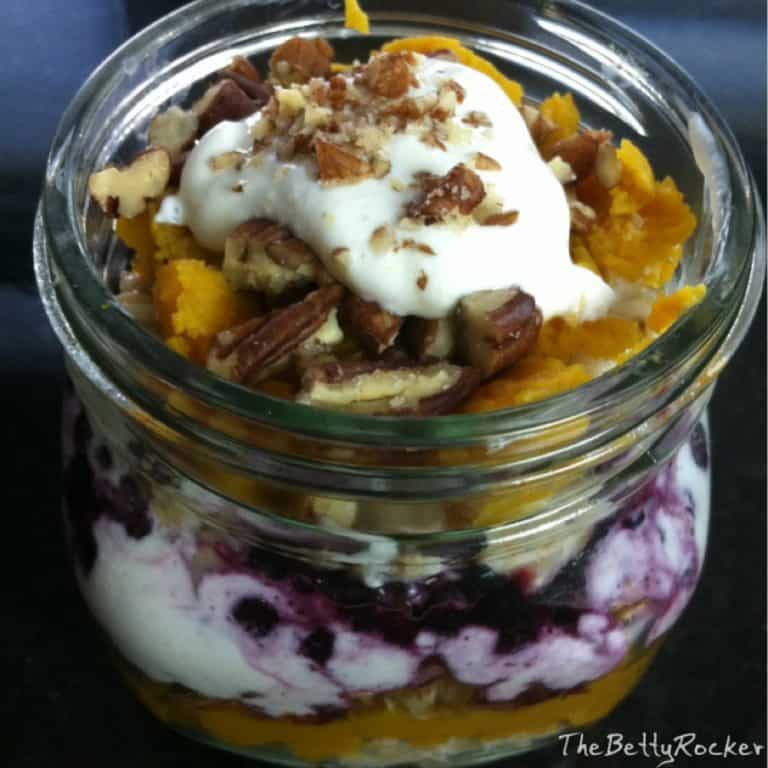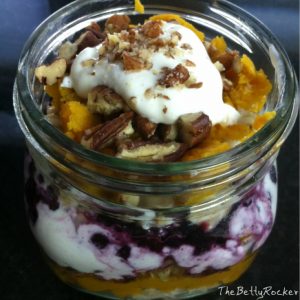 Welcome to Fall!
My favorite season of the year is back! I absolutely love Fall. The weather gets cool enough to wear light jackets and close-toed shoes, I can actually go for a run outside in the afternoon without melting, Halloween is coming, and fresh pumpkins are available again!
Now some people will tell you that their favorite thing about Fall is the Pumpkin Spice Latte – and it is a delicious drink – but I think I have something EVEN better – especially for all of you dark, rich espresso lovers out there who could do without the sugar bomb in a glass.
Allow me to introduce my all new Pumpkin Spice Protein Parfait, the perfect way to start your day on a Fall morning. It's balanced with clean, nutrient-dense carbohydrates, a full serving of healthy protein, and just the right amount of sweetness and spice.
Pumpkin….
Will help you recover after a tough workout. It has even more potassium than a banana – 564 mg compared to 422 mg(banana). A little extra potassium helps restore the body's balance of electrolytes after a heavy workout and keeps muscles functioning at their best.
Pumpkins contain healthy fiber. A fiber-rich diet helps us eat less, which can support fat loss.
Saves your eyes – Pumpkins contain more than 200% of your recommended daily intake of vitamin A, which aids vision, particularly in dim light, according to the National Institutes of Health.
Can defend against cancer – A rich source of the antioxidant beta-carotene, which may play a role in cancer prevention according to the National Cancer Institute.
---
Pumpkin Spice Protein Parfait
Yield: 1 serving
You will need: jar or tall glass, small bowl, measuring cups and spoons, cutting board, knife


1/2 cup Overnight Oatmeal
1/4 cup canned pumpkin
1/4 tsp nutmeg
1/4 tsp cloves
1/4 tsp ginger
1 serving (33g)  vanilla egg white protein powder (or other vanilla protein powder)
1 1/2 T chopped pecans
1/3 cup Greek yogurt, coconut yogurt or non-dairy creamy topping of choice
1/3 cup frozen or fresh blueberries
1. Begin by mixing pumpkin, spices and protein powder in a bowl until combined. Give it a taste, you can adjust your spices to suit – it would be great with cinnamon, or more nutmeg, or try adding some cardamom instead of the nutmeg!
2. Layer most of your oatmeal in the bottom of the cup. Of course this depends on the size of your cup – mine was wide at the bottom and narrow at the top. Yours may be opposite. Plan accordingly 🙂
3. Layer pumpkin mixture over the oatmeal.
4. Layer with chopped nuts.
5. Layer with yogurt.
6. Layer with berries. I used frozen blueberries that I had warmed up so they got really gooey and delicious.
7. Top with remaining oatmeal.
8. Top with remaining pumpkin.
9. Top with nuts.
10. Add a dollop of yogurt.
11. Garnish with a few nuts.
You could stack your parfait lots of different ways, use different fruit or nuts, leave out the Greek yogurt if you don't do dairy – but be sure to try some version of this awesome combination soon!
Voila! Amazing breakfast! Not only is it beautiful, it's extra good for you. Need more reason to opt for real pumpkin over a #PSL?
Also check out my Pumpkin Protein Muffins – they're one of my most popular Fall recipes!
Nutrition Facts
Calories per Serving:

400

The Body Fuel System uses my simple, proven Eating Types to make it easy to stay on track. It also gives you healthy, fat-burning recipes and foods you can eat to look and feel your BEST every day!
Recipes like….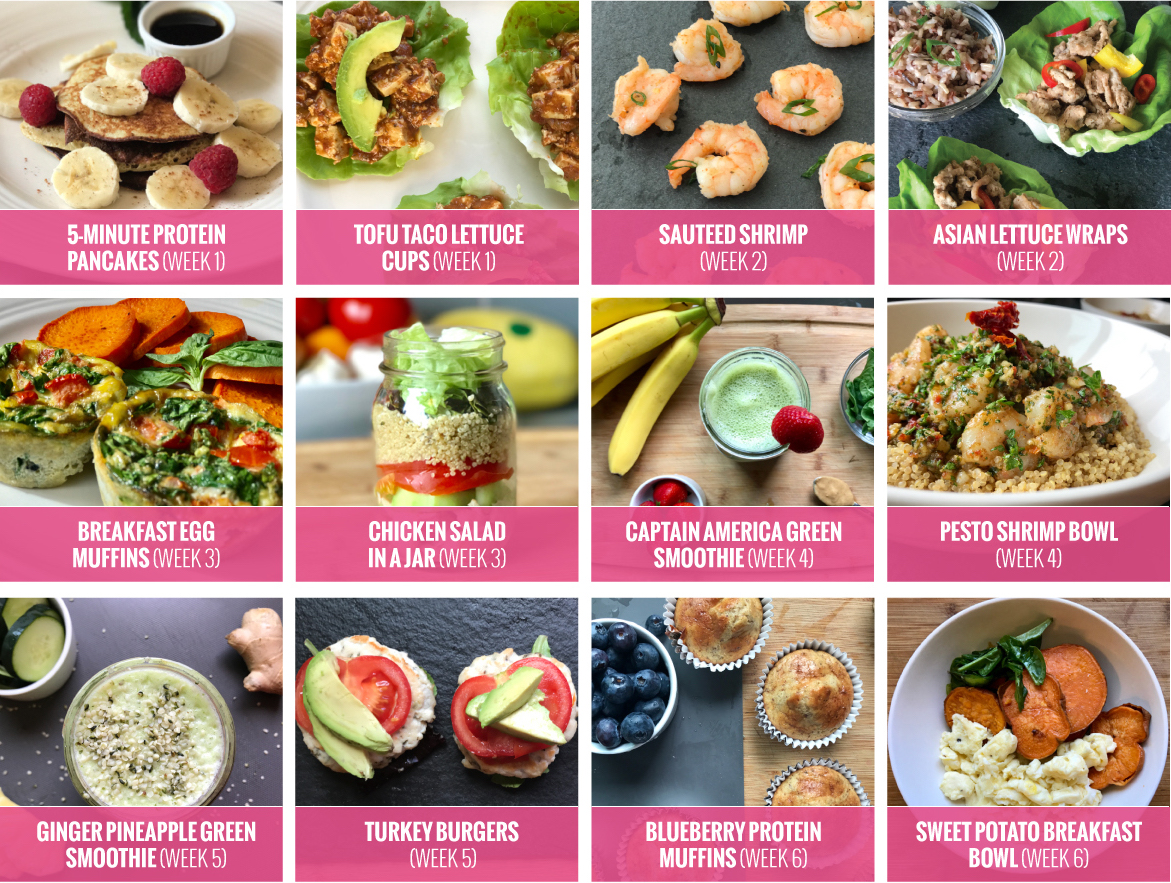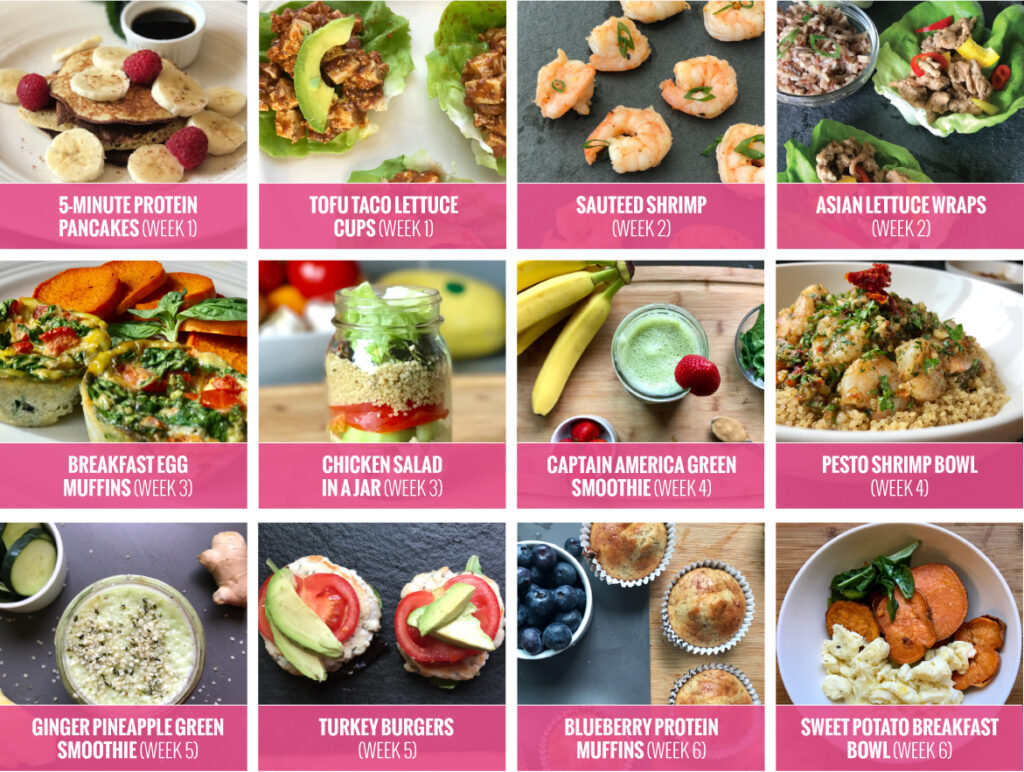 This is my signature eating system and it contains 6 weeks of done-for-you meal planning and recipe guides! You will not only learn the strategies that have given me long-term success, but also enjoy the time-saving benefits of having it all planned out for you!