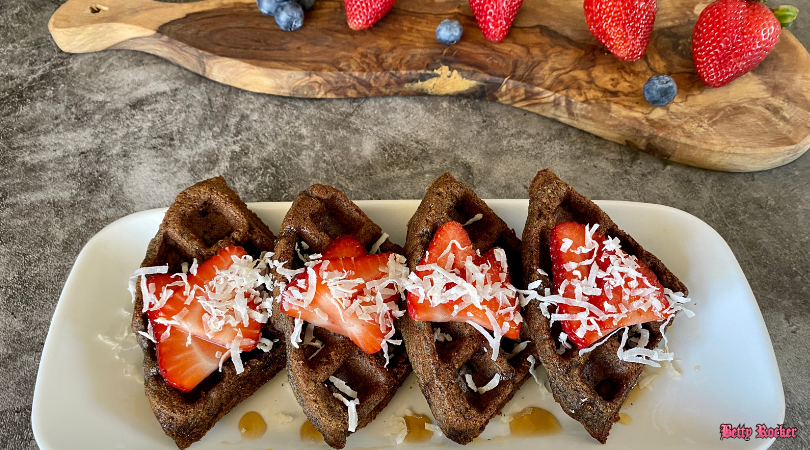 Sometimes you just need a quick, easy recipe to make that tastes good, pleases everyone and doesn't require tons of ingredients.
These Pumpkin Spice Protein Waffles are so easy and so delicious! These are a variation of the 5-minute pancakes I make, boosted with a little bonus protein and Fall flavor! They're gluten and dairy free and are sure to be a huge hit.
These waffles have a great balance of protein from the eggs and protein powder, which helps keep you full and satisfied. Including an optimal serving or complete protein in your meals helps support your active lifestyle and the amino acids benefit your brain, immune function, hormones, enzymes and muscle tissue.
Yes, the recipe still "works" without the protein powder, but if you're active I really encourage you to take this meal opportunity to boost your amino acid intake.
The banana in the batter makes these these waffles naturally sweet and delicious. They're high in phytonutrients and contain both soluble and insoluble fiber (1). Soluble fiber dissolves in water and slows digestion, helping to stabilize your blood sugar levels, and insoluble fiber doesn't dissolve in water, which helps keep things moving through your digestive system (2).
This recipe takes 5 minutes to throw together and is satisfying and delicious – and no matter what you're using for a topping you're sure to enjoy these tasty waffles!
---
Pumpkin Spice Protein Waffles
Yield: 1 serving
You will need: mixing bowl, fork, ladle, (optional – you can just do everything in the blender), waffle iron or skillet
Key: T = Tablespoon; tsp = teaspoon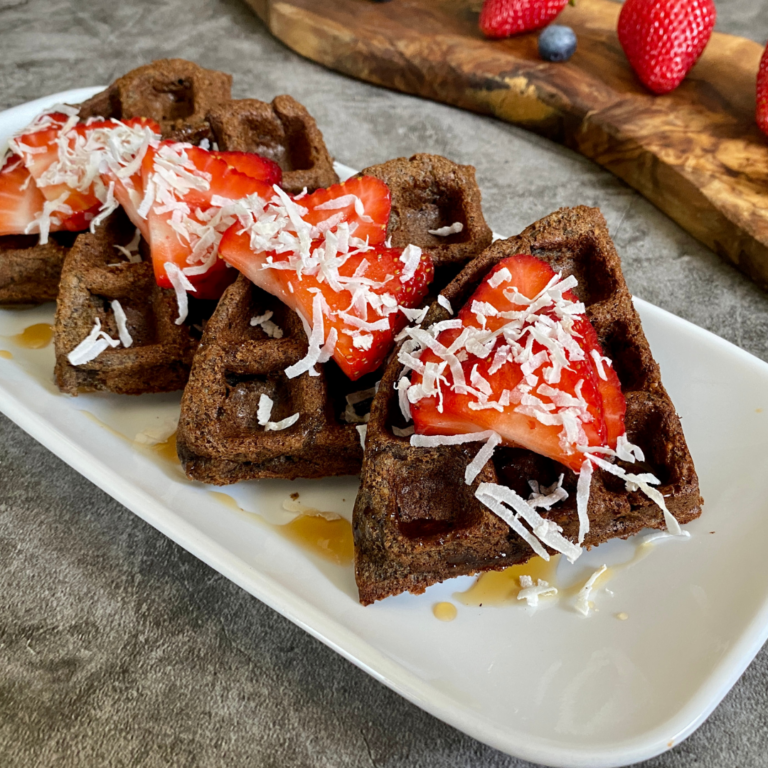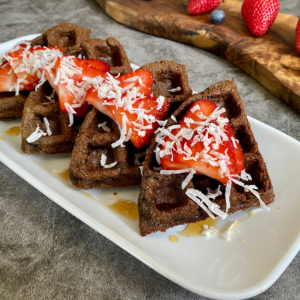 Ingredients
1 banana
2 eggs
1 tsp vanilla
1/4 tsp pumpkin pie spice
1 serving (30 grams) I Vanilla ❤️ Protein Powder
Optional toppings: berries, maple syrup, shredded coconut, nut butter, greek yogurt
Directions:
In a medium sized bowl, mash banana.
Add egg and vanilla extract and mix well.
Add the protein powder and pumpkin pie spice and stir.
Heat and oil your waffle iron and coat it with cooking oil (you could also use a skillet and make them as pancakes).
Cook for 3-5 minutes, or until crispy.
Remove from waffle iron and serve with desired toppings.
Eat now or refrigerate to reheat!
I like to make a few servings of these at a time so I have some quick breakfast options for busy mornings. Then I can just pop them in the toaster to crisp them up and warm them, top with a little shredded coconut, almond milk Greek yogurt and fresh berries and I'm ready!
Let me know how you plan to enjoy them!
Nutrition Facts
Calories per Serving:

377
---
Looking for some help making healthy eating easy?