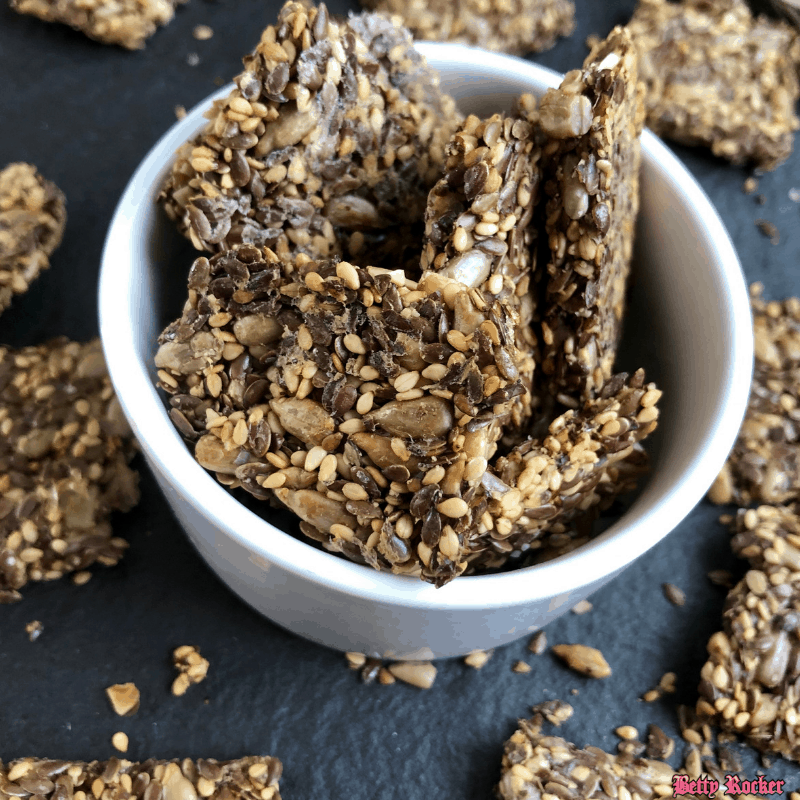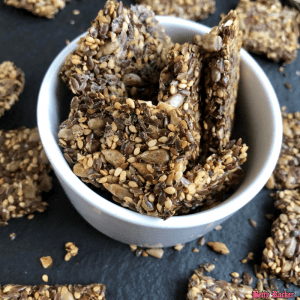 In the mood for something savory and crunchy? I've got you covered!
Check out these delicious and versatile bites of goodness – they're gluten and grain free, totally plant based and packed with fiber and healthy fats.
And with only 5 ingredients, they are simple and easy to make any time you are in the mood for a crunchy snack or need a fun appetizer to serve that everyone will love.
I wanted to delve into some of the cool things seeds do for our health and that I learned about seed cycling from my friend Dr. Jolene Brighten, women's hormone expert.
I found it fascinating to learn that different seeds can support your hormones through the different phases of our cycle.
When our hormones are in balance, estrogen, progesterone, and testosterone work together in harmony. But many factors can throw them out of balance in our busy lives. We are too often bombarded with endocrine disruptors (chemicals that interfere with our endocrine, or hormone system) from environmental toxins, the foods we eat, products we use, stress, poor sleep, and much more.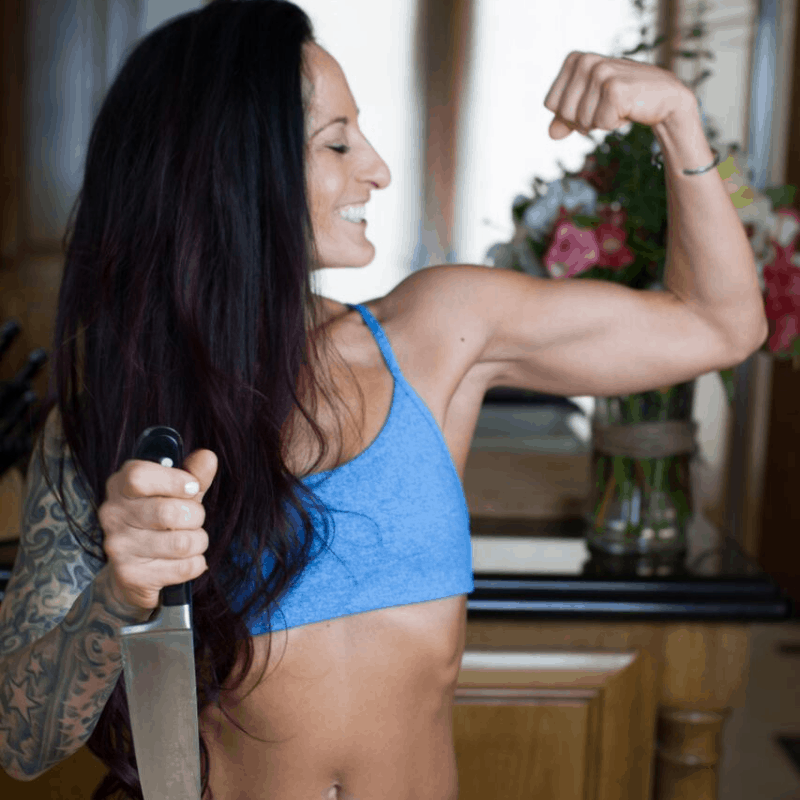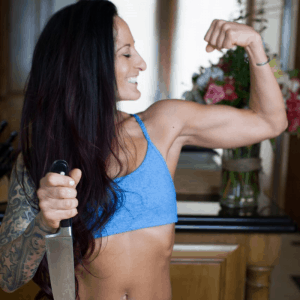 What I found so interesting about seeds was that by adding specific seeds into our diet at specific times, we can give our bodies the nutrients they need to replenish themselves and support our hormones.
If this is something you are interested in, I've delved a bit more into this below – but you can also eat these crackers at any time! They are a great, healthy snack regardless of seed cycling – and you'll find the recipe below!
---
Introduction to Seed Cycling
Seed cycling provides your body the specific nutrients it needs to help support and rebuild your hormones no matter what stage of life you are in. It can also be helpful if you have really intense PMS or things like acne, bloating, and irregular periods.
In order to use seed cycling you need to know a few things first, such as the day you experience your period (the first day there is a flow). That is the day you begin the follicular phase which continues through ovulation, or the first 14 days of your cycle. After that you start the luteal phase which is when these crackers are really impactful!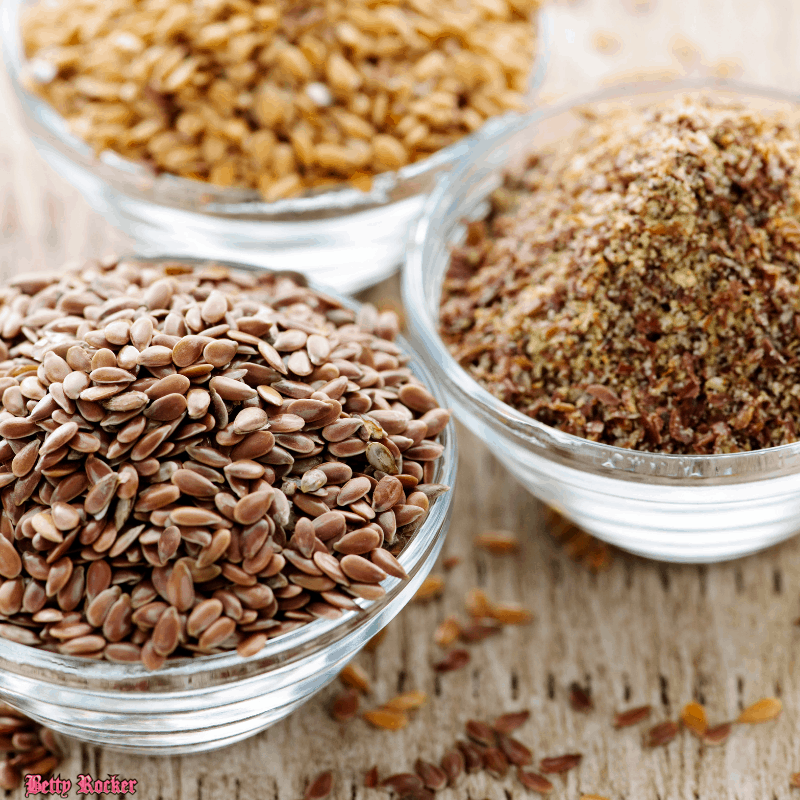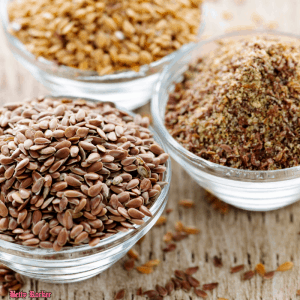 Follicular Phase Seeds
During days 1-14 (the follicular phase) we need more estrogen to rebuild the endometrium (the lining of the uterus).
This is a great time to eat Flax seeds and Pumpkin seeds since they naturally balance your estrogen levels while also helping you metabolize it, to avoid going into estrogen dominance.
High levels of estrogen can lead to tender breasts, mood swings, hair loss, weight gain, fibroids, endometriosis, breast and ovarian cysts, and even breast and ovarian cancer. By balancing our estrogen levels, we can help prevent some of these from happening and decrease our symptoms (1).
Flax seeds can also help reduce breast tenderness which is common around this time (2). They are also a great source of Omega 3's, soluble fiber, and antioxidants which we need on a daily basis (3).
Luteal Phase Seeds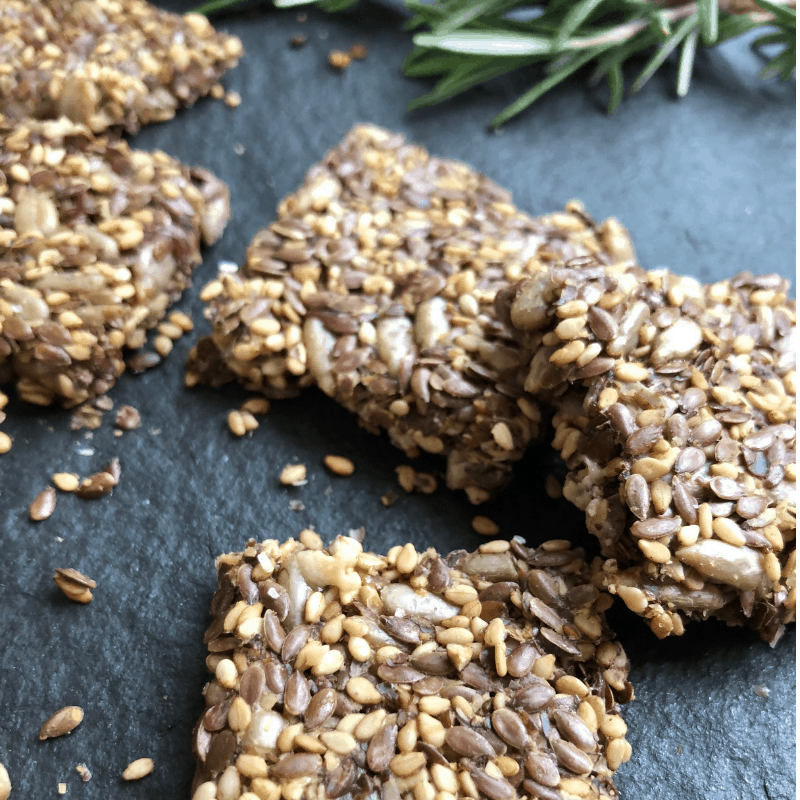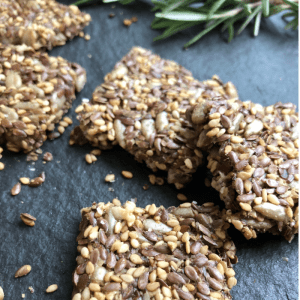 During Days 15-30 (the luteal phase) women tend to experience low levels of progesterone which is the sex hormone that triggers your body to prepare for pregnancy.
Low progesterone levels can also lead to tender breasts, headaches, mood swings, anxiety and not being able to fall or stay asleep (4). By naturally supporting the body by including sesame and sunflower seeds, both of which contain zinc, we can encourage the production of progesterone reducing these side effects (5).
Sesame seeds can also balance your hormones during menopause and can help give you some relief (6).
---
There are quite a few ways to add seeds to your diet but making seed crackers is one of my favorite ways!
This cracker recipe calls for flax seeds, sesame seeds and sunflower seeds so I would recommend having them during the second phase of your cycle for optimal hormone benefits.
Regardless of seed cycling, these crackers, and seeds in general, provide your body with nourishment and nutrients that can be enjoyed at any time.
Simple Seed Crackers
Yield: 5 servings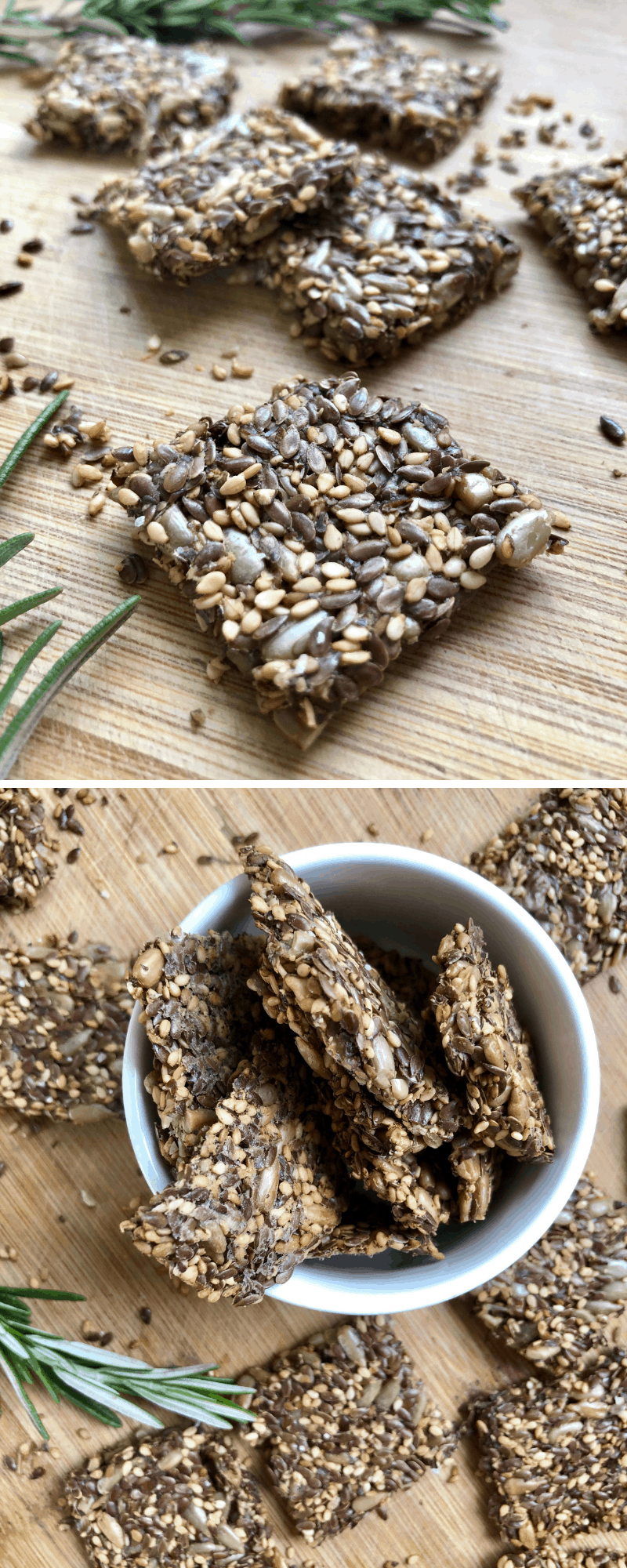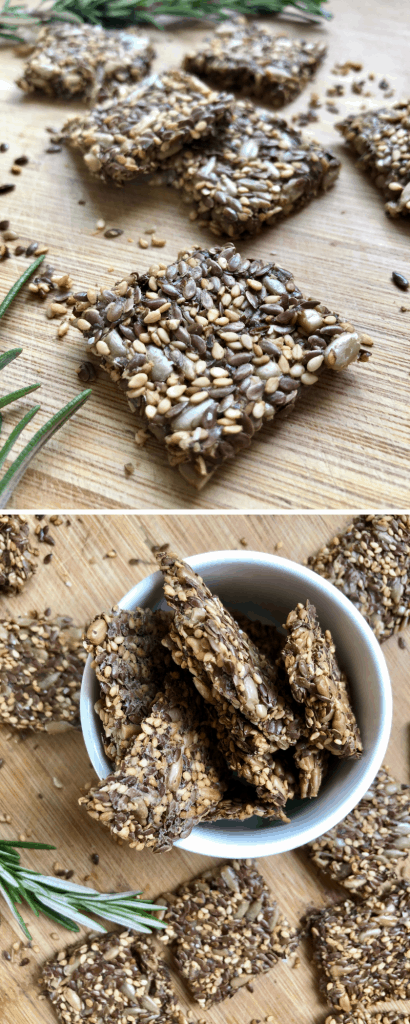 You will need: measuring spoons, measuring cups, small mixing bowl, baking sheet, parchment paper
Key: T=Tablespoon; tsp=teaspoon
Ingredients:
3/4 cup flax seeds (½ cup whole, ¼ cup ground)
1/2 cup sunflower seeds
1/2 cup sesame seeds
1/2 tsp salt
3/4 – 1 cup water
herbs and spices of choice*
Instructions:
Heat oven to 325 F.
Mix all of the dry ingredients in a bowl.
Add ¾ cup of water, mix, and let sit for 10 minutes. You'll want a dough that sticks together but isn't too wet. If you need more water, add the rest and let it sit again for 10 minutes.
Line a large baking tray with parchment paper and spread the mixture evenly until it is about 3-4 mm thick.
Bake for 20 minutes.
Remove from the oven and lift the parchment paper with the dough onto a cutting board and cut to desired cracker sizes. I like to do mine about 1″x 1″.
Lift the paper and crackers back onto the tray and return to the oven for another 20 minutes.
Remove the tray from the oven once again and flip each cracker over before returning to the oven for another 10-15 minutes.
Once done, remove from oven and let the crackers cool.
Store in an airtight container.
*I made these with rosemary, garlic powder, and onion powder but the possibilities are endless! You can even do a sweeter version and season your crackers with cinnamon, nutmeg and a dash of cacao powder.
For Savory:

2 tsp garlic powder
1 tsp onion powder
1T fresh rosemary or 2 tsp dried
For Sweet: 
---
Enjoy,Rockstar! These crackers are tasty plain, but you can also liven them up with a variety of different spices. I like adding different flavors each time I make them to change things up a bit!
Made a savory version? They are great dipped in my Red Pepper Hummus and Avocado Bean Dip!
Made a sweeter version? Dip them in my homemade Healthy Nutella!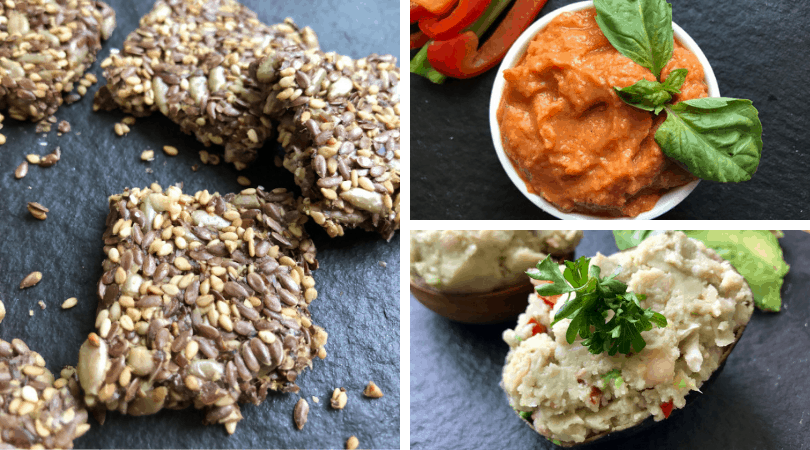 Nutrition Facts
Calories per Serving:

296
Let me know your versions in the comments below and any questions too, and as always feel free to share this with a friend who might like it!
---
Jump Start Your Health with THE FREE 5-Day Food and Fitness CHALLENGE. Get Motivated to sculpt your Fittest Physique Ever with 5 Daily Workout and Nutrition Challenges full of simple, yet powerful healthy habits and fun workouts that are the keys to your health and fitness!