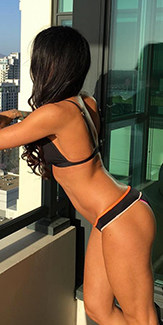 Have you ever heard of the "tie in" area? That's the area on the back of our leg between the glutes and hamstrings. It's an area that really gets a lot of focus, and one I like to see sculpted.
In today's workout, we're going to be doing some exercises that really help to carve it out, but before we do the workout let me debunk the myth that there is a specific "tie-in muscle" we're training there.
What we're actually focusing on is defining the juncture of 2 muscle groups: the glutes and hamstrings where they "tie in together" with some specific moves that strengthen BOTH muscle groups and help define where they connect.
As you add muscle to these 2 areas (and lose extra body fat), you'll really start to see that defined separation and lift.
There are 3 keys to seeing definition where the booty and hamstrings meet:
1. DO: Add resistance to your workouts to stimulate more muscle growth.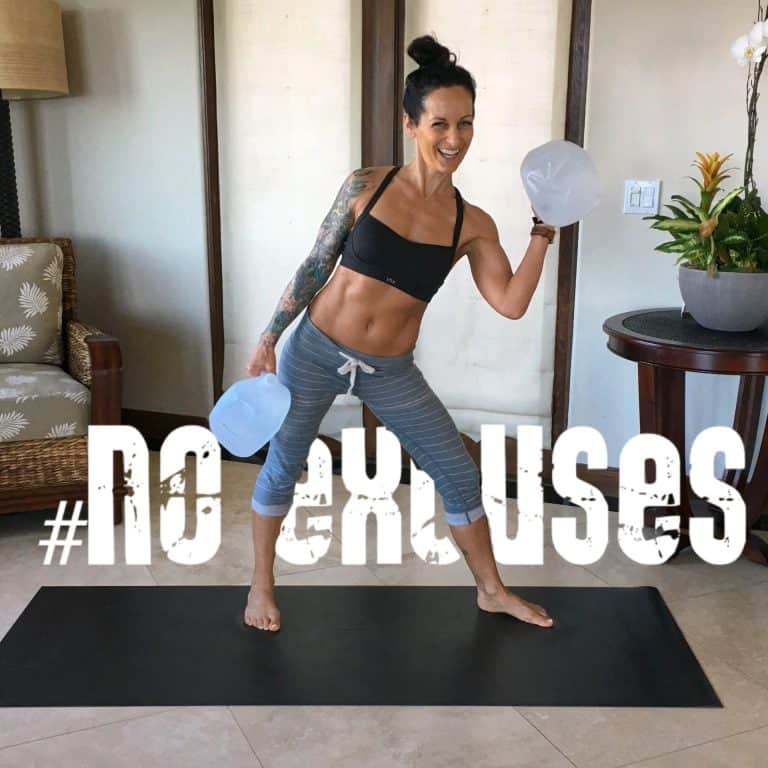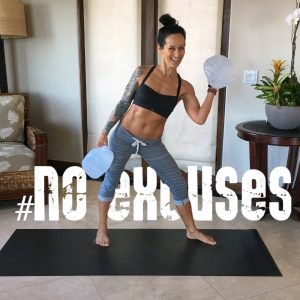 If you want to see that shapely curve between your glutes and hamstrings, adding some lean muscle is ideal. That's how you get the shape of your butt and legs.
Lean muscle burns more calories at rest than fat and as you begin to add some muscle to your body, you'll inevitably lose fat.
Adding in simple props like the water jugs increases your body's ability to stimulate new muscle growth. Adding some lean muscle won't suddenly make you bulky, either!
It's the lean muscle on my body that gives me the defined shape I have and helps me maintain lower body fat overall.
2: DO: Add in explosive cardio moves like the ones I have in this circuit to increase fat burning.
Because I add explosive moves into my circuits, I'm able to keep my heart rate elevated throughout the workout, and really maximize the fat burn both during and after the session.
3. DO: Eat protein, carbohydrates, healthy fats and green foods.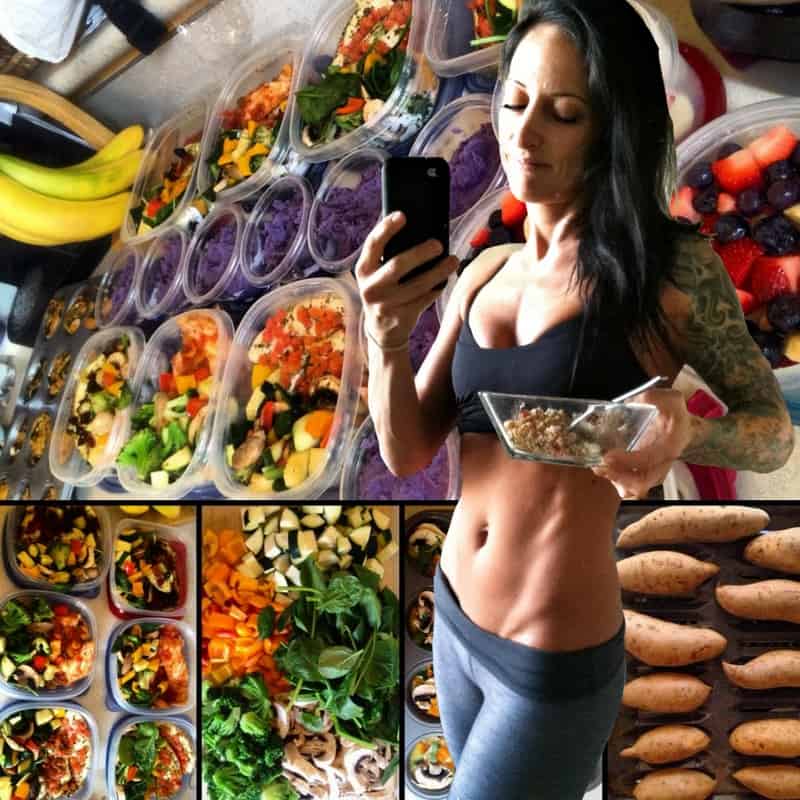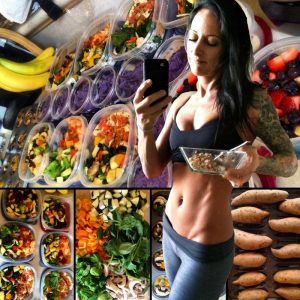 To maximize the effectiveness of the benefits you get from the explosive cardio AND the resistance training, you MUST eat to support the process your body is naturally going to want to go through when you are training.
If you don't eat the right foods in balance, your body will often store fat more readily, your hormones may become imbalanced, and your health can be affected.
There are a lot of great approaches to take, but to keep it simple, focus on getting protein in with all your meals, eating complex whole-food based carbohydrates around your workouts (non-processed carbs are ideal), including healthy fats and eating greens several times a day. Having the right information and a good plan makes ALL the difference.
Booty, Back and Hamstrings Workout(resistance style training)
15 Minute Booty, Back and Hamstrings
Click to expand and see all workout move descriptions.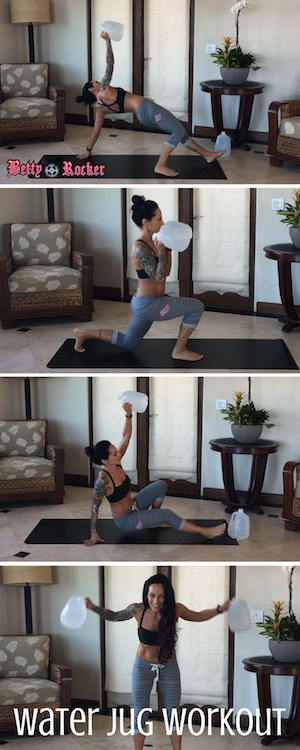 Forward Reverse Lunges (10 each side)
Hold your weighted objects at your sides and step forward into a lunge, keeping your core engaged, shoulders back and chest up.
Your knee should be lined up with your toes, and not beyond them. Drop to 90 degrees if you have the flexibility to do so. Press back to standing, and immediately step the same leg behind you into a reverse lunge, maintaining an upright and stable torso. Step back to center and repeat on the other leg.
Jump Squat Spins (0:30)
Shoot your butt back behind you as if you were going to sit on a chair, and power up to jump, rotating a 1/4 turn to the left. Land lightly – keep your chest up!
Repeat, but jump back 1/4 turn to your right.
Mod: For a no-impact version do body squats.
Reverse Lunge with Bicep Curls (10 each side)
Stand with your core engaged, chest up holding your weighted objects at your sides. Step your right foot back into a reverse lunge, simultaneously curling your weights toward your shoulders.
Be sure the left knee stays lined up with the left toes, and you maintain your upper body form.
Lower the weights back to your sides as you step forward. Curl again as you step back with the other leg.
Mountain Climbers (1:00)
Place your hands below your shoulders, keeping your chest open and core engaged. Don't arch or sag your lower back. Legs straight and strong.
Begin running your legs up toward your chest.
Mod: You can balance your upper body on an elevated surface to take some of the pressure off your wrists and hands, or stand and do running high knees.
Partial Get Ups (10 each side)
Lay on your back, with your right knee bent, left leg straight. Your right hand is up straight, holding a weight or weighted object. Lock out your elbow, and pull the shoulder down into its socket.
Use your left hand for balance – it should be out at a 45 degree angle to your body.
Press down through your right heel as squeeze your glutes to lift your hips up off the ground. You'll support yourself on just the left arm, the heel of the straight left leg, and the surface of your flat right foot, like a tripod.
Look up at the weight. Lower back down and repeat for all reps on the right side before switching to the left.
Reverse Flyes (10)
Stand holding weights or weighted objects in both hands in front of you. Hinge forward at the hips, coming to 45 degrees, keeping your core engaged.
Don't allow the weight of your weights to pull your shoulders forward, keep a slight engagement between the shoulder blades.
Engage between your shoulder blades and smoothly lift your weights toward the ceiling to shoulder height, turning your pinkies up slightly. Return to start and repeat.
Full Get Ups (10 each side)
*note – there is another way to do a get up that involves an additional step of bringing your knee underneath your body before coming to standing. If you're using heavier weight, please see this tutorial for another variation.
Position your body the same way you did for the partial get up.
This time, as you lift your hips, you're going to bring your straight leg under your body, either dropping your knee to the floor first to come into a kneeling lunge (not shown) and then coming to standing – or – as shown, bringing your leg beneath you to come to standing.
Power up through the hips, and lower down the same way you came up.
---
Take advantage of the POWER of resistance training and explosive cardio with my brand new program, Home Workout Domination!
---