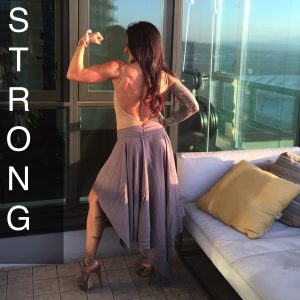 Did you know that you have over 600 muscles in your body?!
Our muscles (and the way we treat them) are responsible for every single move we make, each and every day.
Just think about that for a second…
Muscles are the very reason we can move our bodies at all. They help you bend over, stand up, lift things, pump blood through your body, and even help you breathe!
Muscles are also KEY to achieving the toned, sleek look we all want.
But to a lot of people – and I used to be one of them – it's kind of a mystery how they actually work!
Which is exactly why I thought it would be fun to dig a little deeper today into the subject of muscles – and why they are so integral in helping us get a toned physique.
A Bit about Muscles
While the word "muscle" means 'little mouse' in Latin, muscles more remind me of a rubber band.
Muscles get their 'stretchiness' from the fact they are made up of thousands–even tens of thousands–of fibers.
Whether you are running, walking or talking, almost all human movement occurs when these muscle fibers contract.
The command center of any muscle is a nerve which means that contractions begin when a neural message is sent to the muscle.
When that message stops, the muscle relaxes.
There are 3 types of muscle – Skeletal, Cardiac and Smooth: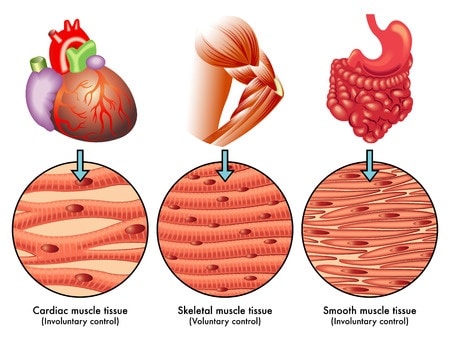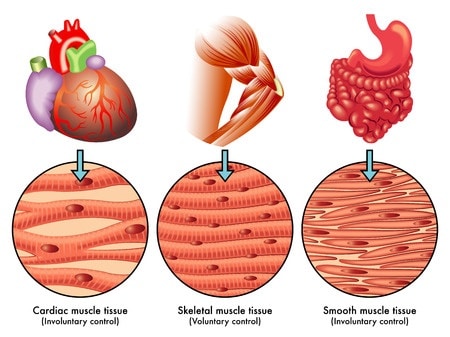 Skeletal muscle: When we talk about muscles, most of us are thinking about skeletal muscle. These are the muscles that give our limbs movement and our bodies their shape.
Skeletal muscles are those muscles we consciously control; they do what we want, when we want them to.
Cardiac muscle: Otherwise known as the heart muscle, cardiac muscle pumps blood to, you guessed it, your heart. Unlike skeletal muscles, the cardiac muscle isn't under our conscious control; thankfully it functions whether we think about them or not!
Smooth muscle: Smooth muscle controls the movements of our blood vessels and internal organs. Like cardiac muscle, its functioning does not require our conscious control.
What Happens When We Exercise?
So how does exercise help us train our muscles so we get that toned, tight look?
While we are born with a set number of muscle fibers (in other words, we can't grow new ones), we can build up the ones we have.
So when we do exercise like resistance training or HIIT, here's what happens:
1. Effort
Muscles grow or change by experiencing stress. When the muscle is challenged, either from lifting weights or lifting your own bodyweight, it's forced beyond its comfort zone.
Over time, muscles will adapt to the stress, which is why we want to mix up our workouts styles regularly, it keeps them guessing!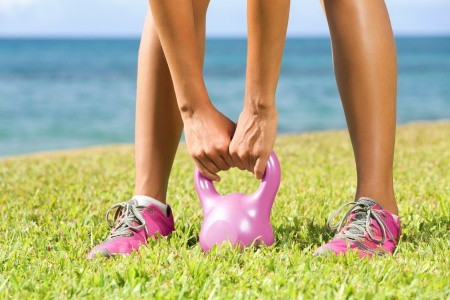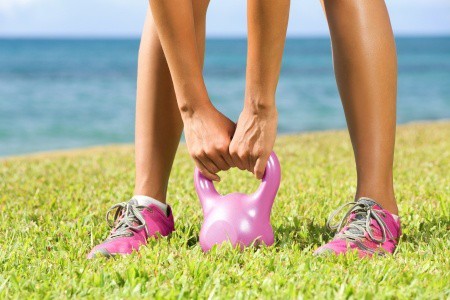 2. Tear Down
This exercise effort creates the tension in your muscle that creates micro-tears in the muscle fibers. This is not unhealthy or harmful.
Exercise creates a certain amount of stress on our system during this process – one of the reasons it's SO IMPORTANT to eat properly while you're training, to support your body as it goest through this natural process.
3. Repair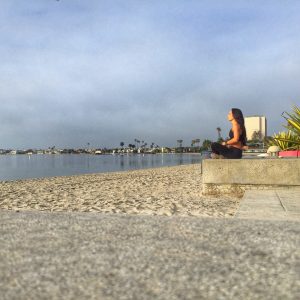 Finally, your body uses a cellular process to repair the micro-tears in the muscle fibers, and during this process, the muscle fibers fuse together to form new muscle protein strands and increase the thickness (and amount of) muscle fibers.
Here's what you need to remember: this cellular process that creates new, stronger muscle fibers only happens when your body is at rest. So to rock that toned look, your rest days are just as important as your workouts!
Put that Effort, Tear Down and Repair cycle on repeat, and your long-term game will be unbeatable!
Your muscles will grow stronger and be able to work longer the more consistent you are. Not to mention how amazing your body will feel, and how much better your clothes will fit!
And don't dismiss the importance of stretching!
Stretching improves flexibility, helps prevent muscle cramps and injuries, ensures you reach a full range of motion, promotes better balance, and guarantees you get the most out of your workout.
What's The Relationship Between Muscle and Fat?
To really appreciate why muscles are so important for that sexy sleek look, we need to understand body composition and how muscle relates to fat.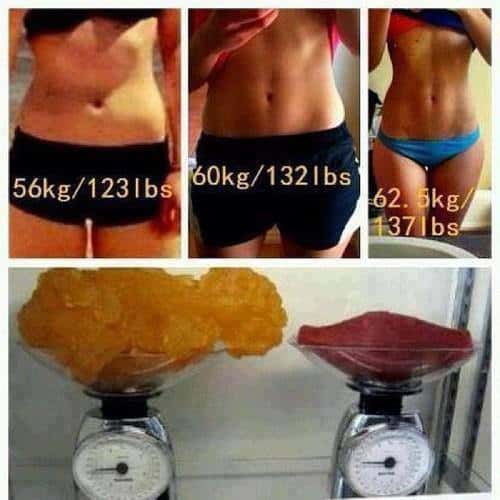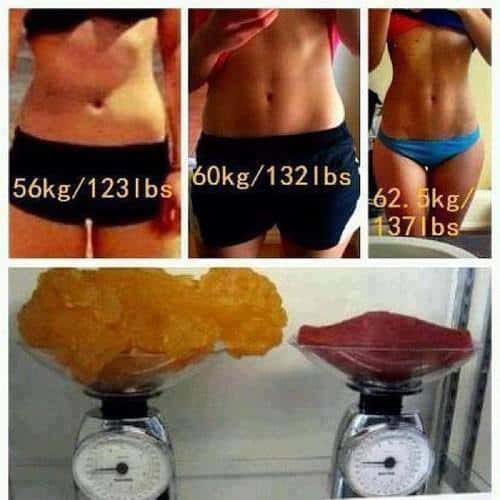 While a pound of muscle and a pound of fat obviously weigh the same, they look totally different. That's because muscle is denser than fat, so it takes up much less volume: a pound of fat takes up 4 times the space of muscle tissue!
That's why when you exchange fat for muscle, you look and feel thinner—even if the number on the scale doesn't move, and also why I recommend ditching your scale as your measure of progress!
And one more thing – the difference in fat and muscle volume is ALSO why gaining muscle doesn't bulk you up—a concern of a lot of women I hear from.
In fact, the exact opposite will happen. As you trade body fat for lean muscle, that muscle leaves you looking smaller and firmer, because that muscle takes up less space than the fat you're blasting away. If you see Susan in the picture above (who originally shared this image during one of my 30-day challenges), you can see how even though she weighed more in pounds, she was physically smaller in size.
So more muscle and less fat is really the secret to getting those fabulous curves.
Plus, it's just plain healthier to be fit.
Excess body fat has been linked to a lot of different chronic diseases: high blood pressure, stroke, cancer, Type 2 diabetes, heart disease, fatty liver disease, kidney disease and more.
Now don't get me wrong-  we don't want to aim for NO body fat; having too little fat is also unhealthy, in a lot of the same ways too much fat can be.  But what's clear is that if your goal is a toned physique, the best way to do that is to build muscle, and the more muscle you build, the less excess fat you'll have.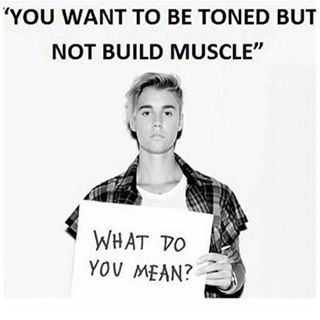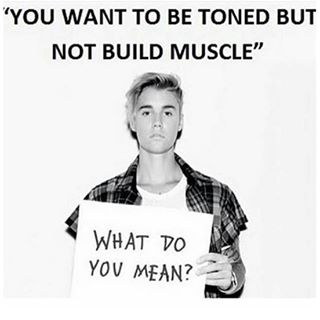 And I'd like to put a fitness myth to rest right here. One of the comments I hear a lot is "I worry if I build up all that muscle, it will all turn to fat when I stop exercising."
This, my friend, is physically impossible.
If you stop exercising, you will lose muscle mass, yes. (But here's a fun fact: it takes twice as long to lose a muscle than it takes to build it, so muscle you build in 2 months will take 4 months to deteriorate.)
But your muscle isn't literally turning into fat. Muscle and fat cells are two totally different things, and one can't become the other.
What will happen is your body's composition will change.
Muscle burns more calories than fat, so it speeds up your metabolism. With every pound of muscle you build, you will burn 35-50 more calories a day. So, if you gain 4.5 pounds of muscle, you will burn 150 additional calories per day, or 4500 additional calories per month, for a loss of around 15 pounds a year! Now think of the inverse of that.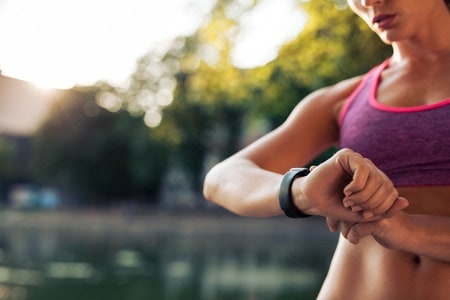 If you stop exercising, a smaller muscle mass coupled with a more sedentary lifestyle means you will burn less calories every day even though you probably would still consume the same amount of food. So it's not surprising if your body fat increases as a result, and as we've learned by now, fat takes up more space than muscle.
As Dr. Gerard Varlotta of New York University explains, "What happens is that the ratio of fat to muscle has changed. If you have atrophy of the muscle, then other tissue can move in and take its place."
How To Feed A Muscle
Let's talk for a minute about how to FEED your muscles, because we grow muscles in two ways:
by completing our workout/rest cycle consistently, and
by giving our muscles the right food.
It really helps to know which nutrients your body needs – especially if you're putting in the time to exercise and train.
I used to train 6 times a week, but until I started eating the right food, I didn't see the progress and results in my physique that I've now been able to maintain for almost a decade (with LESS workouts). And I hear this again and again from my readers, students, and clients.
So here are a few tips to give your muscles the right fuel:
1. Eat Protein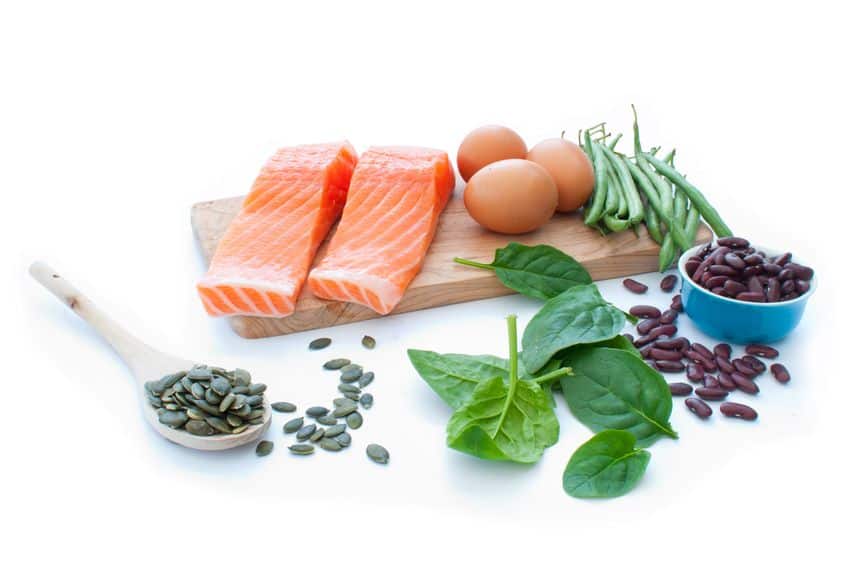 This is so important! Protein helps your body repair and rebuild muscles; the amino acids in proteins are literally the building blocks of muscle.
The right amount for you will depend on your activity level and your goals.
While the studies conflict, it's reasonably safe to say that you should eat 0.7-1 grams per pound of body weight.
Some of the protein staples I keep in my kitchen include whole eggs, grass-fed or farm-raised meats and poultry, and wild-caught fish. And let's not forget that proteins come in a variety of plant-based food including edamame, fermented or soaked beans, as well as greens.
And if you are wondering about protein powder, you might want to check out this article where I talk about some of my favorites.
2. Consume Carbohydrates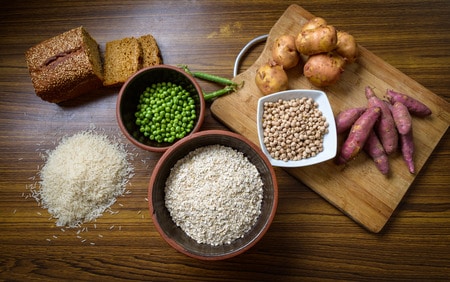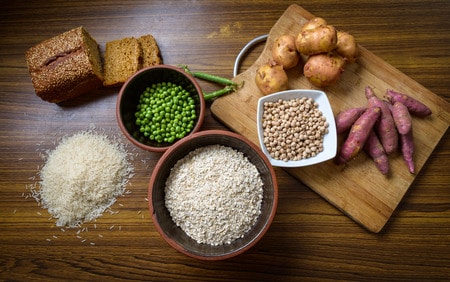 When you work out, your body taps into your muscles' energy stores. If you don't eat enough carbohydrates, your body won't have enough energy reserves to tap into and will break down your muscles instead.
One of the problems with carbohydrates is it's a big umbrella term covering a lot of foods—both good and bad. So great nutritional carbs like apples and oats get lumped together with 'bad' carbs like soda and chips.
The best way to get your carbs is to eat a nice variety of healthy, whole food options. Some great examples are brown rice, sweet potatoes, quinoa, sprouted oats or a large assortment of vegetables. Fruit is great too, but it's a quick-digesting carb and won't have the same long-lasting effect that a bowl of oatmeal will.
3. Eat Healthy Fats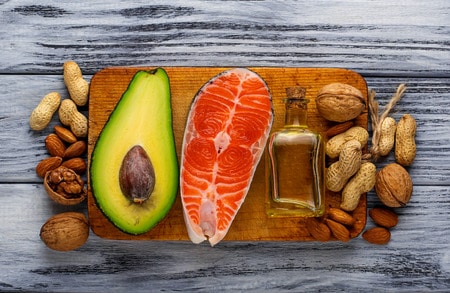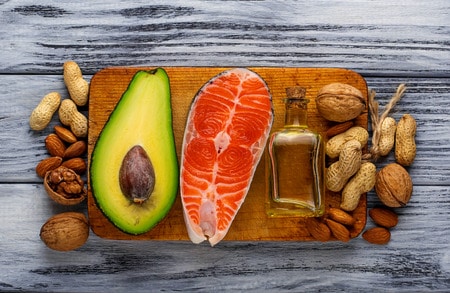 Contrary to popular belief, eating fat doesn't make you fat. In fact, it does the opposite, it helps you stay lean and trim.
That's because fat plays an important role in hormone production which helps encourage muscle growth.
But, choose the fats you eat wisely. Make sure you are eating healthy fats like olive oil, nuts, nut butters, flax, seeds, and avocados.
And try to steer clear of bad fats which are saturated and trans fats that you find in a lot of processed snack foods, ice cream, cake, and pizza.
The bottom line? Your muscles matter.
They are the power behind all our daily movement–big and small– and the secret behind getting that sleek, toned look we work so hard to achieve.
Work those muscles, eat whole, healthy foods, stay consistent, and if I know you, you'll be rocking an even more sexy, strong, sculpted version of yourself than you already are!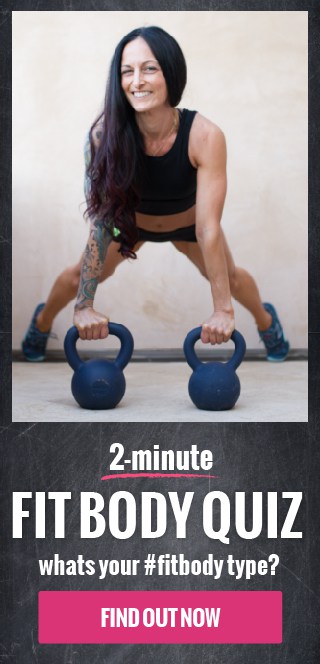 Ready to ROCK a muscle-sculpting, fat-blasting WORKOUT PLAN? Get HOME WORKOUT DOMINATION - my newest program for a toned, fit physique!