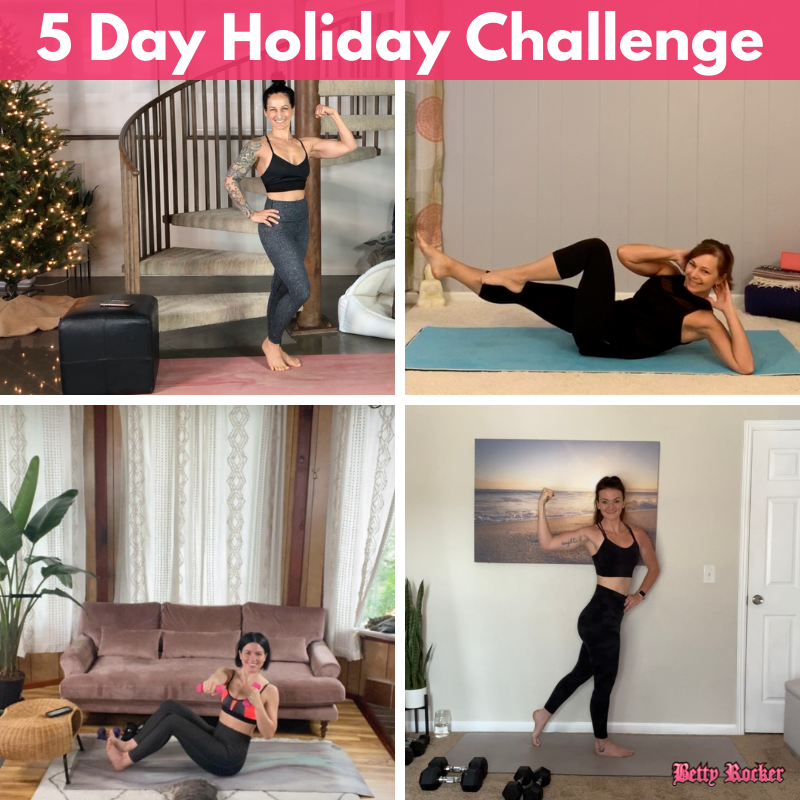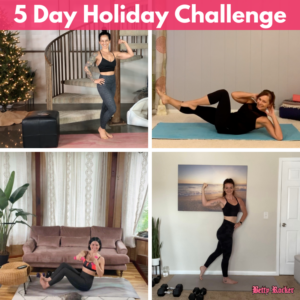 Welcome to the 5 Day Holiday Challenge!
Wishing you Happy Holidays from all of us at Team Betty Rocker!
I wanted to share a special holiday challenge as we enter the final weeks of the year (and stay tuned, as I'll be emailing you a new challenge at the start of 2022!).
For the days leading up to Christmas, I've put together an awesome 5-day sequence with the Team Betty Rocker coaches.
If you're spending time with family, grab your sister, mom or partner and do the challenge together! You might even start a new holiday tradition.
During this busy season, it's so important to tune into your 4 pillars of health (sleep, nutrition, stress management and exercise) to listen to your body and focus on taking care of yourself. Your healthy habits are what you aim for daily, and that includes your mental health and time to step back and recover.
Give yourself permission to rest, to say no when you're feeling tired, to enjoy the moment, and to leave some of the items on your "to do" list til tomorrow.
Here are some bonus resources to set you up for success with any challenge!
Feel free to add in this Full Body Stretch any day this week!
---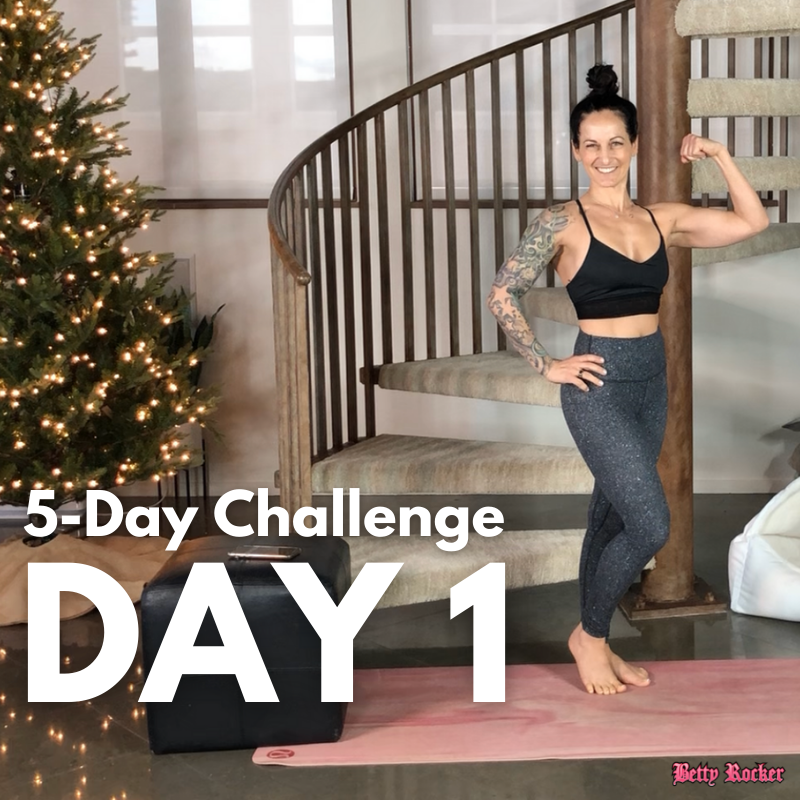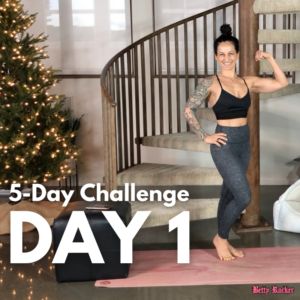 Day 1: Upper Body and Core Supersets
Let's kick off the challenge with this low impact super-sculpt for your upper body and core!
We will be targeting your back, shoulders and arms with moves like biceps curls, shoulder presses and rows and sculpting a strong core with planks and floor wipers to name a few!
Today we'll be focusing on our posture and alignment and talk about building healthy habits both on, and off the mat.
As always, I've got great options to make this work without anything fancy so you can do it anywhere you are – just follow along and I'll show you how. Now let's get right to it!
Be sure to check in with me below this post and let me know how you liked it. I'll see you back here tomorrow for Day 2!
---
This 14-day free workshop can be done along side any workout program!
Sign up and start today and get more out of your workouts!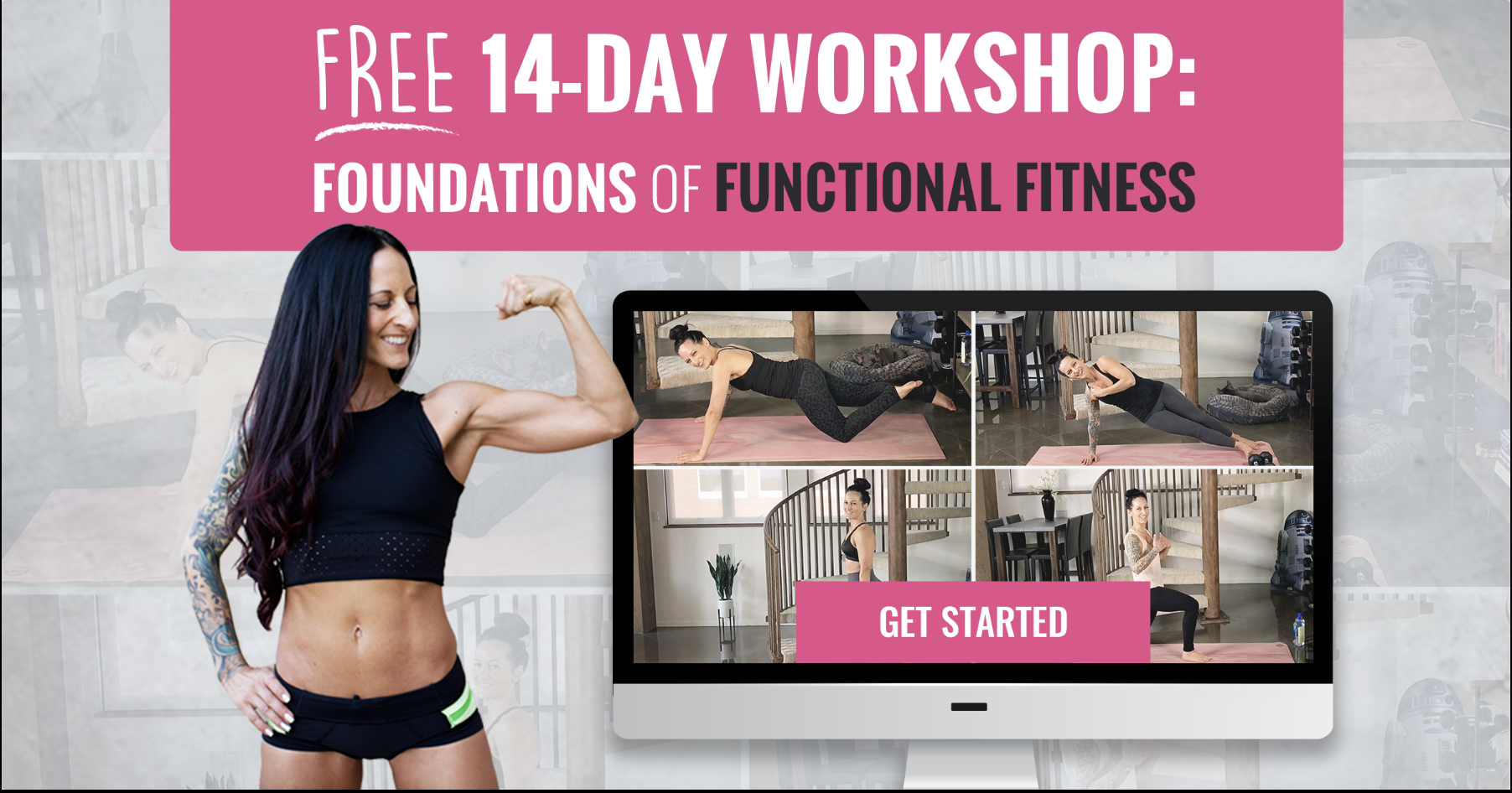 ---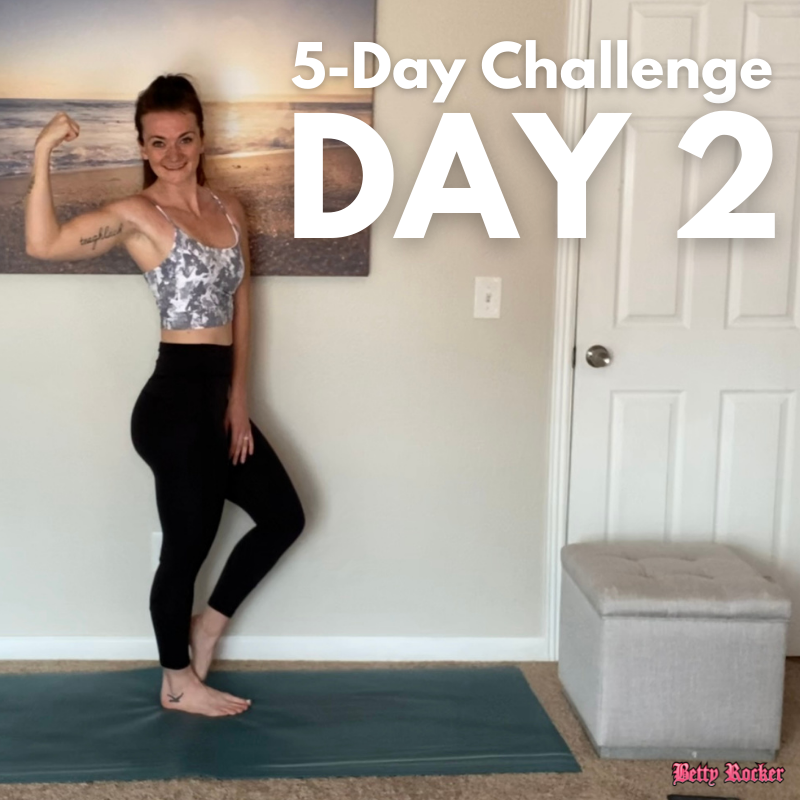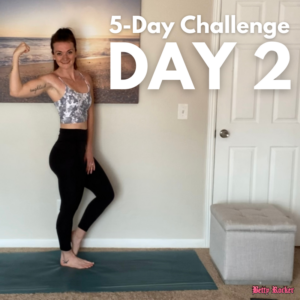 Day 2: Lower Body Burn
For Day 2 of the challenge we're working on strong, sculpted legs! Grab a set of weighted objects and join Coach Amanda from Team Betty Rocker for this lower body workout.
Coach Amanda is a NASM and NESTA Certified Personal Trainer, Crossfit Level 1 Trainer, TRX Qualified Trainer and a Team Betty Rocker Coach in Rock Your Life
This workout is really going to challenge your muscles with moves designed to target every area of your lower body for a complete balanced workout!
A solid lower body routine like this one focuses on main movement patterns: hip extension, a hip hinge, and a squat pattern. It will target your lower body from all angles to build balanced strength.
Ready to get started? Press play and Join Coach Amanda and don't forget to check in after you have completed today's workout! We'll see you back here tomorrow for Day 3!
---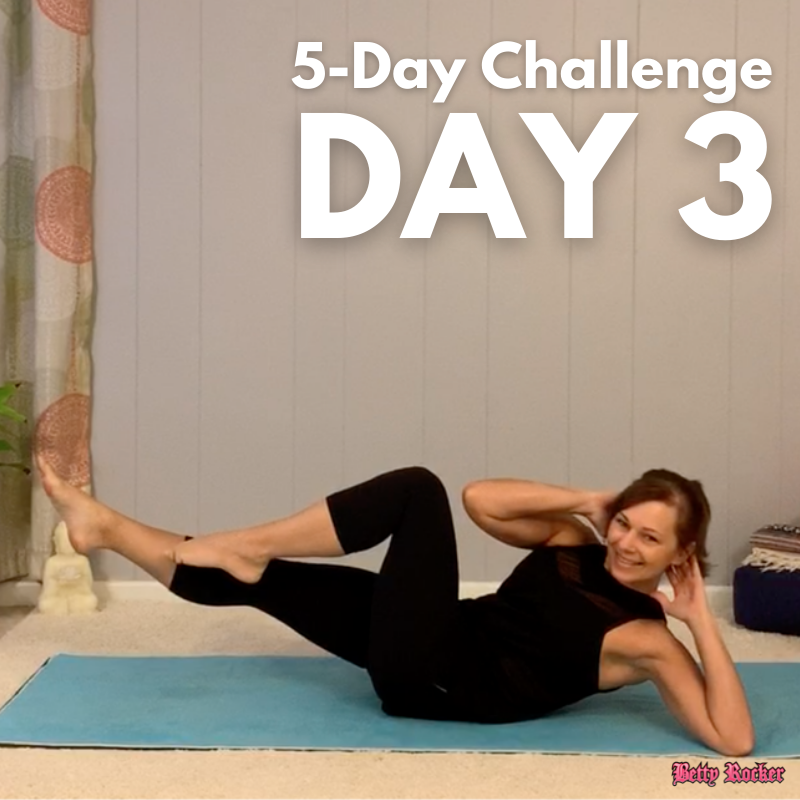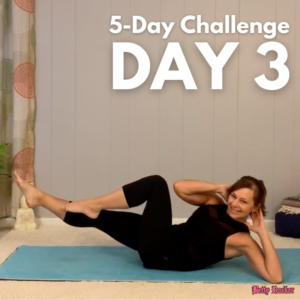 Day 3: Power Pilates
Welcome back for Day 3 of the 5 Day Challenge!
Did you know that strengthening your core is one of the best things you can do for your overall fitness?
A strong core— which includes your abs, obliques, and lower back muscles—keeps your body balanced, helps improve your posture, keeps your spine stable and safe, and provides you with a more controlled and functional base to move from.
There are so many different options when it comes to working your core but adding Pilates into the mix is an awesome way to engage your muscles in a new, fun way!
To help you reap the core-strengthening benefits of Pilates, I invited Coach Nikki, one of the amazing Team Betty Rocker coaches from Rock Your Life, to be your teacher today. Coach Nikki is a yoga instructor ERYT200, an AFAA Certified Personal Trainer, a Mat Pilates Instructor and a Team Betty Rocker Coach!
Join her on the mat, and let's go!
Great job Rockstar! Thank you for making the choice to show up for yourself today. See you back here for Day 4 tomorrow and be sure to check in once you've completed today's workout!
---
I'm so excited that my Whole Betty supplements are now available in the UK and Canada!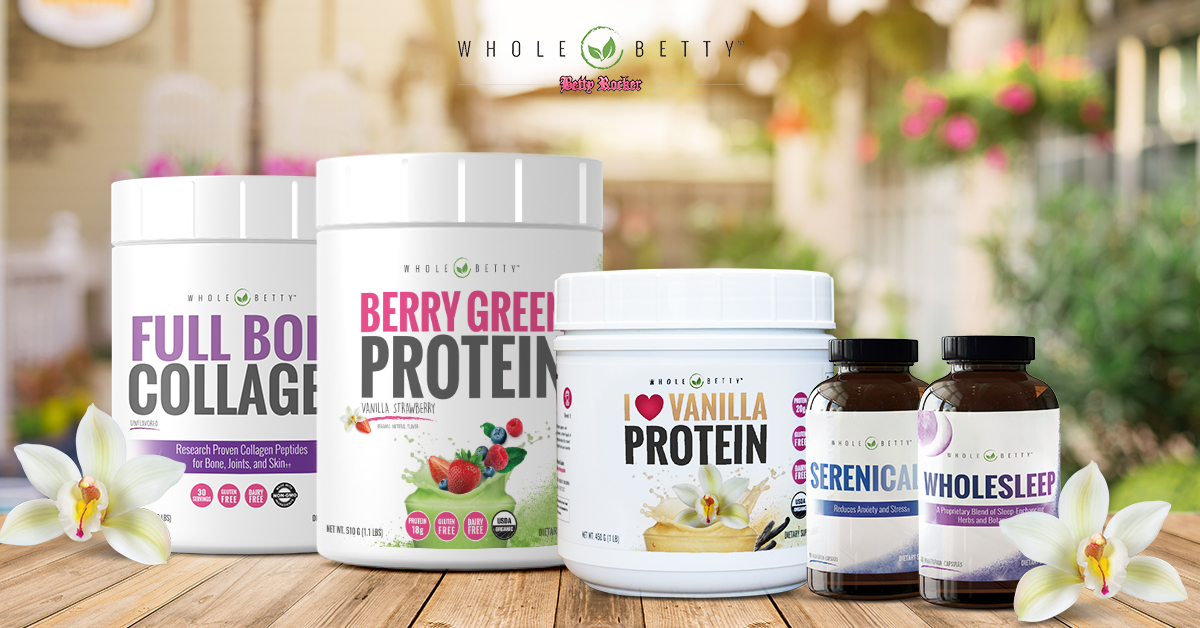 ---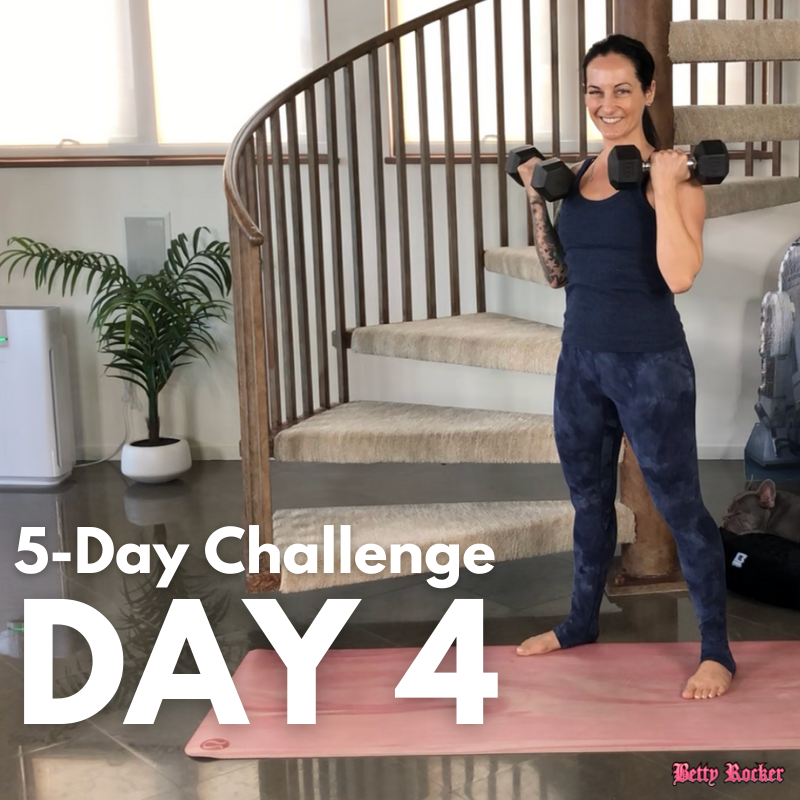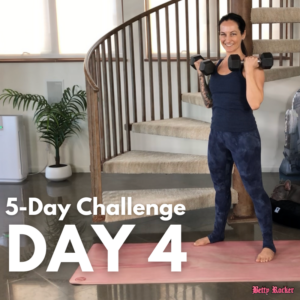 Day 4: Full Body Strength Pyramid
It's Day 4 of the challenge and we're going to strengthen our entire body in just 20 minutes!
Today's workout is a fun, fast and effective pyramid workout that will work you from head to toe.
This is one of the training styles I always get requests for in Rock Your Life (my online home workout studio that you can totally join anytime) – so I know you're going to love it!
Pyramids are a special kind of timing sequence where we focus on one move at a time, and repeat it at timed intervals that go up and then down in length.
They are a great way to build endurance and master the form for each move. I also threw in an optional power move during the rest periods so you can get even more out of this awesome workout!
Grab some weighted objects like dumbbells or water bottles for extra resistance, and let's get strong together!
Can't wait to see you again for Day 5 – the final day of this challenge! Let me know how it's it's going so far in the comments below.
---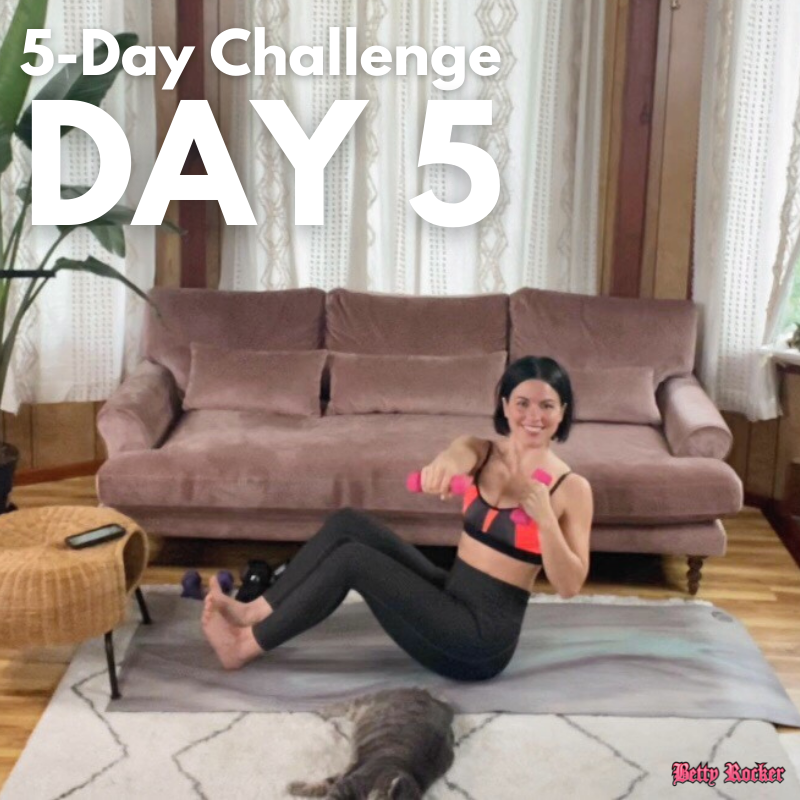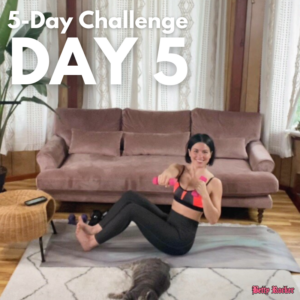 Day 5: 20-Minute HIIT Sculpt
You've made it to the final day of the 5 Day challenge!
Today's Full Body HIIT Sculpt workout will give you another fantastic total body burn in just 20 minutes!
HIIT stands for "high intensity interval training." This type of training is great if you are on a time crunch but want a great workout.
So wherever you're starting out, build yourself up using the cues and guidance from the awesome Coach Neesha, one of our popular Team Betty Rocker Coaches from Rock Your Life, my online home workout studio. Coach Neesha is a NASM Certified Personal Trainer and a Team Betty Rocker Coach.
You'll need a little space to move and some light weighted objects for resistance, like water bottles, water jugs, laundry jugs, or dumbbells.
Get ready to join Coach Neesha and HIIT it hard! 
Awesome job, Rockstar – I'm so proud of you for giving it your all with this challenge!
Leave us a comment below and let us know how you're feeling, where you did this workout, and that you completed the challenge! We love hearing from you!
---
Did you enjoy this mini-challenge?
Then you will LOVE the Wonder Woman Challenge inside of Rock Your Life! The Wonder Woman challenge is designed to strengthen your entire body while improving both muscular and cardiovascular endurance as well as full body mobility. If you are looking for a sculpted physique, a strong core, barre and high intensity cardio, this challenge is for YOU!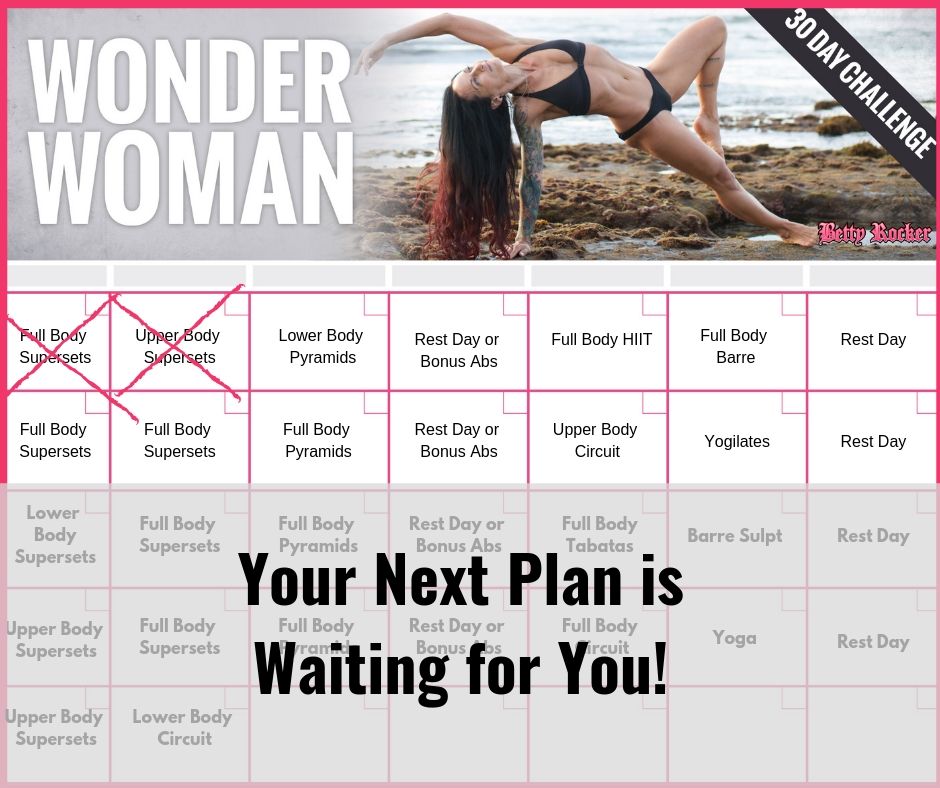 Take your fitness to the next level – without having to leave your house!
Grab a 30-day Trial to Rock Your Life and get access to….
5 new classes you can do from home every week for constant variety and fun! Drop in on your schedule – they're all loaded right into your workout library!
Choose a workout from hundreds of options by body part you want to train, how much time you have and workout style!
Take a 30-day Challenge complete with interactive calendar and daily email push to keep you on track – there are dozens to choose from!
Check in with us in your private support community and make new friends, plus get your questions answered by the coaches!