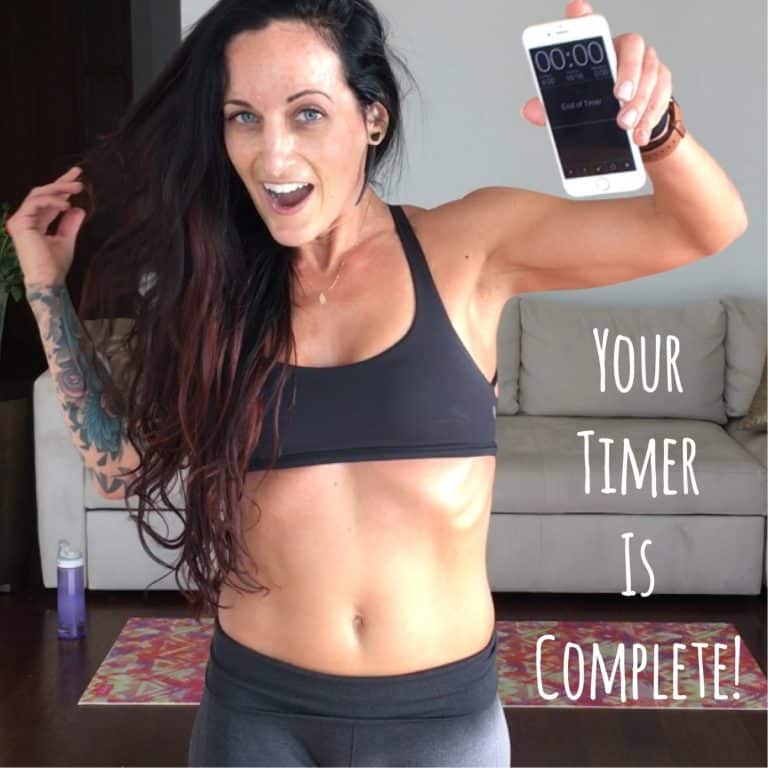 Welcome to Week 3 of the Bikini Tabata Series!
This week we're doing a super cardio core workout that combines some of my favorite ab moves in our tabata format for a fast, efficient workout!
If you are just joining this workout series, here are the other two workouts for you to try:
1-Bikini Tabata Series 1: FULL BODY
2-Bikini Tabata Series 2: BOOTY + LEGS
---
I'm gearing up for the Rock Your Life #SUMMERSHRED 30-Day Challenge – I host brand new LIVE challenges in our community every Spring, Summer, Fall and Winter and we have dozens of 30 day challenge plans just waiting for you to start them!
If you have been wondering what it's like, this is a great time to join us! You can get a 30-day trial and then stay for a month, a year or for as long as you like! CLICK HERE to get more info!
---
Let's get right into today's workout!! Right below the form notes I included some more great info and resources for you on sculpting a strong stomach – so if that's an area of the body you're working on, be sure to scroll down and use that info!
Check in with me when you finish up today!
---
Bikini Tabata Series 3: Cardio Abs
Click to expand and see all workout move descriptions.
Format: Tabatas are formatted with 0:20 work, followed by 0:10 rest for a total of 4 minutes. Follow along with the video, or feel free to program your own workouts using this format! I use the Seconds Pro timer app to save my workouts!
TABATA ONE
Move 1: Surfer Pop Ups
Begin in a tall plank position. Hands are stacked below the shoulders, belly draws up to your spine, head is in neutral.

Drive your hips up and to the side, landing in a sumo (wide leg) squat with your chest up. It is not necessary to be as deep in your squat as me, just keep your chest lifted.

Place your hands back down in front of you and jump back to plank.

Pause if you need to catch your breath, then jump to the opposite side, landing in a sumo squat. Be sure to keep your knees pointed the same direction as your toes. It's okay if they go a little beyond the toes, this is a natural crouch position for the body.

Mod: Step out and step back to the side if you need to catch your breath. You can also switch and do the side to side knee in drivers I demo'd for you at the beginning to get off your hands and still get a great lower abdominal workout.
Move 2: Heismans
Stand and drive your right knee up high to the side as you bring your right elbow to meet it, performing a side crunch. Quickly perform the same movement on your left side, running your legs as you go.
Try to keep the knees driving up high, and a fast pace. You can slow it down and do side crunches anytime you need a break.

Mod: Take the run out of it to lower the impact, and alternate driving your knees to your elbows. 
TABATA TWO
Move 1: Cross Cross Jump Squat
Stand with feet slightly wider than hip distance apart.
Engage your core and shoot your booty back behind you as though you were going to sit on a chair – keeping the weight in your heels and chest up.
Drive your heels down to power up to jump, landing lightly on your feet.
As you land, drive your right knee up and across your midline, rotating your torso as you bring your left elbow to meet your knee. Repeat on the other leg, then back to the squat.

Mod: Take the jump out to lessen the impact, instead performing a body squat with good form. Only squat as deeply as you can comfortably go without bending forward at the waist.
Move 2: Mountain Climbers
Place your hands below your shoulders, keeping your chest open and core engaged. Don't arch or sag your lower back. Legs straight and strong.
Begin running your legs up toward your chest.

Mod: You can balance your upper body on an elevated surface to take some of the pressure off your wrists and hands, or stand and do running high knees.
Wanting to define those abs a little more for summer?
Awesome.
A strong core supports and stabilizes you through all the moves you make – and is a great goal.
There's a little more to getting it shredded than just doing ab workouts every day though…
Shredded Stomach Guide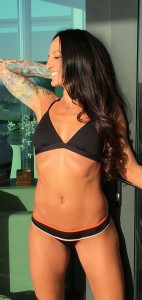 I know it's enticing to do ab workouts every day, thinking that you'll see your abs faster, but just doing workouts that target areas where you're carrying extra body fat will not magically melt the fat off.
We cannot "spot reduce" fat – and I would caution you from taking any supplements that promise to do so, or use "cleanses" or other quick fixes like body wraps, as they are short-term strategies some of which can harm your hormones and will not give you real, long-lasting results.
You can get the fat off – and keep it off though. Fat comes off our body systemically (which means all over our bodies), and in an order governed by our DNA. It will come off in the order it came on.
1.Do high-intensity interval training style workouts to maximize overall fat loss during your workouts.
A couple great ways to incorporate HIIT are to:
a) straight up do HIIT workouts, like these ones here on my blog.
b) incorporate intense cardio or plyo moves into your weight training circuits – like super-setting your deadlifts with jump squats or box jumps or burpees.
2. Add intensity to your workouts by adding weight, or additional resistance to your workouts. 
The second way I target body fat is by adding in resistance or strength training.
Remember that the more lean muscle you have on your body, the more calories you can burn at rest. So be sure to balance your HIIT with some strength training to see amazing results – you are not going to get bulky just by adding heavier weights to your workouts.
As you add lean muscle, your body burns more calories at rest – so you'll be burning more fat and adding muscle. I personally take a combined approach, doing the best workout for the situation I'm in, i.e. traveling I'll use my HIIT circuits and at home I'll cycle between home workouts and weight-training.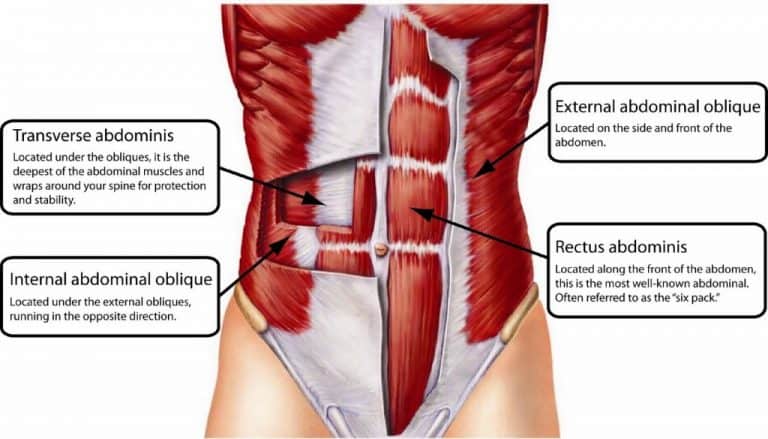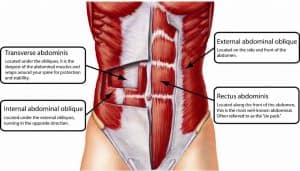 3. Focus on training your ENTIRE core to see real ab definition.
That means workouts like this yoga core sequence, where we targeted the abdominal wall from the inside out, and all the way around. We were working on the front, side, AND back muscles that stabilize our core and aid us in all the movements we do, as well as targeting the deep core stabilizing muscles that help us with balance, as well as spinal and pelvic alignment.
The body is super smart and if you only focus on building muscle on one side of your body (like only doing a lot of crunches or leg lifts or sit ups) you will actually only go so far in the amount of muscle you're able to develop.
This is your body's natural way of protecting you, as too much muscle on one side will put undue stress on your underlying bones and pull you out of alignment.
So use the many targeted ab workouts from this blog or from my functional fitness programs to train your ENTIRE core.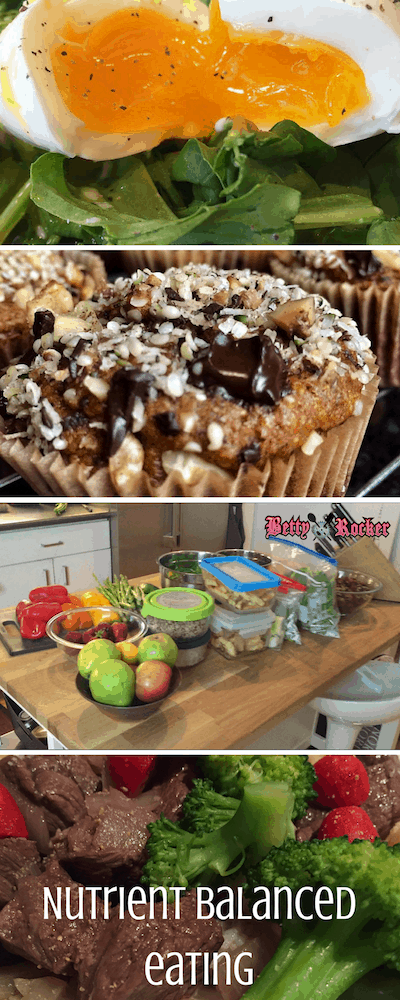 4. Eat balanced meals that contain the nutrients your body needs for support.  
One of the MOST important parts to uncovering your abdominal muscle (and really any area of your body you want to lean out) is eating a balance of nutrients.
I know we talk a lot about the macronutrients and the carbs, protein and healthy fats you need, but you also need the MICROnutrients from greens and plants for essential body, brain and hormone functions.
So many people are walking around with nutrient deficiencies that could be resolved by eating real foods and rotating their greens (read my 5-step food prep and recipes guide if you haven't yet for a 3 day plan and recipes to try out).
Taking a multivitamin isn't a magic bullet to giving your body everything it needs.
Supplements aren't always absorbed as easily as the nutrients in whole foods, and unless you've had blood testing done and a specific vitamin or mineral prescribed to you, you may be dosing yourself with too much of one, and too little of another.
For so many reasons, it is essential that you take your eating just as seriously as you take your workouts.
I know we have this tendency to make ourselves stick to our exercise plan more religiously than we stick to our eating – but there is no exercise plan in the world that can out-train poor nutrition.
Do yourself a huge favor and get the education and knowledge you deserve to have about what nutrients your body needs and how to get them in your system in a variety of ways – and MAKE TIME to get that good, nourishing food in your body.
Looking forward to hearing from you!
---
…so I can support you in ROCKING your body AND your life! Get stronger and healthier with a community of rockstars to support you, 30-day home workout challenges, and fresh new workout classes each week to keep you motivated!