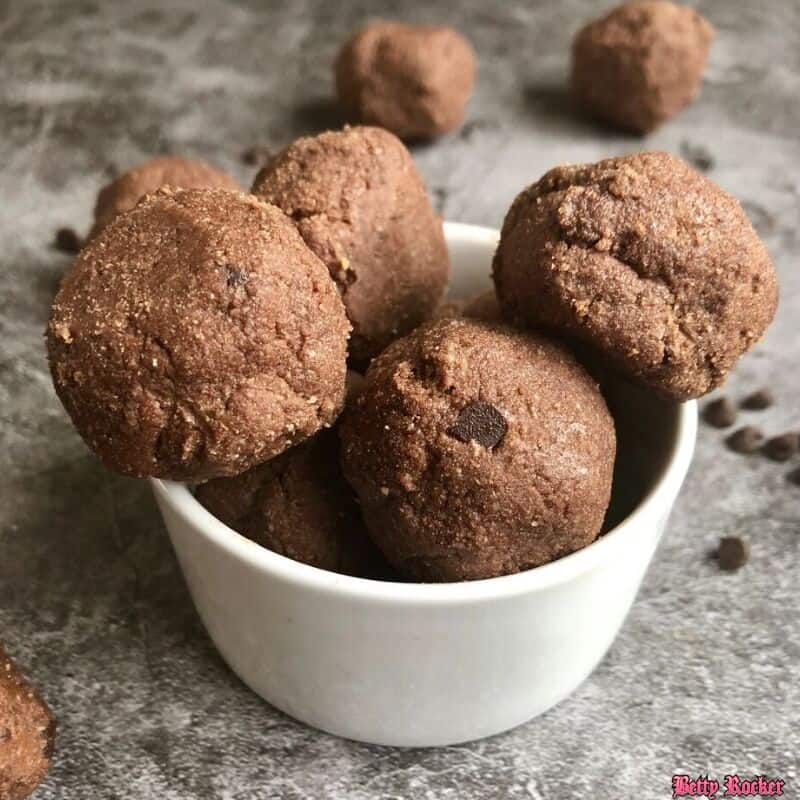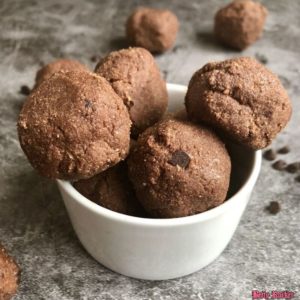 These gluten-free, dairy-free Chocolate Protein Energy Bites are the perfect healthy fuel to have on hand! They are simple to make and packed with protein, healthy fats, and just the right amount of sweetness.
I love making recipes that include the power of cacao – or raw, dark chocolate powder. I think I find a way to work cacao in just about every day – from my healthy nutella to a scoop of it in a smoothie, it's the flavor of chocolate and a superfood that I know is supporting my health.
Raw cacao powder is the ground up powder of the cacao bean. Cocoa powder, which you'll find on the grocery store shelves in the baking aisle, generally is actually made from cacao powder, but then heat treated and processed to create a less nutrient dense derivative.
The best quality cacao is not processed or heat treated, and nothing is added to it. So you get all the benefits of the plant itself, including its concentrated flavenoids, directly into your body. Higher flavenoid intake is associated with a lower risk of cardiovascular disease, and flavenoid-rich cacao can reduce blood pressure and improve how our endothelial (blood vessel cell walls) function.
Cacao is also….
a natural mood elevator and anti-depressant
has the highest plant-based source of iron
contains more calcium than cow's milk,
has more antioxidants than blueberries, tea, wine and goji berries
is rich in magnesium, which is great for heart and brain health.
The healthy ingredients that make up this delicious recipe allows me to enjoy chocolate as a part of my overall healthy eating day.
Enjoy, Rockstar! And let me know what you think in the comments below.
---
Chocolate Protein Energy Bites
Yield: 18 bites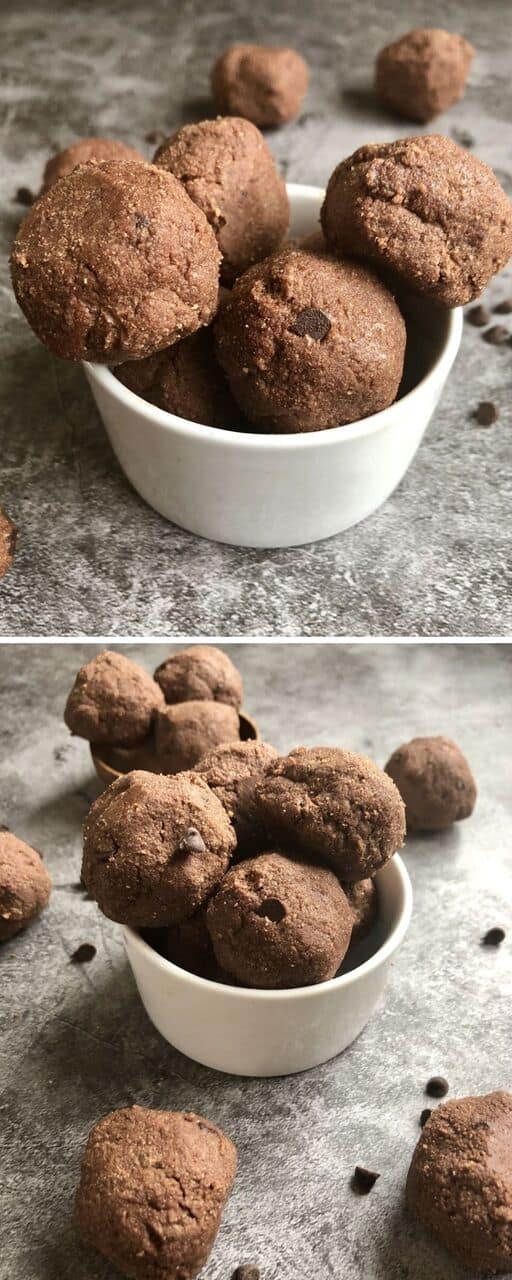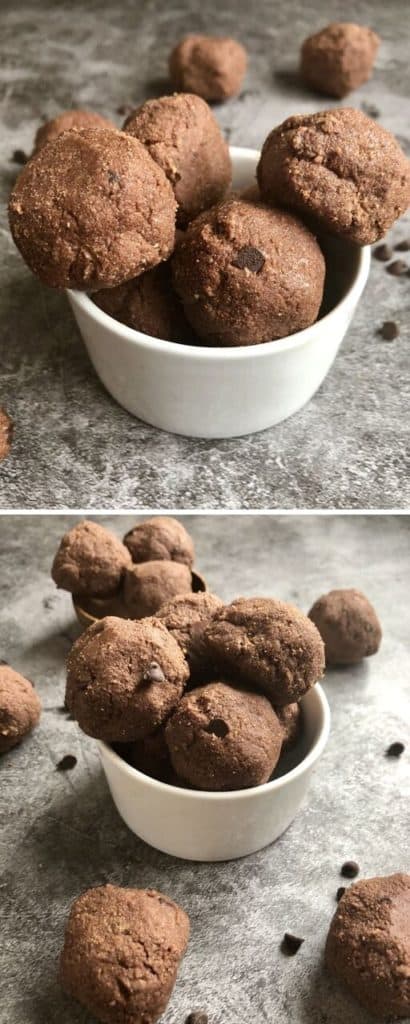 Serving: 2-3 bites
You will need: blender or food processor, measuring cups and spoons, airtight container
Key: T=Tablespoon; tsp=teaspoon
Ingredients:
1 1/4 cup almond flour
3 servings (32 grams) I ❤️ Chocolate Protein
1/4 cup cacao powder
1/4 tsp sea salt
1/3 cup coconut oil, melted
2 T almond butter
1 T honey (optional)
2 tsp pure vanilla extract (optional)
1/3 cup mini dark chocolate chips ** or cacao nibs
Directions:
1. Add the almond flour, protein powder, cacao powder, and salt to your food processor or blender and mix well.
2. Add the coconut oil, almond butter, honey, and vanilla extract to the mixture and blend until smooth.
3. Add in the chocolate chips and blend on low until everything is mixed.
4. Roll the mixture into 1-2 inch balls and store them in the fridge for up to two weeks.
*You can easily vary this recipe as well– swap out the almond butter for another nut butter, use a different flavored protein powder, or add in pumpkin seeds, sunflower seeds, dried cherries, coconut flakes, or any number of variations that you get inspired to try!  
**This link is for a larger quantity of chocolate chips than you will need, but they are great to have on hand. You can also look for a smaller amount in your grocery store. 
Yes you can leave it out, just use 1/4 cup additional cacao powder.
What kind do I use? A plant-based protein is ideal, naturally sweetened with stevia or lohan/monk fruit. I use my Whole Betty brand I ❤️ Chocolate Protein  because I know exactly what's in it (and what's not!).
Nutrition Facts
Calories per Serving:

138
So delicious, simple and healthy!
Leave me a comment below and let me know how they turn out and if you make any modifications – I love hearing from you!
If you want more healthy chocolate snack recipes that are in the dessert family, check out these other delicious options on the blog:
---
⭐ Remember, you can't out-train a bad diet! ⭐
The Body Fuel System is a meal plan and guide that not only sets you up with how to eat daily, but also puts essential information into your hands, like how to eat with joy, get – and keep – an amazing physique, know how to eat in any situation, and really UNDERSTAND what your body is saying. Check it out!