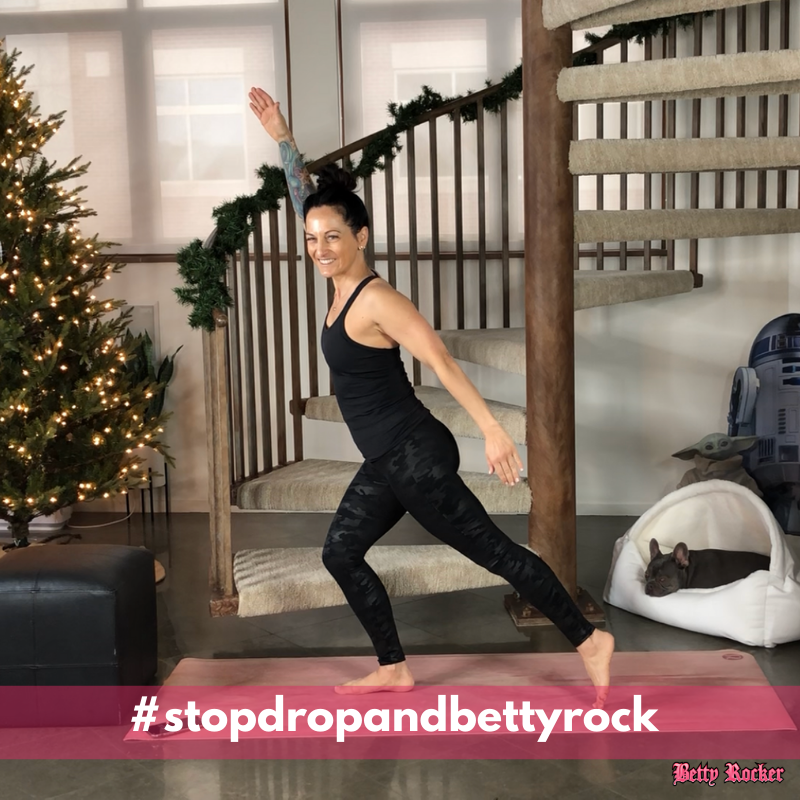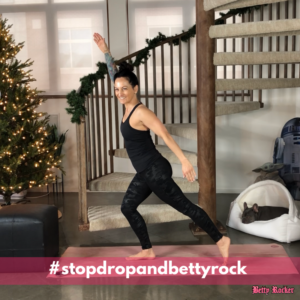 It's Day 4 of the 5-Day Home Workout Challenge – and it's time to focus on some self care, active recovery, and bonus core.
(Looking for the rest of the challenge? Here are day 1, day 2, and day 3)
So often we skip the mobility, stretching, breathing, self-care aspects of fitness – to our detriment. I know it feels like you made a big accomplishment when you complete a workout that leaves you breathless, but in order to rock those workouts in a strong body that can give 100% and avoid injury, we must also do the maintenance our bodies need.
I talked about one of my favorite analogies for this in today's class, which is house work. I know you may not look forward to doing the dishes, dusting, or sweeping your floor, but doesn't it feel amazing to enjoy your sparkling clean space?
These self-care pieces are like that too. Once you start doing them, they actually do feel great – and you are accomplishing an important piece of your fitness that so many people miss. These pieces are what will keep you fit longer, stronger and healthier! I snuck in some bonus core work after the mobility drills today so if you need to feel the accomplishment of "doing" you will (I understand!).
We offer many fun weekly workout classes in Rock Your Life, including a weekly mobility class. It's one of the reasons our members get such amazing results! You don't have to stop the challenge after tomorrow. You can continue forward with us! We've done the same first 4 days as you in our Warrior Woman 30-Day Challenge, and we'd love to have you join us to complete it!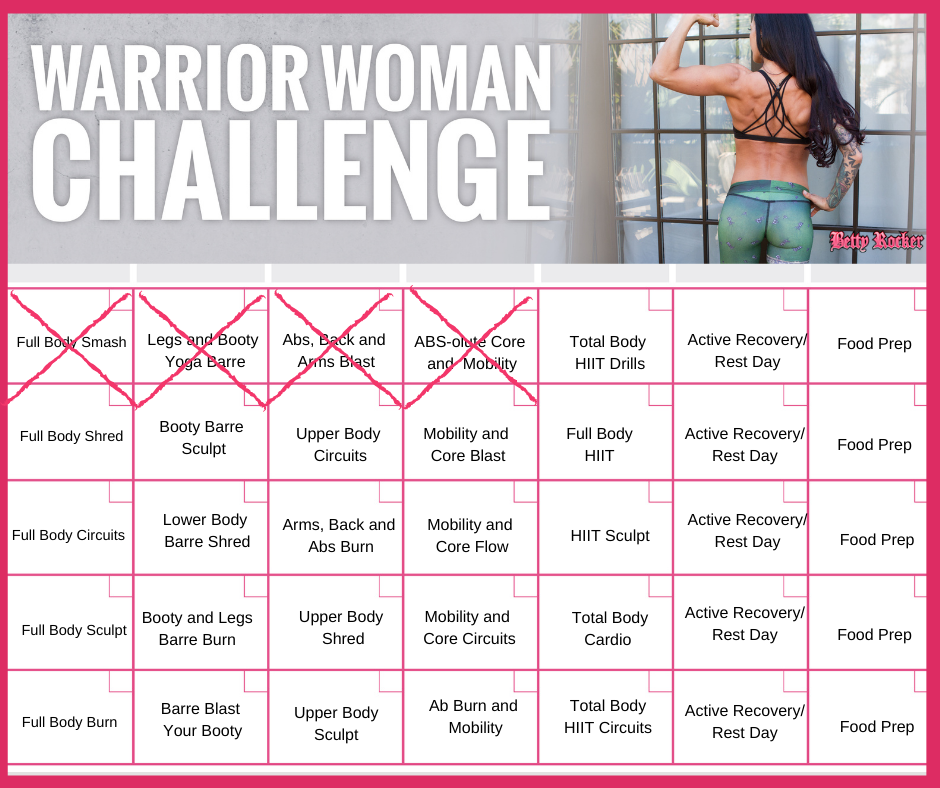 Now let's get right into today's class!
---
---
DAY 4 NUTRITION CHALLENGE:
Today I'd like you to pay attention to the protein in your meals. When planning your meals for the day, start with your protein, add plenty of greens, then build your meal around that with whole food carbohydrates and/or fats, and eat to satisfaction.
Not every meal will have ALL the nutrients represented of course, but they should ALL contain protein, and all the nutrients should make an appearance over the course of a day.
Getting in quality protein for your active lifestyle is essential for everything from supporting your muscle recovery and strength to your immune health. And because protein is more satisfying than fat or carbs, you'll feel more full when you include it in adequate amounts and it can even reduce or eliminate cravings.
Preparing and eating enough protein can be time consuming, so a common shortcut is to supplement with a protein powder (this is a link to my organic, plant-based vanilla protein powder) in addition to whole food sources of protein. This is exactly what I've done for years and it's really helped me maintain my muscle tone and reduce cravings.
BONUS NUTRITION RESOURCE: 4 Step Eating Strategy that Keeps Me Lean
---
Sustainable, consistent action is what builds good habits to support your healthy life! Check out Joanna's progress in Rock Your Life with JUST ONE challenge – and imagine what she can do as she builds on her success!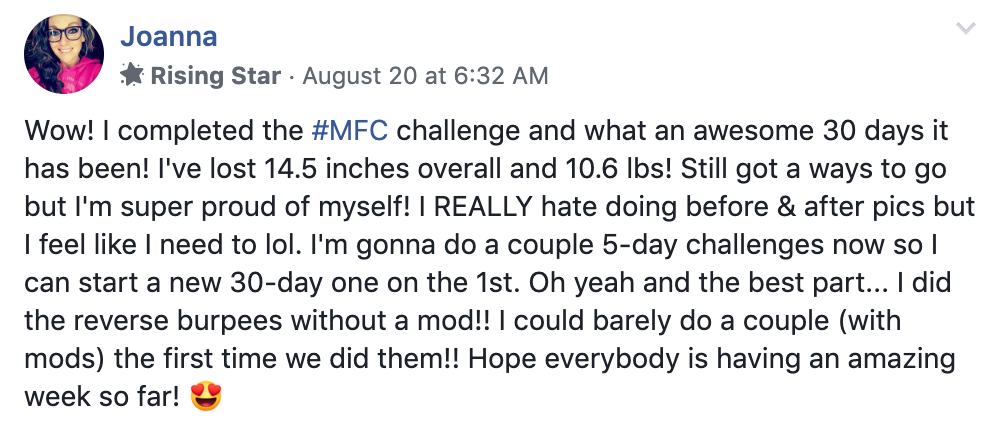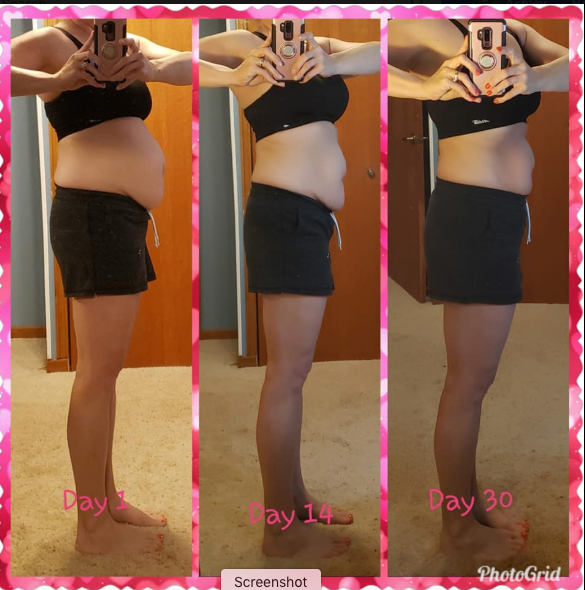 ---
Mobility and Core
Click to expand and see all workout move descriptions.
Mobility Circuit
Box Breathing

Shinbox Drills Progression

Scapular Drills and Shoulder Openers

Runners Lunge Openers

Assisted Squat Drills
Core Circuit
Equipment: None
Format: Perform each movement for 0:30 – 0:45 and repeat for 3 rounds
Move 1: Chair Sit Extensions
Come into a chair sit position with your hips back, weight in your heels and core engaged.

Brace yourself and slowly extend your right arm and left leg out while keeping your core engaged and squeezing your glute.

Come back to center and repeat with the other leg and arm. 
Move 2: Bridge Lift, Roll Up to Knee Lift Crunch
Lie on your back with your knees bent, feet on the ground, and core engaged.

Pressing into the ground with your heels, drive your hips to the ceiling and squeeze your glutes at the top.

Slowly drop your hips back down, and with your knees bent, lift your chest and reach your hands to your knees.

Slowly lower yourself back down and with an engaged core, bring your bent legs toward your chest and lift your hips slightly off the ground.

Return to the ground and repeat this combination.
Move 3: Superwoman Lifts to  Side Plank Hip Drop
Lie on your stomach with your arms and legs extended.

Lift your legs and arms off the mat together, using your lower back and glute muscles.

Hold at the top briefly and then slowly lower yourself back down and repeat 3 times.

Come back down to the ground and roll yourself to the right side to position yourself on your elbow and knee.

Lift up into a side plank, keeping the hips square in front of you reach your top arm up overhead.

Return back to superwoman extensions for 3 repetitions, roll to the left side and repeat to hip lift.

MOD: Begin by isolating your upper body only, leaving your legs on the mat for stability. Perform several upper body isolated lifts. Then perform several lower body isolated lifts. Work on isolated upper and lower body lifts until you feel comfortable putting them together.
Move 4: Floor Work Combo
Leg Raises
Lie on your back with your legs straight out and blueberry spine engaged.

Brace your core and lift your legs straight up until your body is at 90 degrees. 

Keeping your lower back gently pressing into the mat, slowly lower yourself back down to the ground and repeat. 

MOD: Keep your knees bent rather than straight.
Toe Touches
Lift your legs straight up toward the ceiling, gently pressing your lower back into the ground with your arm straight over your chest.

Lifting your chest, reach your hands toward your toes and slowly lower back down and repeat. 
Ankle Taps
Lie on your back with your knees bent, feet on the ground, and core engaged.

Lift your chest slightly, engage blueberry spine and laterally bend side to side, reaching toward your ankles.
You rocked that workout! Check in with me and let me know how I can support you- I love hearing from you!
I'll see you tomorrow for Day 5- Total Body HIIT Drills! 
---
…so I can support you in ROCKING your body AND your life! Get stronger and healthier with a community of rockstars to support you, home workout challenges for a fit body, and fresh new workout classes each week to keep you motivated!