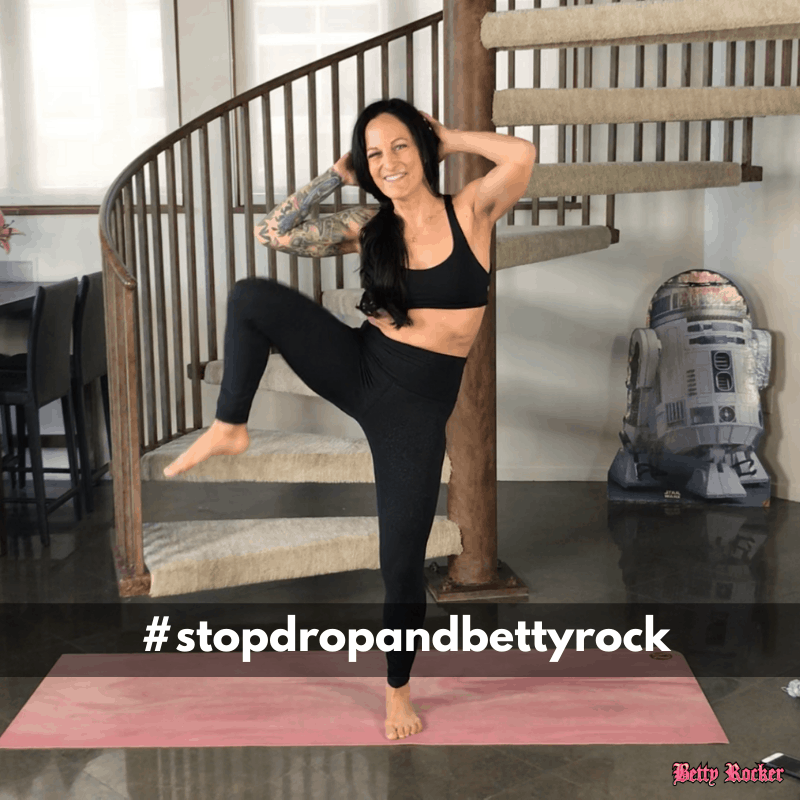 Join me today to rock DAY 4 of the 5 Day Home Workout Challenge with TOTAL CORE DOMINATION!
(Looking for the rest of the challenge? Here's day 1, day 2, and day 3.)
Here's what you'll need:

1. A little space to move
2. An elevated surface (optional – good for modifying any plank poses)
I'll show you the breakdown from beginner to advanced, low to high impact so you can do this no matter where you are and no matter what your fitness level is.
---
Be sure to check in and let me know you completed today's workout below – and share this challenge with your friends and family!
---
What should you do when you complete this challenge? Start the #makefatcrychcallenge2 in Rock Your Life …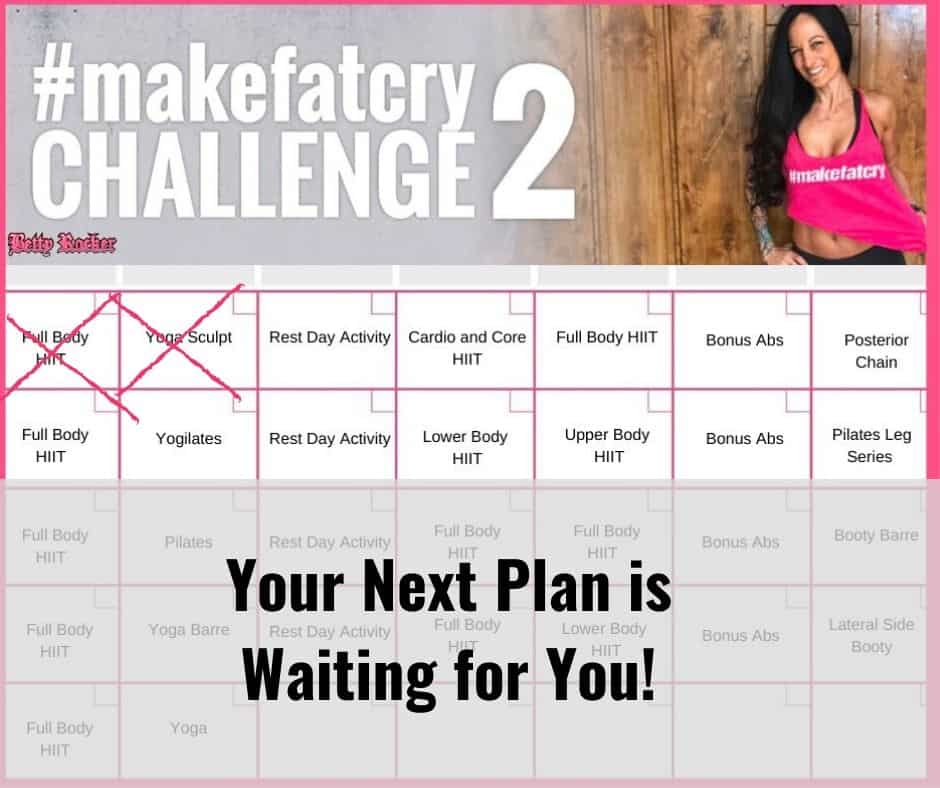 Rock Your Life is my online home workout studio that has new classes every week, 30-day Challenges to keep you on track with a program, your own personal workout library, over 300 healthy recipes, an exclusive support group, access to the Team Betty Rocker coaches, and so much more!
Total Core Domination
Click to expand and see all workout move descriptions.
Format: Perform 3 rounds for 0:30-1:00 each move. Rest as needed.
Move 1: Full Body Extension to Alternating Knee Cross
Stand with feet slightly wider than hip distance apart.
Engage your core and shoot your booty back behind you and squat down, bringing your hands down near your feet.
Pop up to standing, extending your hands up over your head.
Make sure to keep your core tight, and engage your booty at the top as you extend your arms overhead.
Then drive your right knee up and across your midline, rotating your torso as you bring your left elbow to meet your knee. Repeat on the other leg, then back to the squat.
Move 2: Squat Thrust Twist Punch
Stand tall with your feet slightly wider than hip distance apart, core engaged.
Bend your knees and plant your hands just below shoulders. Step or jump back to a tall plank, keeping your core tight and back flat, gaze about 6 inches in front of you for a neutral spine.
Jump or step your feet back to your hands.  Load your weight in your heels and use your momentum to power up to standing.
At the top of the movement, engage your core and twist to the left and punch with your right arm, then twist to the right and punch with your left arm.

MOD: Perform this movement with your hands on an inclined surface, like a chair, couch or ottoman. You can also take the impact out entirely by stepping back and forth rather than jumping, and coming up to a body squat rather than a jump.
Move 3: Superwoman Hold with Arm Circles
Position yourself on the mat on your stomach. Extend your arms and legs.
Lift up smoothly, bringing your arms and legs off the floor and lower down with control. Bringing the feet out wide will make it easier to lift as you build strength, and feet in close together adds additional challenge.
Keeping the arms extended, perform circles clockwise, then counterclockwise.

MOD: Take out the circles. You can also break the move up into two parts. Practice lifting your upper body by itself, then lifting your legs while keeping your upper body isolated. Work on these individually before putting them together

.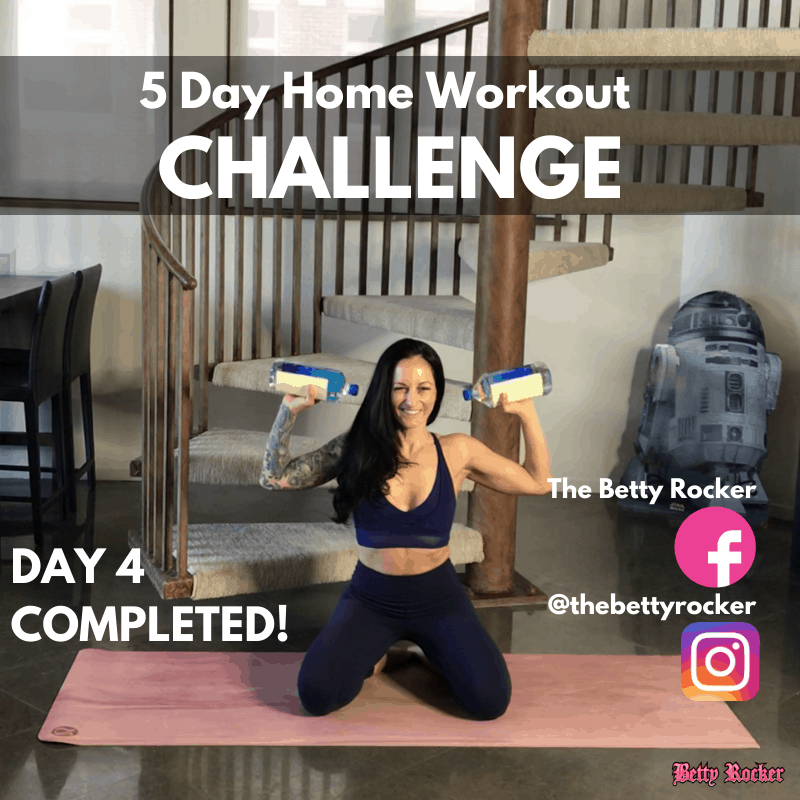 Move 4: Prisoner Squat with Knee Outs
Begin in a kneeling position on your mat with your hands behind your head and chest up tall.
One at a time step each foot up and as you come to standing, bring your right knee up to your right elbow.
Come back down to a kneeling position and repeat on your left side.

MOD: Hold on to an object to assist you in getting up and down. 
Move 5: Push Up to Cross Under Crunch
Begin in a tall plank position with your hands and toes on the floor or mat, hands stacked directly below shoulders.
Holding your belly button in and up to keep your core engaged, slowly let yourself come down to the ground for a pushup (elbows shooting backward at a 45 degree angle and shoulders away from your ears).
Engage your core and press into the ground to come back up to a tall plank position.
Keeping your core engaged, extend your right arm. Bring your left knee across to your right elbow, crunching your abs and return your left foot back to starting position. Repeat on the other side.

MOD: Come down to your knees into a plank or put one knee down or d

o this on an elevated surface by placing your hands on the edge of a couch or table.
Move 6: Reverse Burpees
Sit down and roll back and use your momentum to come forward, bring your feet in close to your glutes creating a strong base to support you as you stand and jump.

MOD 1: When you're learning this move, keep your hands down at your sides to support you on the jump to stand.

MOD 2: If you start to get winded but want to finish that set, take the jump out and roll back to stand or just roll back and sit back up. Either way you are getting a great core workout! 
Today's Focus:
STRESS MANAGEMENT
Right now, with everything that has been going on, I've been feeling really anxious for the health and safety of my friends and family, and I'm sure you have too.
What has been helping me to manage my emotions and feel calm has been my mindfulness practice.
I wanted to give you access to this free resource, it's the first 3 days of the Ziva Meditation online course and these days specifically take us through some of the mindfulness practices that I've been using.
This is a free gift from Emily Fletcher, my dear friend and founder of Ziva. Please take advantage of this resource and the mindfulness practices to help support you right now during these stressful times.