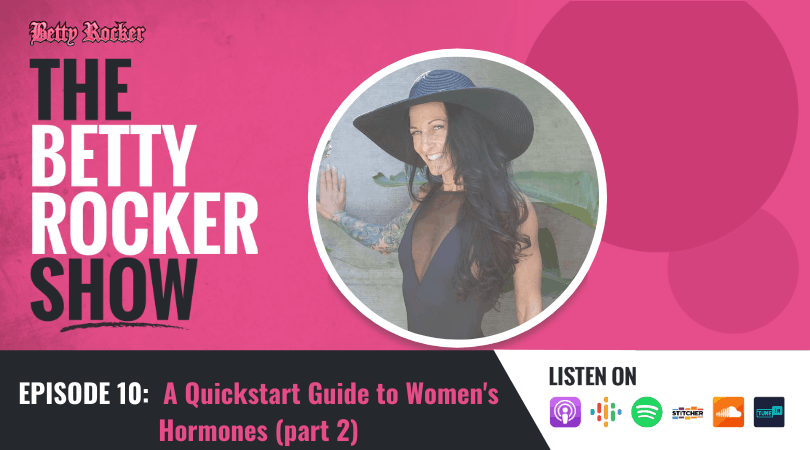 Welcome to The Betty Rocker Show, the place to be to nourish your mind, love your body, and rock your life.
In our last episode, we covered some of the key hormone players in our female life cycle including estrogen, progesterone, testosterone, DHEA, adrenaline and cortisol. I hope you listened to that one, as it's a great foundation for understanding the basics for some of these important components of our health.
Today we'll continue the conversation with an overview of thyroid, insulin, ghrelin and leptin (your hunger and fullness hormones) plus human growth hormone. My goal in sharing these information basics with you is to prep us for our conversations with some excellent female hormone specialist doctors who are coming up on the show so we can live longer, stronger and fuller lives!
---
---
In this episode you'll discover:
How your hormones impact your health (1:00)
Your orchestra of hormones
Symptoms of a hormone imbalance
The Thyroid (1:50)
How the thyroid impacts your metabolism
How your thyroid impacts your monthly cycle
Signs and statistics of Hypothyroidism
Symptoms of Hyperthyroidism
How Perimenopause affects your thyroid
The importance of being your own health advocate
Insulin and Body Fat (9:31)
How glucose and glucagon impact your energy levels
How estrogen impacts your insulin levels
How cortisol impacts your insulin levels
---
Today's podcast is brought to you by ROCK YOUR LIFE! My online home workout studio, where you can take as many 30-day challenges as you like for consistent, sustainable progress! For added variety, we offer 5 new classes each week, healthy recipes, a private women's only support community and MORE!
New members can get a 30-day Trial RIGHT HERE!
---
The hunger hormones (15:00)
Why processed foods can be dangerous
How leptin impacts your thyroid
How lack of sleep increases your hunger
The importance of sleep (18:25)
The importance of reducing artificial light exposure
Why you have cravings at night
---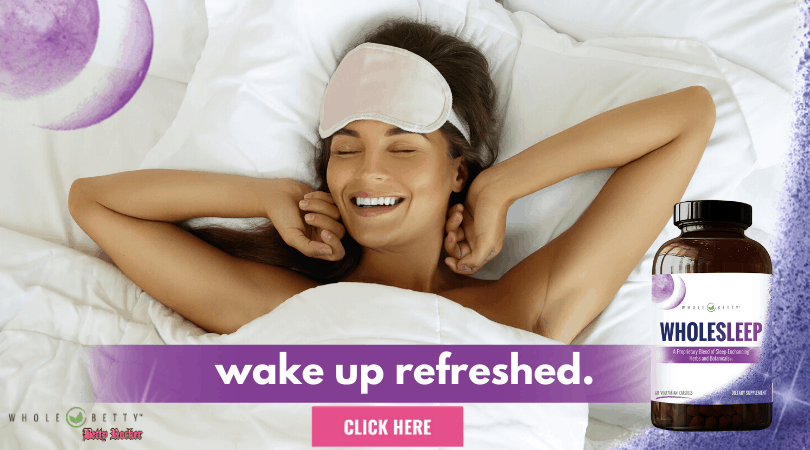 ---
Human Growth Hormone – HGH (21:40)
How exercise impacts your levels of HGH
Coming up next week…..
I'm joined by Dr. Sara Gottfried, a woman's hormone health specialist and three times New York Times bestselling author. We will be building on the last two episodes and discussing how our hormones "talk" to each other, how they shift and change through the course of our lives and how that might show up for you. You won't want to miss it! To get a headstart on next week, grab her book The Hormone Cure a brilliant resource that will give you so much insight about your own body.
---
Love
The Betty Rocker Show

? We do too! ❤️ Share it with your friends, and subscribe on your favorite podcast player to be alerted when new shows drop!
---
Love
The Betty Rocker Show

? We do too!
Share it with your friends, and subscribe on your favorite podcast
player to be alerted when new shows drop!
ABOUT
THE BETTY ROCKER SHOW

:

Join me for open and thought provoking discussions about health, fitness, and how to stop undermining ourselves – and start taking meaningful action that makes us role models to others…

….and, listen in on my intimate conversations with amazing thought leaders, health care professionals, athletes and celebrities to learn their secrets and insights for overcoming life's challenges, living longer, healthier, stronger and more #flawsome lives.

New shows are released on a weekly basis during each season of The Betty Rocker Show. Shows alternate between solo episodes with me, and interviews with guests.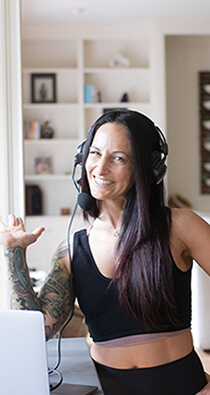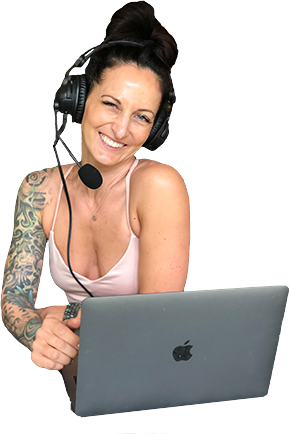 Subscribe

on your favorite

player today!