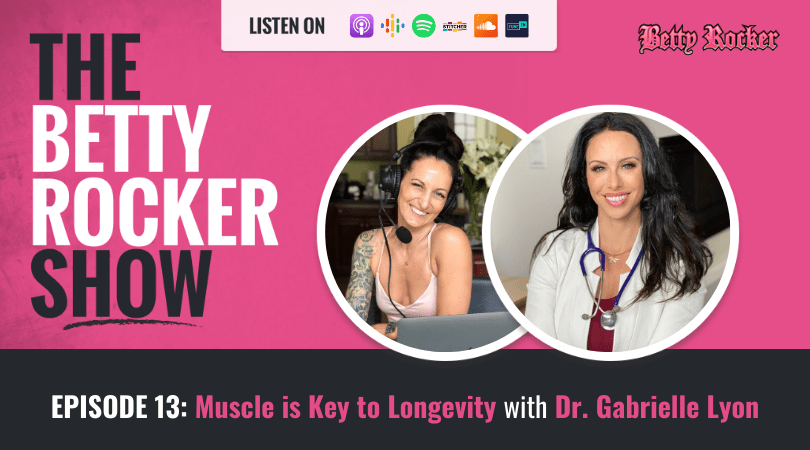 Welcome to The Betty Rocker Show, the place to be to nourish your mind, love your body, and rock your life.
Many of the women I talk to who are working on getting fit and strong are really wanting a "toned" body. But the key to tone is MUSCLE tone. And no matter what goal you have, the bottom line is that adding (and preserving) your muscle is one of the keys to longevity, strength, and your ability to thrive as you go through time.
In today's show, I'm joined by Dr Gabrielle Lyon, a functional medicine physician and my own personal doctor. Dr. Lyon is a Washington University fellowship trained physician in nutritional science and geriatrics and board certified in family medicine and osteopathic manipulation. She also works closely with the Special Operations military as part of the Task Force Dagger Foundation. Her private practice is located in New York city.
In contrast to traditional Western medicine, which is injury-based or symptom-based treatment, Dr. Lyon leverages evidence-based medicine and emerging cutting-edge science to take a root-cause treatment approach with a goal of a lifetime of vitality and helping you to understand why you are experiencing your symptoms.
In today's episode we discuss the concept she coined called "muscle-centric medicine." She believes that it's not that we're "over-fat" – it's that we're under-muscled.
When you learn some of the amazing things that muscle actually does, I think you'll agree that optimizing it through the way you work your 4 pillars of health is an essential awareness piece to have and will really support your goals and long-term health.
---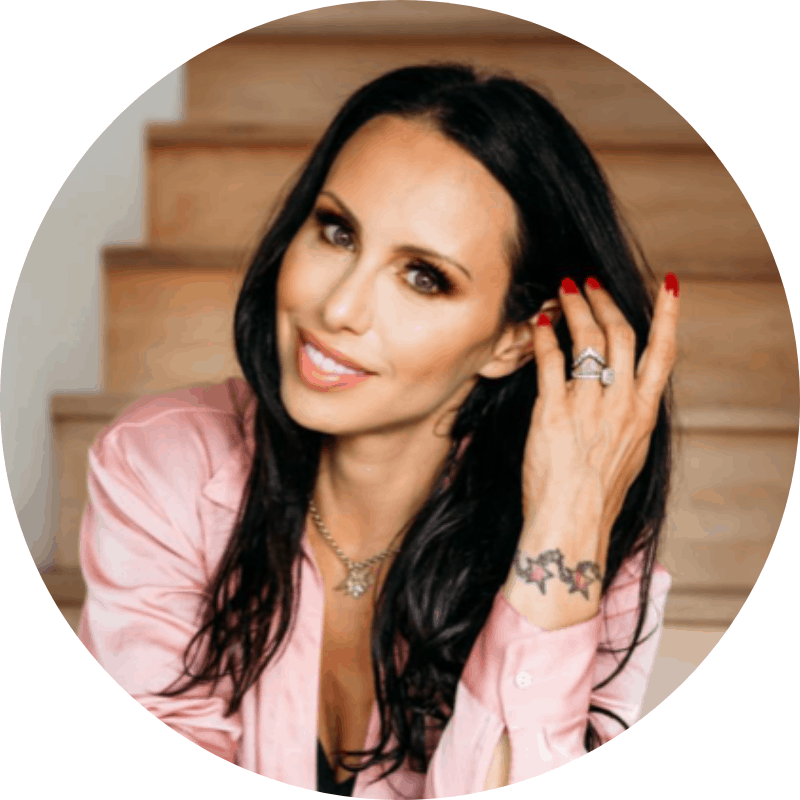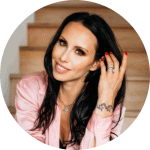 From her site "As a functional medicine physician, Dr. Lyon delves into the deepest sources of a patient's discomfort, treating the entire individual instead of mere symptoms. She sees patients in New York, but her methods are transforming lives across the globe.
Her specialty in muscle-centric medicine has led her to be featured on "The Doctors", with published articles in Muscle and Fitness, Women's Health, Men's Health, and Harper's Bazaar. The application of her expertise ranges from brain and thyroid health to lean body mass support and longevity."
---
---
In this episode you'll discover:
What is Functional Medicine? (3:24)
The difference between functional medicine and western medicine
The importance of looking for the root cause of symptoms
Why it's the physicians responsibility to continue educating themselves
Science Based Medicine (6:46)
The importance of intellectual integrity
The importance of scientific research
Muscle Centric Medicine (9:10)
Why the real health issue is being under muscled rather than overweight
How optimizing your muscle improves your health
How exercise boosts your immune system
Nutrient Partitioning
What happens when you train fasted
Why Protein is the Most Important Macronutrient (14:03)
How protein stimulates muscle growth
Why you need to replenish your protein stores
---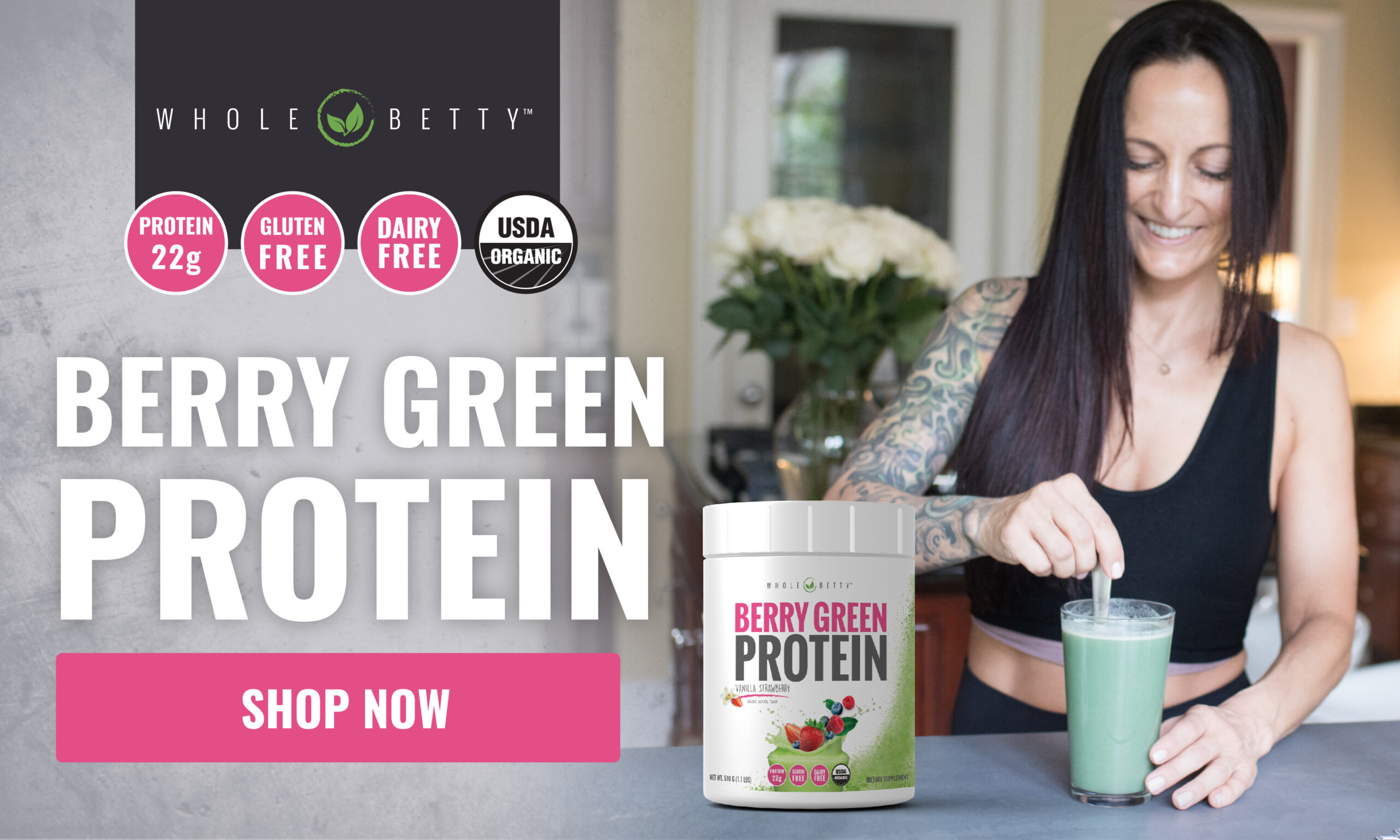 ---
The Three Most Crucial Amino Acids for Body Composition (16:30)
Why leucine, isoleucine and valine are important for body composition
The importance of leucine
What to include in your diet if you are a Vegetarian or Vegan
The Importance of Protein (18:46)
The protein leverage hypothesis
How your body knows it's full
The protein forward approach in eating
The Importance of Mindset (22:09)
Dr. Lyons work with SEALS, olympians and high achievers
How negative self talk damages your body
What to Look For in a Doctor (24:42)
Why trust is the foundation
The importance of having a good relationship with your doctor
The importance of being honest with your doctor
The Interplay Between Hormones and Muscle Tissue (27:46)
What Betty Rocker has been struggling with
How to Optimize Your Physique with Nutrition (30:30)
The carbohydrate threshold
How to feel satisfied when eating
---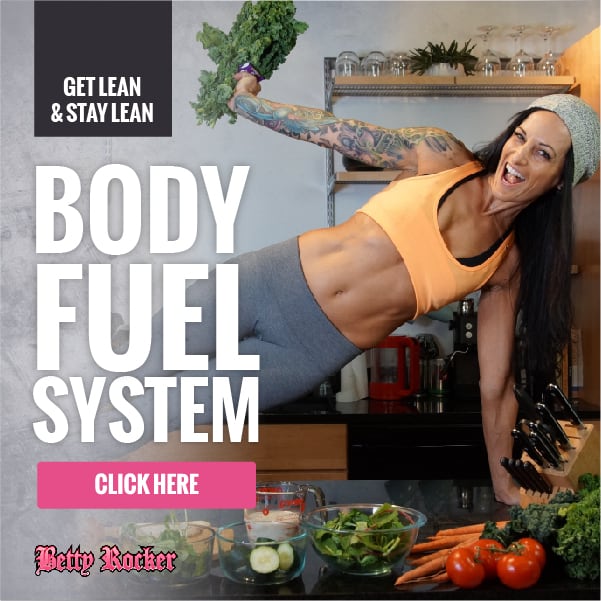 ---
How Your Body Composition Impacts Your Health (32:35)
Why managing body composition helps prevent diseases
How muscle can help prevent heart disease, hypertension and the effects of ageing
Why focusing on losing body fat is the wrong approach
The Importance of Testosterone (35:10)
Why low testosterone occurs
How Your Hormones Shift Throughout Your Life (36:00)
Signs and symptoms of perimenopause
How your hormones impact your metabolism during menopause
How Your Thyroid Impacts Body Composition (40:18)
How the thyroid impacts your metabolism and energy
What to Ask Your Doctor (41:22)
What tests to ask for
The importance of going beyond a basic screening
The importance of seeing your doctor in person
Telemedicine as an option
How to Connect with Dr. Lyon (45:00)
The Importance of Body Composition (48:00)
The importance of meal distribution for body composition
Why BMI is an outdated concept
Coming up next week I'm joined by Dr. Jen Esquer, doctor of physical therapy, better known on Instagram as Doc Jen Fit.
She's an internationally renowned physical therapist who specializes in helping people overcome chronic pain and maximize physical performance. And she's got some great insights to share with you about supporting your body.
I thought that since we just talked about all the great things our muscle does for us, it would be a great follow up to talk about some of the other ways we can support our entire musculoskeletal system. I look forward to sharing that conversation with you!
---
Love
The Betty Rocker Show

? We do too! ❤️ Share it with your friends, and subscribe on your favorite podcast player to be alerted when new shows drop!
Love
The Betty Rocker Show

? We do too!
Share it with your friends, and subscribe on your favorite podcast
player to be alerted when new shows drop!
ABOUT
THE BETTY ROCKER SHOW

:

Join me for open and thought provoking discussions about health, fitness, and how to stop undermining ourselves – and start taking meaningful action that makes us role models to others…

….and, listen in on my intimate conversations with amazing thought leaders, health care professionals, athletes and celebrities to learn their secrets and insights for overcoming life's challenges, living longer, healthier, stronger and more #flawsome lives.

New shows are released on a weekly basis during each season of The Betty Rocker Show. Shows alternate between solo episodes with me, and interviews with guests.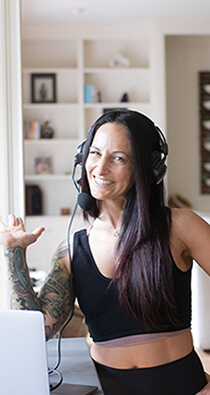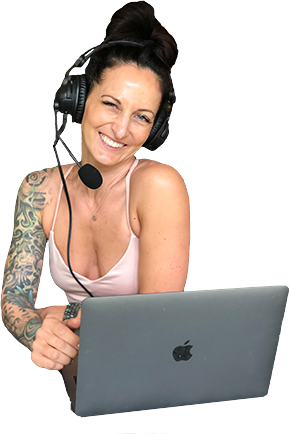 Subscribe

on your favorite

player today!