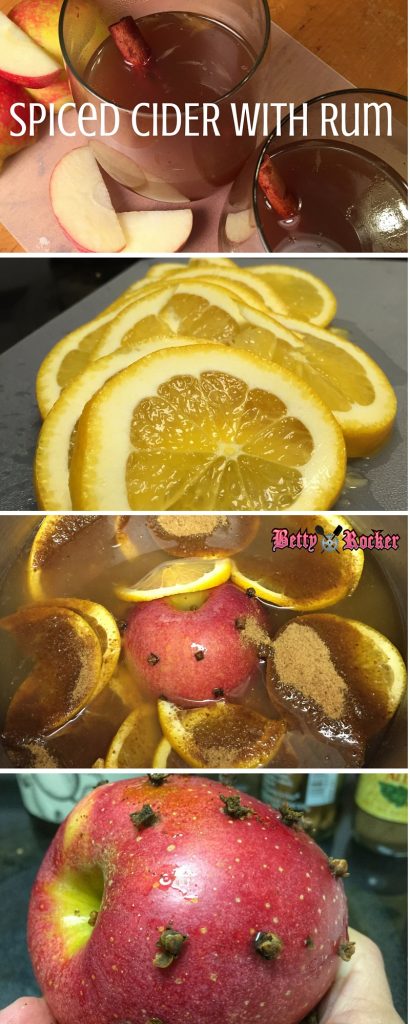 I love making this recipe around the holidays when I have friends coming over, or for a weekend nightcap with someone special.
If you've never studded an apple with cloves, you're in for a fun little culinary experience! 🙂
The whole house will smell amazing while you're cooking this brew down – and it's super simple and easy to whip up in a short time.
Add (or leave out) the rum for a little extra kick, and serve hot with a cinnamon stick and apple slices for garnish.
Here's what you'll need:
large pot, wooden spoon, measuring cups and spoons
Serves: 6-8
1 apple (2 if you want some slices for garnish)
2 tsp whole cloves
1 orange, thinly sliced
2 quarts apple cider (I have also used unfiltered apple juice which worked great)
1/2 cup coconut sugar (totally optional, you can make it with no sugar and it's still delicious, Emeril's original recipe calls for brown sugar but I opt for the coconut palm sugar*)
1 tsp allspice
pinch nutmeg
1 cup dark rum (optional)
cinnamon sticks for garnish
1. Stud your apple with cloves.
If you've never done this, don't worry – it's super easy. Just wash and dry your apple and beginning at the bottom, press the sharp end of a clove through the skin, where it will stick. I stuck to a sort of pattern as I went around my apple as you can see – it was really pretty.
2. Place your apple in a large pot on the stovetop and cover with the cider.
Turn on your heat to medium low, and begin adding your orange slices, sugar* and spices. Stir a few times as the temperature rises, bringing it to a simmer for 10 minutes.
*coconut palm sugar – not necessarily "healthier" than regular sugar. I use it because the process they use to make it is more natural, and it includes some trace nutrients like zinc, iron, calcium, and potassium – though you'd get a lot more of these nutrients from other foods. Use sugar like you wear your dress clothes, not every day 🙂 
3. Remove from the heat, and add your rum now if you're including it.
I'd go with a dark rum to add flavor and complexity, and avoid spiced rums as they'll have their own spices and flavors, and also tend to be a bit sweeter – but of course, this is personal preference.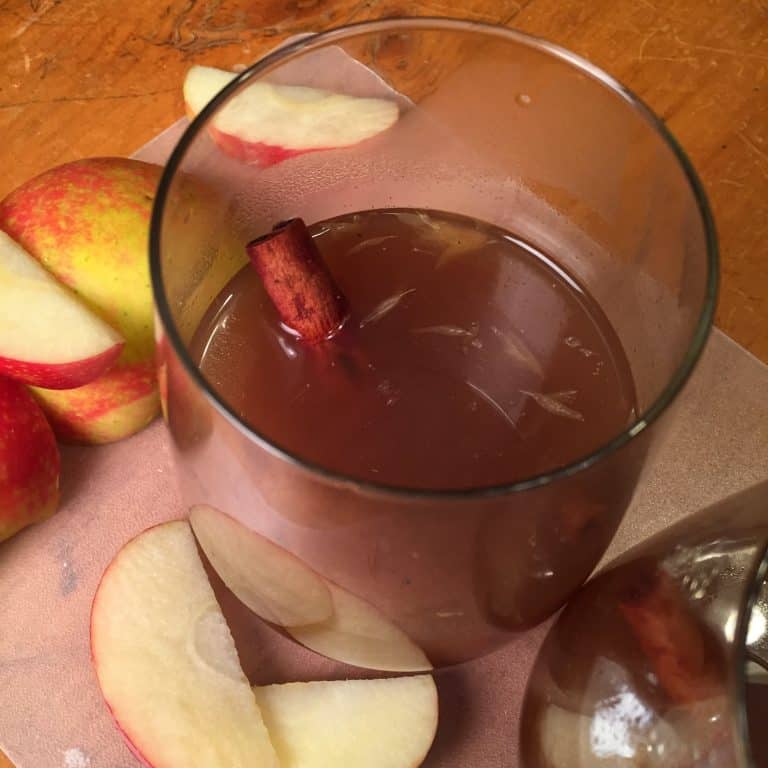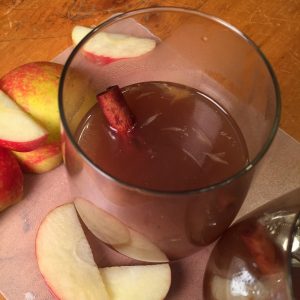 5. Ladle into glasses or mugs, and serve with a cinnamon stick and apple slices for a real treat.
Nutrition Facts
Calories per Serving:

255
---
Looking for more fun gluten-free, dairy-free Fall and Winter recipes? You'll enjoy:
---
Looking for some healthy, easy recipes and a plan to make your life easier week by week?
Check out my meal plans for done-for-you planning that includes grocery lists, daily eating guides, options for prep and healthy cookbooks!