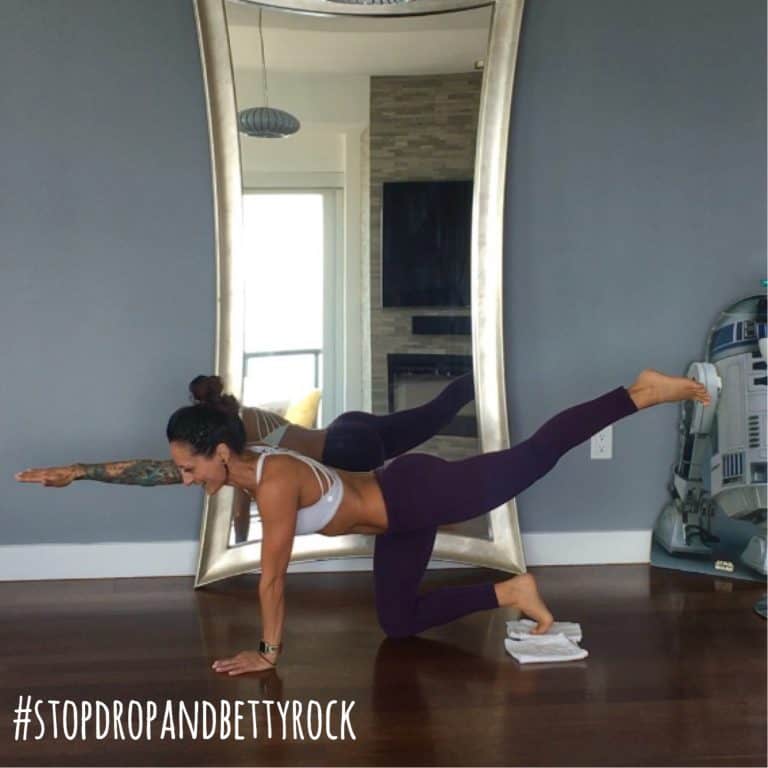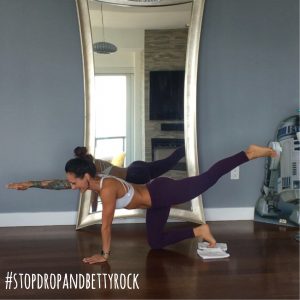 Just a couple weeks ago, we did a really effective low-impact booty-focused home workout and I know a LOT of you really like the variety between the high impact and the low impact so I wanted to make another one with the same theme!
You really can get amazing results in a short-duration workout when the intensity of your workout is high.
We can up the intensity in our workouts a couple different ways – one with a faster, more dynamic style (like plyometrics, tabatas and HIIT circuits) that get our heart rates up and blood pumping –  and also workouts like today's where the intensity comes from the resistance and recruitment of many stabilizing and balancing muscles.
There are a lot of great ways to do resistance training like using weights, bands, a slider – or even as simple as using gravity to your advantage, which I do in so many of my bodyweight workouts. I alternate the short, effective workouts I do between a more plyometrics style and resistance style so I don't get burned out – plus I love the variety!
Today we're going to be using gravity and our sliders to add that resistance-intensity to our training – with this core-focused workout that you can do in about 12 minutes with me (or repeat for a longer workout of course) to really make the most of our time and get stronger!
Leave me a comment to let me know you were here, and how you did in today's workout! There are notes on form written below for you, as well as some info about nutrition to help you get the most out of your training.
to repeat the workout, jump back to 1:21
---
To really see the hard work I put into my workouts pay off, I make it a PRIORITY to focus on getting balanced nutrition.
What nutrients does your body need to make the most of YOUR hard work and the time you're putting into your training?
You need….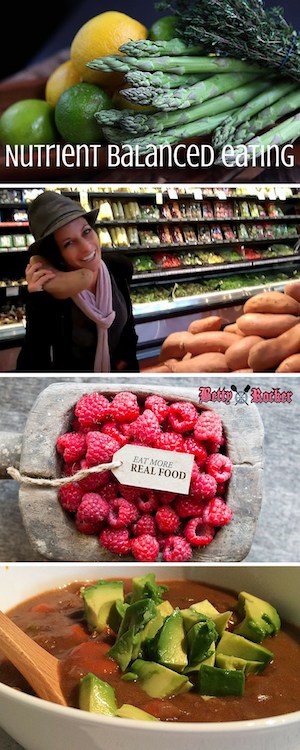 Protein: Eating protein is not going to "bulk you up." It's an important nutrient that's responsible for multiple body functions. It is even more satiating than fat or carbs, and it can boost your metabolic rate while lowering your appetite.
If you're constantly craving sugar or sweets, it is important to take a look at the nutrients in your daily dietary intake to see if you're getting enough protein, fat and complex, wholesome carbohydrates.
Carbs: I do not recommend a no-carb or low carb diet for any length of time. Long term carbohydrate deprivation leads to a complete depletion of your body's storage glycogen levels, depression of your immune system, decrease in metabolic function, and a host of other issues.
Making your baseline a good variety of complex and simple carbohydrate foods provides your body with the nutrients, vitamins, and fiber it needs without spiking your blood sugar or overloading your liver. I'm talking about easy stuff like quinoa, brown rice, and baked sweet potatoes sprouted grain bread and overnight oatmeal.
Fruit is a wonderful quick-digesting "simple" carbohydrate that comes complete with minerals and vitamins. It won't give you as much lasting energy as a bowl of oatmeal would, so go for variety and prioritize to the lower glycemic fruits (berries, apples) more than the tropical fruits (pineapple, banana, mango).
Keep in mind that soaking, sprouting, or fermenting grains is always the best preparation method that breaks down the protective outer coating of the grain and the gluten protein, and allows your body to get their full nutritional benefit.
Fats: Fat is the preferred fuel of muscle tissue at rest (make sure you get plenty of sleep to maximize this benefit), AND it protects your muscle's valuable protein stores while being burned for energy along with glucose and glycogen during exercise.
Eating fat provides your body with the means to absorb the micro-nutrients in foods like vegetables and greens – by shuttling and dissolving their fat-soluble vitamins and phytochemicals to your cells. It is a powerful ally in optimal health.
Greens: Aside from cooking greens and harnessing all their wonderful fiber that helps our digestion and energy, I love making green smoothies – or using a high-quality and tasty greens plus protein powder like Berry Green Protein when I don't have a lot of fresh stuff on hand. Regularly rotate your greens and ingredients for the greatest nutrient variety.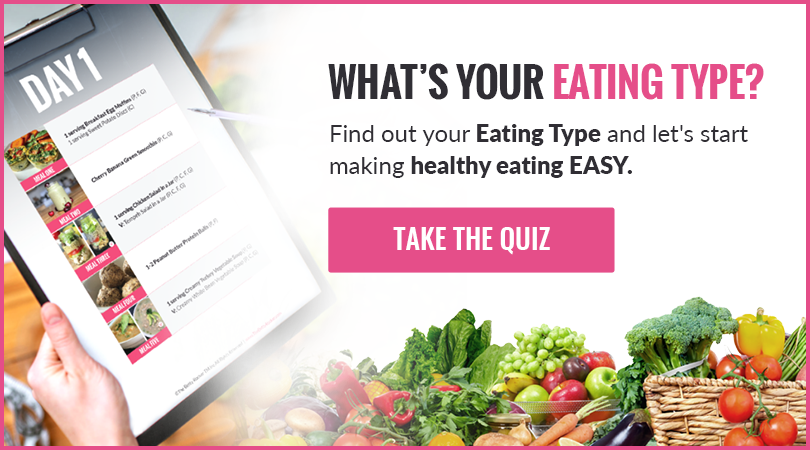 ---
Low-Impact Core Slider Home Workout
Click to expand and see all workout move descriptions.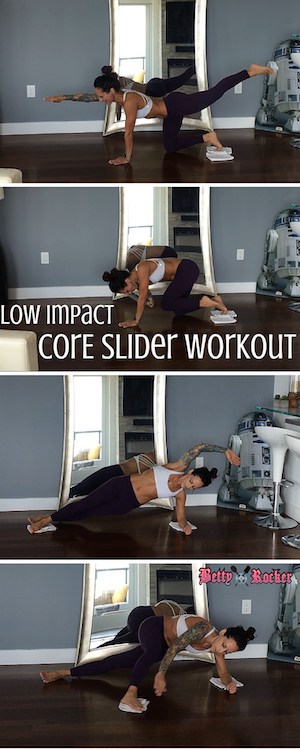 Move 1: Skater Slides (1:00)
Begin with your feet on your slides, standing upright.
Slide your right foot out to the side, bending your left knee. Don't overextend the right leg, stay controlled in the slide.
Keep your chest lifted and core engaged and slide back to start, repeating on the left.
Move 2: Lateral Slides (0:45)
Come into reverse plank with your feet on your sliders. You'll be holding your body up with your hands, so keep your hands stacked below your shoulders.
Open through your chest and squeeze your shoulder blades together slightly – it's important to maintain this throughout the duration of the move.
Lift the hips and keep your legs straight as you begin to slide your legs out laterally – in and out, pressing through the heels.

Mod: Prop your back up on the couch to do this move so you can support your wrists and focus the movement just on the lower part of your body.
Move 3: Mountain Climber Sliders (0:45)
Come into tall plank, hands stacked below your shoulders, legs straight, core engaged with your toes on your sliders.
Holding a good solid plank position, begin sliding one knee up to your chest then the other, going at a steady pace.

Mod: Prop your forearms and/or chest up on the couch or elevated surface to give you more support as you slide the legs. 
Move 4: Spinal Balance Sequence (0:30 each side)
From tabletop (on hands and knees) extend your right arm out straight in front of you and your left leg out straight behind you.
Hold for a moment to get your balance, then draw your right elbow and left knee into your core to meet beneath your stomach. Extend out again and repeat. Do both sides.

Mod: Practice holding the balancing pose, perhaps position yourself beside a couch so you can reach a hand over if you feel unstable. Take your time working on the balance, and add the crunch in if you feel comfortable.
Move 5: Spiderman Sliders (0:45)
Return to a tall plank position, toes on your sliders.
Hold your core strong (no arching backs) and begin sliding your right knee up and out to your right elbow. Slide it back to start, then repeat with the left leg.
Hold your plank strong through the entire move.

Mod: Hold yourself up on your couch and remove the sliders. Work on lifting your right knee up to the side, then setting it down and repeating on the left with the left knee. You can also do this standing, raising knees up to the side of your body for a great oblique burn.
Move 6: Tabletop Lifts (0:45)
Return to reverse plank, heels on the sliders hips lifted. Hands should be stacked below your shoulders. Open your chest and squeeze your shoulder blades back together.
Squeeze your butt and use your core together with your legs to slide your heels in as you lift your hips up, coming into a reverse tabletop. This move uses your hamstrings, glutes, and core (while bonus working your back and shoulders) to get a fantastic burn!
Extend one leg out and then the other for a more controlled descent back into reverse plank.

Mod: Balance your back on the couch or a chair and focus on the lower legs as you slide them in and out.
Move 7: Side Plank Slides (0:30 each side)
Position yourself on your side, with your top foot on the slider in front and your bottom foot on the mat or floor. I use something to cushion my elbow since I don't have my mat out because I'm doing sliding moves.
Lift up into side plank, keeping the hips square in front of you. Lift your top arm up overhead and drop your hip toward the floor. As you press the hip back up, slide your top foot in front of you and bring your arm to meet it.

Mod: Keep your bottom knee on the ground to provide more support and stability in this move. You can also practice the hip drop alone and work the leg slide in later, as both will really work your obliques. 
Move 8: Knee to Pike Slides
Come into tall plank, with your toes on your sliders. Hold your core strong, legs straight and makes sure your hands are stacked beneath your shoulders.
Using your lower abdominals, drive both knees in toward your chest, keeping your hips low and level as you do this.
Slide the legs back out straight, then use your lower abs to lift your hips up and slide your straight legs in toward your hands. Slide back out, and repeat, alternating the knees and feet.

Mod: Work on the knee sliders, as this will build your lower abdominal strength for the pike slides. You can work on them with your upper body up on a couch or chair to help you build strength in your upper body.
Looking forward to hearing from you today! Be sure to comment below when you do this workout, and share this post with a friend who would love it!
---
Thinking about what workout program would suit you best?