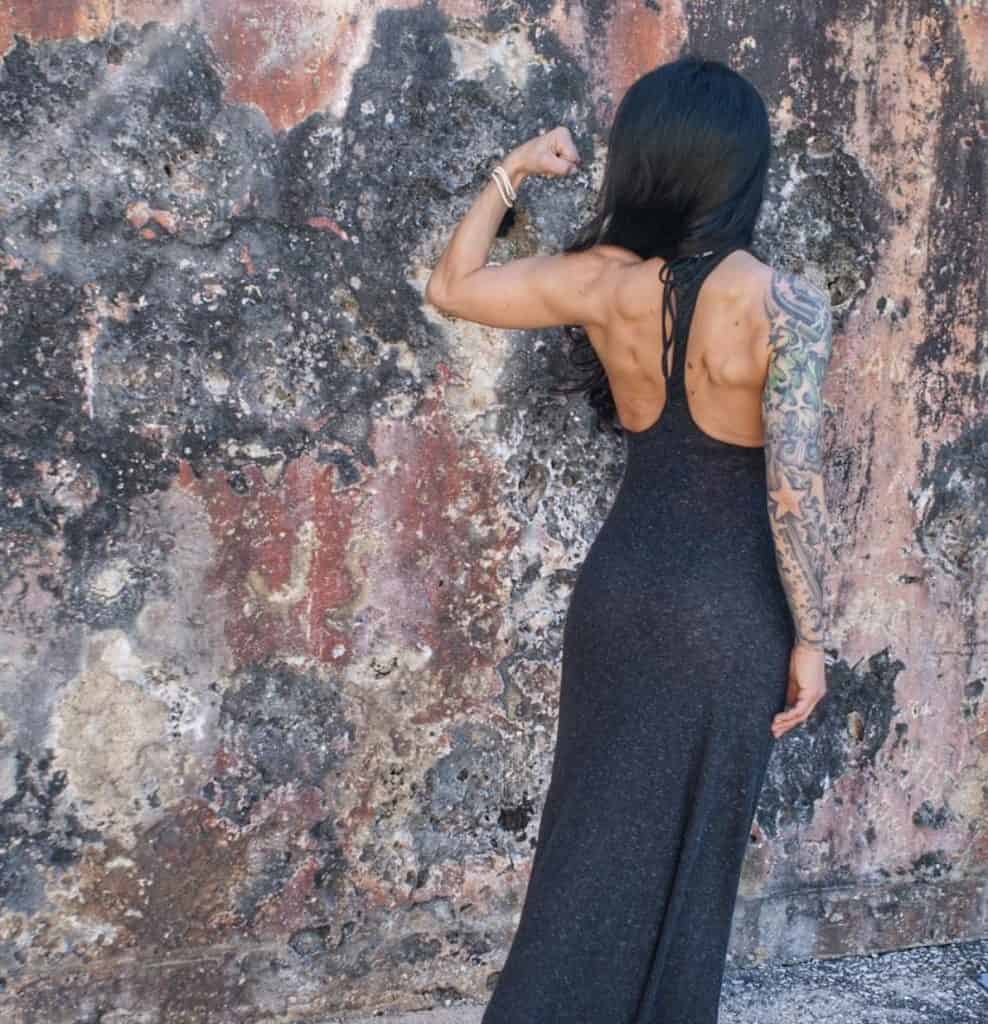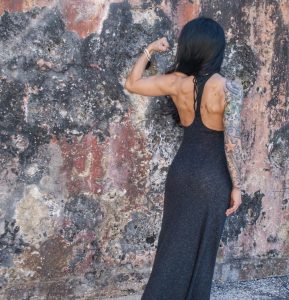 Everyone always asks me if I work out every day (you might have wondered that yourself) – I do NOT.
I pair my workouts with rest days (either a light activity or simply chilling out), and today I want to share exactly why – and what I do to keep it fun!
While it might sound counter-intuitive, it's when you rest that your body goes through the repair process that sculpts strong muscle.
This is why I'm a big fan of rest, active recovery and doing activities that reduce stress and improve your mental state of being.
After your workout, your body turns its attention and energy towards repairing the tissue in the muscles and joints that you just used. But without proper rest, your immune system goes into overdrive trying to restore you, which can compromise your immune system, putting you at greater risk for getting sick.
Overtraining or not getting enough rest, has also been shown to have a negative impact on the nervous system, the endocrine system (which is our hormone master control system), and can lead to excessive inflammation in the body all of which we want to avoid. 
The truth is, rest is one of the most important aspects of your workout program. Training alone doesn't make you stronger training with rest does.
So what kind of rest is best?
Both ACTIVE and PASSIVE (inactive) rest are important but studies have shown that active recovery is more effective when it comes to reducing your overall muscle soreness/stiffness and reducing your heart rate. I recommend taking at least 1-2 rest days a week with some low impact activities thrown into the mix.
My one caveat to all of this is first and foremost, LISTEN TO YOUR BODY. Don't push it, or force yourself to do anything if you're tired. And if you have great energy but you worked out hard the day before, try an active recovery day.
In need of some things to do on your Active Recovery days? I've got you covered! Variety is the spice of life after all,  so here are the…
Top 10 things you can do on your Active Recovery Days
---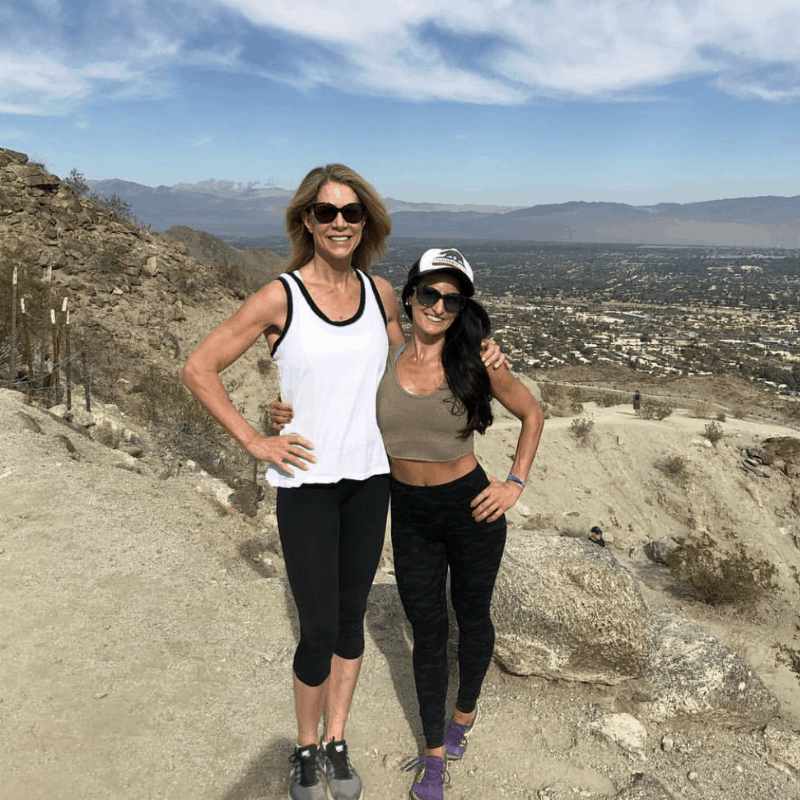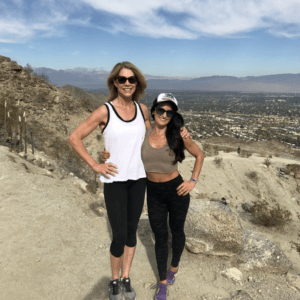 1. Hiking
I absolutely love hiking on my active recovery days. It's such a great way to get outside and connect with nature. It always reminds me just how much beauty there is to be seen, and how grateful I am to live in this amazing world.
Hiking is also a great way to disconnect with the outside world and tune into yourself.  It allows for deeper connection and gives you that healthy dose of Vitamin D!
It's a great activity to do with friends, too. In this pic, I was hiking in Palm Desert, CA with my bestie JJ Virgin Thanksgiving morning.
We had an amazing and unforgettable conversation – as one does with a great friend, when inspired by nature!
---
2. Go for a Walk
Walking is a great low impact cardiovascular exercise that can be done outside or inside. I love walking because it gives me time to myself, and often time with my doggies. I also love listening to a Podcast or an audiobook while I'm walking to get me thinking outside the box and inspire me creatively.
---
3. Mobility work and /or stretching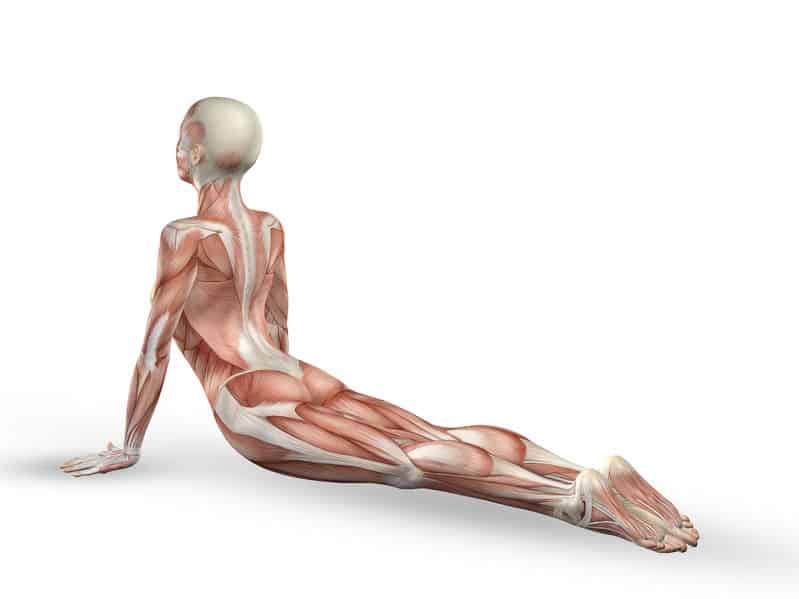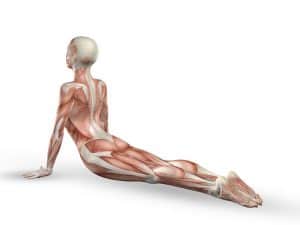 Mobility work is an amazing thing to do on your active recovery days. It loosens you up and promotes circulation. It also helps you recover so that you can perform your workouts with full force!
Some great mobility exercises include foam rolling, neck circles, wrist stretches and hip opening poses.
Stretching is also important when it comes to your active recovery days.  It's often one of  those things that we take for granted or don't give time to during our workouts. But stretching is key for a flexible, STRONG body.
Dynamic stretching (stretching that involves movement) allows for better circulation of fresh blood to the muscles, which helps your body recover faster since your muscles are getting the nutrients they need! It also improves your range of motion, your athletic performance and decreases your risk of injury so you can give your workouts your all.
---
4. Yoga

I love Yoga! It's such an amazing activity that is not only good for your body but your mind as well. It calms you and allows you to be present, in your body and in your life.
Yoga also loosens muscles, promotes circulation, and has been shown to be more effective in improving range of motion and joint health than static stretching alone.
Yoga has so many benefits – including lengthening and strengthening your muscles, reducing stress, depression and chronic pain, improving sleep patterns, promoting and improving respiratory and cardiovascular function, and enhancing your overall well-being and quality of life!
---
5. Hot therapy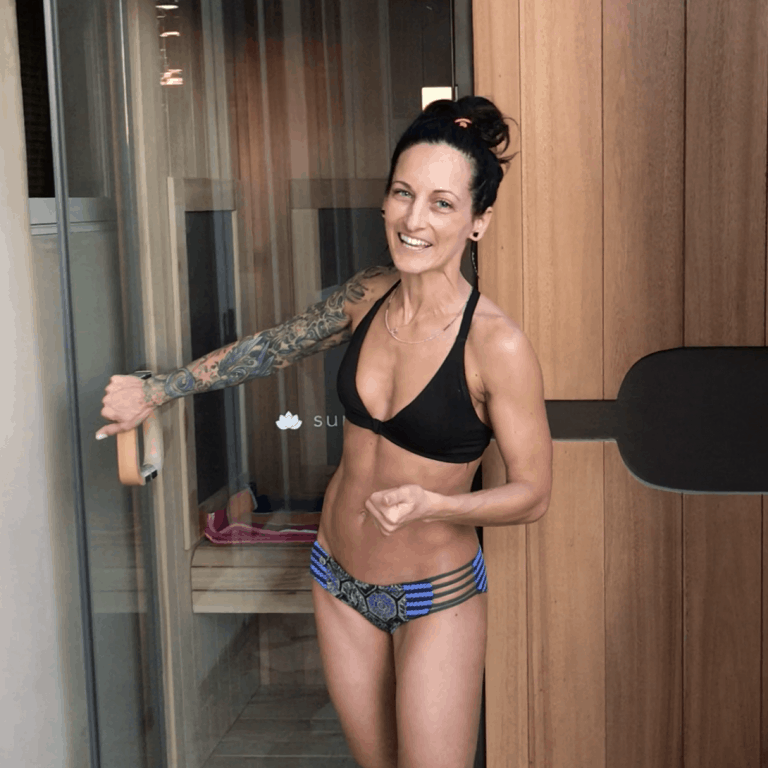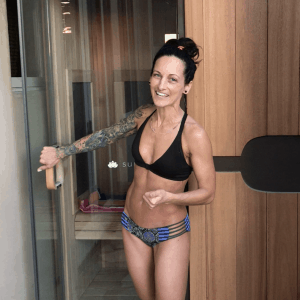 Think saunas, steam rooms, hot stone massage, and the like have been shown to increase blood flow and allow more oxygen and nutrients to your muscles and tissues.
This is great for decreasing muscle soreness, joint stiffness, and muscle tightness or spasms, all of which can be a side effect of training!
Hot therapy is also great for overall physical relaxation which is why I love using my Infrared Sauna!
It's one of my favorite ways to aid my training recovery process and decompress.
---
6. Cold therapy
Cold therapy such as ice baths, cold plunges, cold showers, and Cryotherapy are great on any day but I especially like them on my active recovery days. Studies show that they can be used to improve a wide variety of physical ailments, including asthma, pain management, reduced soreness and inflammation, increased recovery time, anxiety and fatigue (7).
I highly recommend checking out Wim Hof for more tools to make cold your friend and be super inspired by the legendary master of cold therapy.
---
7. Meditation
Meditation is one of the single most effective stress relieving tools there is. Just like the "deposits" you make in your daily health savings account with your healthy eating, exercise and sleep, meditation has a cumulative effect and strengthens your stress response "muscles."
When paired with exercise, meditation has been shown to have an even greater effect on your ability to control your emotions, thoughts, and behaviors and decrease your negative thinking patterns.
By learning how to refocus your attention through meditation, you can develop new cognitive skills that make you happier, less stressed and more at peace.
---
8. Body Alignment, Chiropractic Adjustment or Bodywork (massage, chiro, PT)
Exercise can be the cause of or exacerbate certain structural misalignments that are very common in the body, especially in the hips and shoulders.
And if you are constantly training and lifting weights on a misaligned skeleton, you most likely will have chronic pain which is why it's so important to get your alignment checked out by a licensed practitioner who can support your body. This is why I am such a big fan of preventative bodywork including Chiropractic care, Physical Therapy and massage for general health.
Studies have shown that people who received chiropractic care had a 30% increase in their agility, balance, kinesthetic perception, power and reaction time which not helps you in your workouts but also your day to day life!
Your nervous system controls all healing and functioning of your body so when you receive a chiropractic adjustment, any interference is removed in the body allowing it to heal at an optimal level.
A physical therapist will usually do a mix of manual therapy, some adjusting and often work with you on exercises to help re-pattern movements in your body so you can exercise with proper form. Using correct form and learning how to activate your muscles properly is so important for preventing injuries and achieving the results you are after.
Getting a massage is another awesome thing to do on your active recovery day to decompress and improve circulation and immunity! Studies show that getting a massage after exercise leads to a decrease in exercise related inflammation and improved cell recovery by boosting the production of new mitochondria. Without mitochondria, our body would not have the energy to carry out things like your brain functioning, your heart beating, or your muscles firing.
Your body works as a unit, so I always recommend treating the musculoskeletal system whenever possible as a unit – as in, if you get a chiropractic adjustment, also get some soft tissue work (massage) and vice versa. They really go hand in hand.
---
9. Food Prep

Do yourself a favor and use the extra time you have to get your food prep done!
Making a few staple recipes for the week is a great way to set yourself up for success!
Each and every time you eat, you're creating the foundation and tissue that make up the actual shape and structure of your body-and every time you exercise, you're simply putting the finishing touches on the beautiful physique you've sculpted with what you put in your mouth. 
I have a ton of healthy and delicious recipes for you on the blog. And if you are looking for more meal ideas, I've got you covered with my amazing meal plans!
---
10. Sleep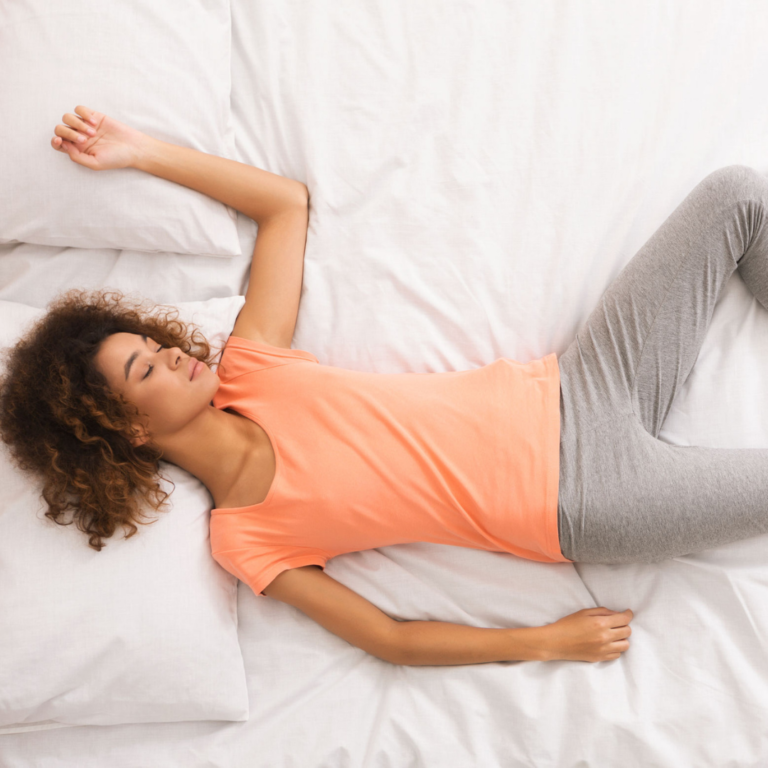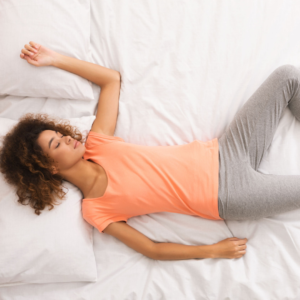 While not necessarily active, sleep is one of the most important things you can do on your recovery days. And you can actively set yourself up for a good night's sleep.
Getting good sleep allows you to perform better, makes you happier, regulates your hormones, reduces stress levels, improves focus, creativity and memory, and regulates and reduces inflammation.
Lack of sleep effects your metabolism by negatively impacting glucose tolerance and producing more Ghrelin (your hunger hormone) making it hard to shed belly fat. In one study, a group of people who had the same exercise regimen and diet were split into 2 different groups – one group slept well while the other group had interrupted sleep. The well-rested group lost weight while the sleep deprived gained weight, proving just how important sleep is for your results.
Outside of its effects on your appearance, ability to focus and perform at your best and recover quickly – sleep is important for your overall health and longevity.
---
Your turn! No matter what you decide to do on your active recovery day, the benefits will definitely be worth it!
Long-term happiness doesn't come from what your body looks like—it comes from what your body can do.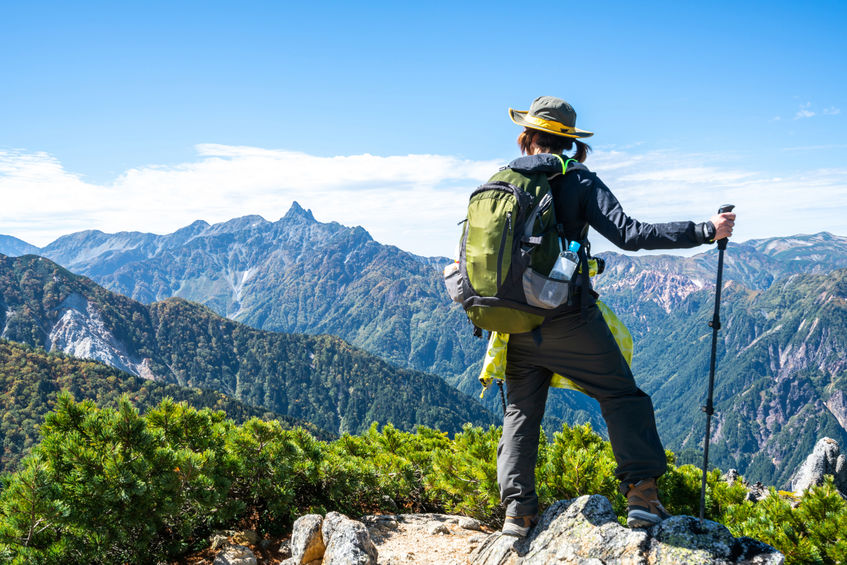 Focus on making your body more capable of experiencing all that life has to offer, and dedicate time to new activities outside of training or workouts that bring you joy.
Drop me a line below and let me know what activity you are going to try and if there are any others that you enjoy doing that are not on the list!
---
Come join us and let us support you on your journey of fitness and health – with home workout challenges, workout classes, healthy recipes, and our private support group!