I've got a few tips today for your buns….
Buns, glutes, booty, butt, behind, caboose – whatever you call it, it's an important part of your posterior chain!
Strengthening your booty is always a good idea – it can improve your posture, and make everyday things like sitting down, standing up, lifting heavy objects, and even climbing the stairs easier.
Not only that, strong glutes can also protect you from injury, improve your athletic performance, and give you a rockin' curvy shape.
1. Get to know your muscles
The muscles that form the shape of your glutes are the gluteus maximus, medius and minimus.
There are also a deep layer of muscles (called the "deep 6") that stabilize and support us while walking – but aren't apparent on the surface.
But it's not just your BUTT muscles that give you that defined and lifted shape….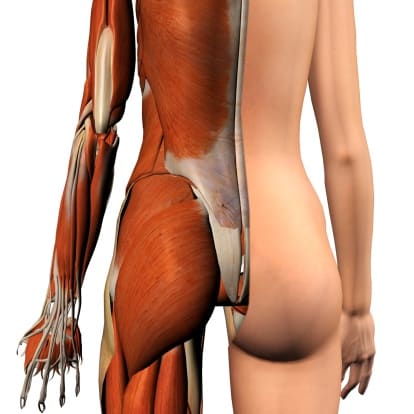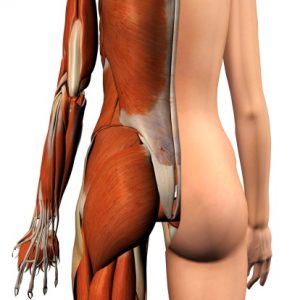 It's also the muscles and connective tissue that attach to your pelvis that affect the shape of your butt. Like the erector spinae column (the skinny muscles that run up and down next to your spine), your lower back muscles, and your hamstrings.
So in addition to doing all the obvious booty builders like bridge lifts and squats, you also want to add in things like deadlifts, superman extensions, and hamstring curls.
The body always seeks balance.
Many people don't know that to get a truly defined six-pack stomach, they need to also focus on strengthening their lower back muscles.
That's because without the support of your back, your core won't function as well – and your body will actually resist excessive imbalanced muscle growth.
Apply that same principle to developing truly well-defined glutes, and focus your sessions on the surrounding muscles as well as targeting the glutes themselves.
Speaking of balance…muscle grows when we rest it, NOT when we train it.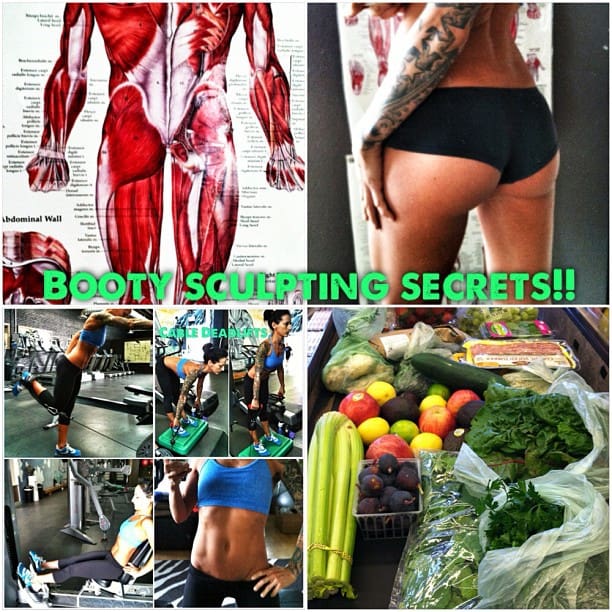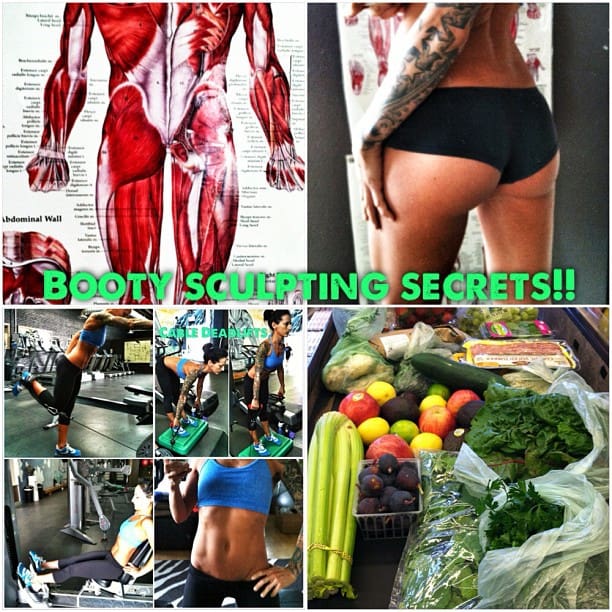 I worked with a woman a few years ago who was really frustrated with how flat her butt was…and she worked out all the time.
It turned out she was overly focused on moves that just targeted her glutes – and not only that, she trained them almost 5 times a week!
We have to give our muscles a break – or they won't develop. So be sure to intersperse your booty sculpting with other workouts, and take rest days.
2. Try these Glute-Shaping Moves
Here are 2 circuits I do – add appropriate weight for your fitness level, or do them with your own bodyweight. 3 rounds, 10-12 reps of each move if using weights, 0:30-1:00 timed if bodyweight.
Booty Circuit A
Forward-Reverse Lunges holding dumbbells or bodyweight (targets glutes, quads, hamstrings)
Deep Squats (targets glutes, quads)
Stiff-Leg Deadlifts, or single leg deadlift unweighted (targets lower back, erector spinae column, hamstrings)
Standing Single-Leg Hamstring Curls (targets hamstrings, glutes) – alternative is single leg swiss ball pull ins
Booty Circuit B
Sumo Squats (targets outer and inner thighs, glutes)
Superman Extensions (targets erector spinae column, lower back muscles)
Single Leg Squats (targets glutes, quads)
Skater Lunges (targets deep gluteal stabilizers, major glute muscles, inner and outer thighs)
Booty Circuit C
---
When you're ready for a really balanced and effective booty workout plan, check out my 30-day Booty and Abs CHALLENGE!

3. Eat Smart
I'm a woman, and trust me I've seen the ripples in my skin on the back of my legs and around my hips. For starters, that's a tough area for us ladies, as we're genetically designed to store fat in those areas. It's also perfectly natural to have some fat there, so don't beat yourself up because your body doesn't look airbrushed – that's so unrealistic!
BUT.
A balanced diet goes a LONG way.
The refined sugar and flour, processed foods and their additives and the excessive amounts of them we consume will absolutely give you the look you don't want.
Those foods create inflammation in your cells and tissue, cause bloating (as your body retains water trying to process them out of your system) and get stored as fat.
Try filling up your grocery cart with veggies, greens, proteins, complex carbs (quinoa and steel cut oatmeal) and fruits. I do a green smoothie daily.
Read this Fat-Burning Meal Planning Guide blog post for full details, but here are some examples of what's on my grocery list: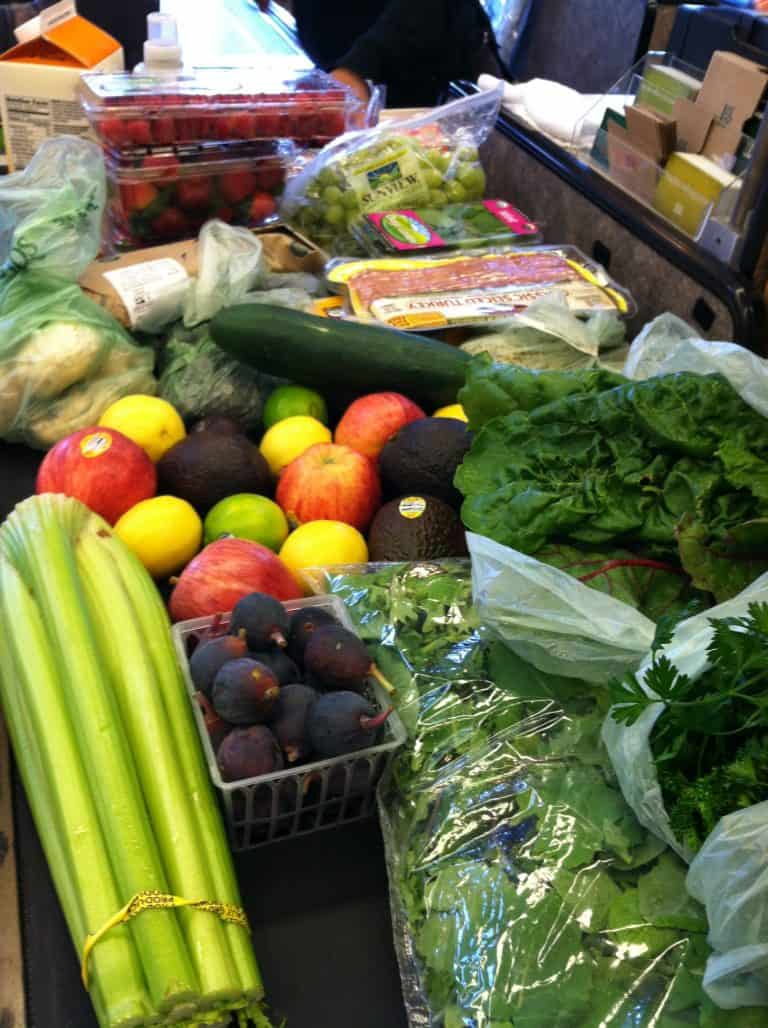 Some good proteins include:
–chicken
-turkey
-fish
-lean red meat
-tempeh
-edamame
-black beans, red beans, navy beans, white beans
-protein powder
-eggs
-hemp seeds
Some good carbs include:
– sweet potatoes
-quinoa
-amaranth
-bread (gluten free or sprouted for me)
-millet
-rice
-pumpkin
-fruit (I always have fruit on hand for snacks and green smoothies – some frozen, and some fresh. I like to buy the more expensive berries frozen so they don't go bad)
Some good fats include:
-avocado
-nuts
-chia seeds
-coconut oil
-coconut milk
-olive oil
-olives
Some good veggies/greens include:
-kale
-swiss chard
-spinach
-collard greens
-dandelion greens
-parsley, mint, basil or other fresh herbs
-cucumber, celery, sugar snap peas or other crunchy veggies
-tomatoes
-carrots
-mushrooms
-onions
-garlic
-broccoli
I don't eat like this every day – I take an NSA approach to my eating at least once a week…that's "no strings attached" – so be sure to let yourself have dessert, a treat, cocktails or something outside of the norm – balance is important!
So to recap, we are going to target our glutes and the surrounding muscles to strengthen and sculpt their shape with the right workouts. We are going to eat the right foods that support lean muscle and help us naturally burn fat. And finally, we are going to say nice things to OURSELVES about our bodies, and our booties during the entire process.