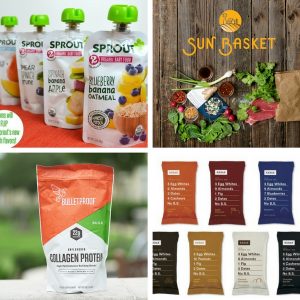 The other day in one of our live calls, Rock Your Life member Shakara D. mentioned how tough it was to stay on track with her nutrition while she and her family were in the middle of moving into a new home.
As someone who has moved quite a few times myself, I could totally relate to what she was saying, and so could lots of other Rockstars.
So I set out to write down all of my top resources in one place because….
…it's not just moving that knocks us off our game.
Think business travel…busy seasons…re-adjusting to school schedules…
….there are so many things that can throw a wrench in even our best-laid eating plans.
That's why I created this Healthy Eating Shortcuts Guide, full of super-handy, super-helpful time-saving tips, tools and shortcuts for keeping your nutrition game strong when life starts throwing you curve balls.
Please add to it in the comments below, and share this post – I'd love to learn your resources and ideas too! 
---
Healthy Shortcuts for Food Delivery

When life gets extra hectic, it can be incredibly helpful to take advantage of home delivery services that will bring food right to your door. Here are some of my favorite shortcuts for food delivery. 
---
Healthy Shortcuts for Protein Bars

When time allows, I love making my own healthy protein snacks like Gluten-free Pumpkin Muffins or Superfood Chocolate Protein Energy Bars. But when that's not an easy option, these pre-packaged protein bars offer smart, delicious alternatives. 
---
Best Protein Powders

Protein powder is an easy, convenient way to get an extra serving of protein – especially if you're on the go or out of time to cook.
Read more about my top 5 favorite protein powders here.
---
Protein Travel Packs
Pro Tip: Measure servings of your protein of choice into Ziploc bags, then store the bags in your shaker cup. Makes for a super-portable, super-convenient protein snack no matter where you go – just add water! 
---
Portable Juice Powder

Here are my favorite powders to boost my nutrient intake when I can't get fresh produce.
---
Healthy Shortcuts for Portable Snacks
---
Healthy On-the-Go Tools

Here are a couple helpful on-the-go tools that I use.
---
Helpful Articles for Travel and On-the-Go

All of these articles contain great information to use while traveling, eating out, while you're sick, during an injury, or just when life gets busy.
---
I'd love to hear from you – tell me your favorite Healthy Eating Shortcuts!
Leave a comment below, and share your best time-saving hacks for keeping your nutrition game on point when life gets crazy busy.
What works for you might work for someone else, too – we can all learn from each other!
---
It's time to ditch your diet.
Let me help you make eating healthy easy with the Body Fuel System. No more diets, no more pricey pills, supplements or shakes. Just real food – and a set up that suits YOUR lifestyle.