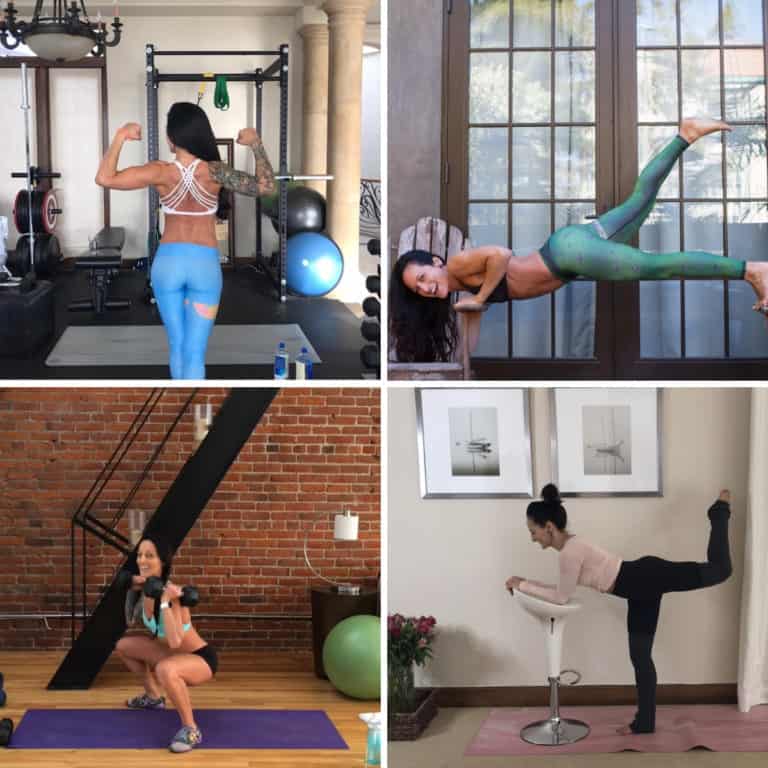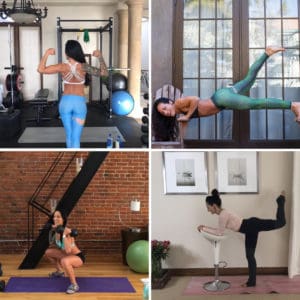 Happy Holidays Rockstar! I've got a 12-day Challenge for you to count down to the New Year feeling strong, fit and awesome!
I've been really focused on the 4 Pillars of Health (sleep, nutrition, stress management and exercise) this year, and I intend to continue to support you in balancing them in your life in the new year.
To finish out the year strong, I've included some of my best workouts and lifestyle practices for you to enjoy. Just use this post daily and stay on track, and check in with me after you're done in the comments below – or of course on instagram @thebettyrocker and Facebook! #12daysofbettyrockerchallenge
I'm releasing this 14 days before New Year's so you have room to take a couple additional days off to account for family time and holiday travel – please feel free to shift things as needed.
Mark your calendar, bookmark this post, and let's get started – comment below "I'm IN!" to let me know you're doing this!
---

Let's kick things off right with a 15-minute Full Body Shred!
In the final weeks of the year – a time when we all get super busy with holidays, family, events, parties and trying to finish all those eleventh-hour projects – I find it essential to have some fast, effective workouts I can do at home.
This workout uses a couple of dumbbells, but you can also use water bottles or any household object to add a little resistance to your workout.
Let's start this 12 Days of Betty Rocker Challenge STRONG!
#12daysofbettyrockerchallenge
---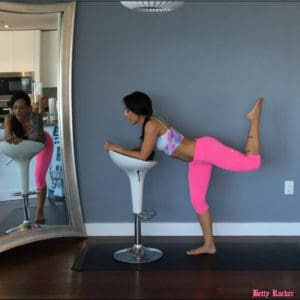 In this low-impact, high-intensity cardio barre workout, we'll focus on toning and tightening our butt, legs, and core. You'll need a mat and a chair for this workout – and about 20 minutes.
Get ready for a blast of that booty barre burn that will keep this challenge going in the right direction.
The holiday season is in full swing, and with less time than usual and all the demands of a busy schedule, this is the perfect workout to add in the mix!
Remember to check in below when you finish your workout, and keep going strong!
#12daysofbettyrockerchallenge
---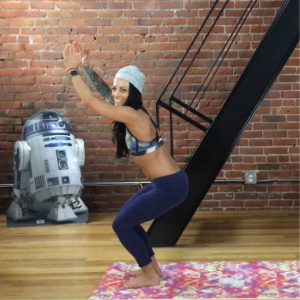 One of my favorite ways to reset my body and get super grounded is to do a yoga session.
But most classes are an hour long, and sometimes I need to just jump in and get a good stretch with some bonus power moves to really feel present in my body.
Today, in celebration of welcoming the winter season, I invite you to join me for this 15-minute power stretching session I put together to help focus on key areas that get tight like shoulders and hips, strengthen the core, and focus on both our breathing and how grateful we are to have strong, healthy bodies.
Be sure to take the time to complete the 2-step Gratitude Exercise at the end of this post!
#12daysofbettyrockerchallenge
---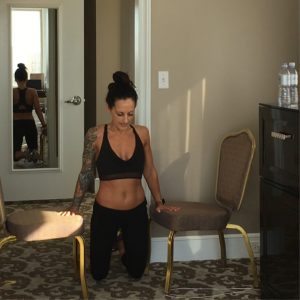 So many of us have travel plans during time of year, and there's always a lot of buzz around how to balance staying fit with the upheaval to our regular routine and/or location.
I've got you covered with this amazing full body sweat sesh in a hotel room – you can do this wherever you happen to be this season.
Take it on the road, do it at your in-laws, or anywhere today finds you – and be sure to share this workout with a friend or family member. After all, your health and strength is a gift that keeps on giving. 🙂
I'll be looking forward to your check ins!
#12daysofbettyrockerchallenge
---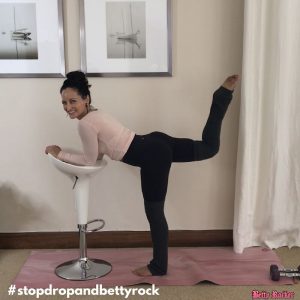 This one might be called "low impact," but don't be fooled into thinking that means low intensity – these barre moves will activate your body in all the right places. You'll be the sweet kind of sore and all kinds of sculpted when this Betty Barre Sculpt is complete.
And because you need to stay focused on your form while you're doing this workout, you'll automatically be more present to the moment, which is a wonderful skill to practice, especially right around now.
Anytime we tune into our mind-body connection this way, amidst the chaos of our busy lives, it's a win. The practice of being super present can really help us handle stress, at the holidays and all year long.
All you need for this one is a chair or the side of your couch and some light dumbbells or water bottles. The workout is a little longer, just under 30 minutes but if you're short on time why not do half of it now, and half of it later?
#12daysofbettyrockerchallenge
---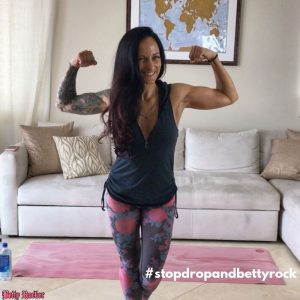 No matter what your holiday schedule has on deck for you today, I know you've got 15 minutes to #stopdropandbettyrock with me!
I've got some fun, new moves for you to try out today in this triple threat Tabata smash that will work your entire body in all the right ways.
When I say "triple threat" I'm not just talking about how fabulous, beautiful, and amazing you are (that's a given) – I'm talking about THREE 4-minute Betty Rockin' Tabatas, stacked together to give you an amazing workout in practically no time at all.
Today marks the halfway point through the challenge and YOU'RE DOING AN AMAZING JOB!
Be sure to check in today!
#12daysofbettyrockerchallenge
---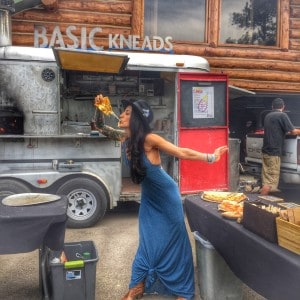 Consider this permission granted!
When you prioritize eating healthy, whole foods on a regular basis, it makes the occasional indulgence no big deal.
"Cheat" days imply you're doing something wrong – but you're not! After all, food is not a moral issue. Rather than feeling bad or guilty for eating foods not in your regular rotation during holiday gatherings, lean into having a "No Strings Attached" relationship – enjoy it, then move on. 🙂
Food nourishes us, yes, and it also holds an important place of cultural significance. Because when we gather around to share a meal with friends, family, and loved ones, we build the sense of connection human beings need to thrive, which makes special occasions – like the holidays – perfect opportunities to focus on enjoying food with gratitude rather than moderating it through guilt.
Happy Holidays Rockstar!
#12daysofbettyrockerchallenge
---

We're going to turn it back up again today with this full body HIIT circuit you can do at home, on the road, or wherever you find yourself this week!
HIIT workouts are super fun, fast, and incredibly efficient if your goal is to maximize fat loss in a short amount of time.
Whether you have time to rock 1, 2, or 3 rounds, this workout will get your heart pumping and your muscles working.
Your body will thank you later!
You'll need 20 minutes and some dumbbells or water bottles for a little extra resistance.
Let's go!
#12daysofbettyrockerchallenge
---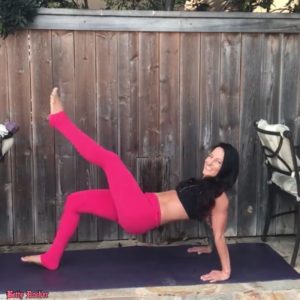 It's time to #stopdropandbettyrock again today with a high-intensity, low-impact, ballet-inspired workout!
This Total Body Barre Sculpt circuit actually has some great benefits to your body that go beyond just toning your muscles, like stronger postural alignment and better stress management.
You'll just want a chair back or countertop handy for balance, and a few light weights or water bottles for resistance.
You'll be done in under 25 minutes today!
You are here, you are capable, and you are going to rock this workout! 
#12daysofbettyrockerchallenge
---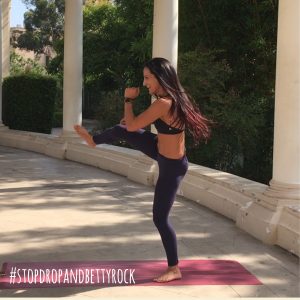 Having workouts that you can do on the go makes such a big difference when it comes to staying on top of your training during life's busiest seasons.
It's easy to skip a workout because we don't think we have time to go to the gym, or we're not in the perfect place or situation, but if you have simple, quick workouts to do like this 11-minute Cardio Core one you can take action anytime, anywhere!
That's right – in mere minutes, you can make significant, positive differences in your body, your mindset, and your stress levels.
All of that comes in mighty handy right about now!
Don't forget to check in today!
#12daysofbettyrockerchallenge
---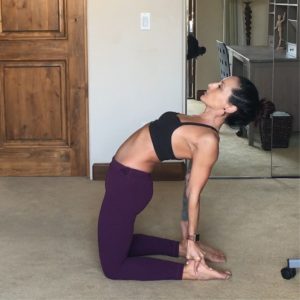 You've been dominating this challenge for 10 days at this point, so give yourself the luxury of taking time today to give your muscles the sweet release stretching can bring.
Stretching is one of those things we often take for granted or just don't do properly. But it's SO necessary, and there are some really good reasons to stretch – not the least of which is that a flexible body is a STRONG body.
And while you may want to save my awesome One-Day "Detox" plan for after New Year's, I want you to have it in your back pocket for any time over-indulgence catches up with you.
Supporting yourself with a plan that allows for occasional indulgences and special treats, plus includes a variety of all the nutrients you need to be active, and keeps your body fat to a level you're happy about is super important!
#12daysofbettyrockerchallenge
---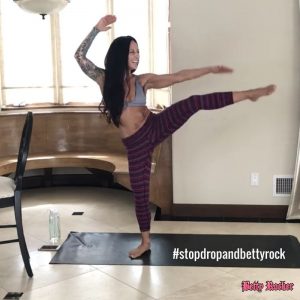 You made it to the final day of the challenge!
Good for you!
Today's barre fusion sequence is designed to lift and firm your booty and strengthen and sculpt your legs. You'll be done in under 15 minutes – but you'll feel the burn for hours!
No equipment needed for this one –  just set up with a chair or countertop nearby to help you balance.
You've done such a fabulous job so far – I have complete faith that you can and will totally rock this very last day!
#12daysofbettyrockerchallenge
---
Congratulations, Rockstar!
You completed the 12 Days of Betty Rocker Challenge like the unstoppable warrior you are!
I hope you know how impressive it is that you showed up for yourself like this.
I have every reason to believe that the New Year is going to be incredible, and when you dedicate time and energy to your health, fitness, and overall wellbeing, you are making it so!
---
…so I can support you in ROCKING your body AND your life! Get stronger and healthier with a community of rockstars to support you, home workout challenges for a fit body, and fresh new workout classes each week to keep you motivated!